Critics have called the result a foregone conclusion, with no viable opposition figures allowed to register their candidacies and Putin's personal choice receiving the lion's share of media coverage.
Medvedev alluded to his close alliance with Putin's policies in a joint appearance at a rock concert in Red Square on election night, saying Russians "have a chance to continue developing as we have developed in the past years, strengthen stability, improve living standards, [and] move forward according to the plan that we have followed all these years," adding, "I'm confident this is the path we should choose."
Internationally, the perceived price of such continuity could be high in terms of Russia's democratic values.
Andreas Gross, the head of the Parliamentary Assembly of the Council of Europe (PACE) observer mission, which was one of the few international monitoring groups on hand for the March 2 vote, has questioned the nature of the process.
Gross told reporters in Moscow one day after the vote that the "democratic potential" of Russian voters had not been realized. "Equal access of the candidates to the media and the public sphere in general has not improved, putting into question the fairness of the election," he said.
British Member of Parliament Nigel Evans, a member of the PACE team, added that monitors felt that Medvedev would have won the election anyway, even without favorable treatment -- but not by such a wide margin.
Evans said Russian leaders should have more confidence in the electorate, and install a more open and democratic system.
Putin's eight years in office have coincided with economic growth and rising prosperity, much of it based on oil wealth.
But critics say those gains have helped to mask underlying failures, including backsliding on issues of democracy and rule of law.
A 'Mutilated' Democracy
In Washington, State Department Deputy Spokesman Tom Casey said the United States recognizes Medvedev as president-elect, and hopes that Russia and the United States can continue to cooperate closely on issues like counterterrorism and weapons proliferation.
As for the election itself, Casey said President George W. Bush and Secretary of State Condoleezza Rice have expressed their concerns about Russian democracy, and that Sunday's vote did nothing to allay these concerns.
"The election itself proceeded in a peaceful manner," Casey said. "In terms of what our concerns were in it, though, you've heard a lot of discussion in the run-up to that election about the openness of the process and the ability of people outside of the government candidates to make their voices heard."
Casey said the Council of Europe's election report reflected U.S. concerns.
In Europe, the media have given free rein to their feelings. Italy's "La Stampa" daily referred to Russian democracy as seen as "mutilated, or "even destroyed" under Putin. The German daily "Sueddeutsche Zeitung" wrote that the democratic process has been "emptied of all substance." Britain's "Financial Times" wrote that to view the Russian election as democratic would be "an insult to democracy."
Praise came from Belgrade -- which Russia has backed in its dispute with a number of Western countries over the independence of Kosovo -- with Serbia's pro-Russian Prime Minister Vojislav Kostunica saying Medvedev scored a "great victory." He offered his "warmest and friendliest congratulations."
Medvedev will be installed as president at a ceremony on May 17.
based on agency reports
Cracks In The Facade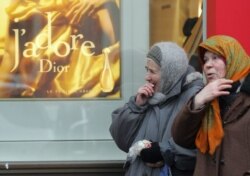 High energy prices have filled Russia's coffers with $150 billion in oil and gas profits. But this vast wealth has yet to trickle down to many aspects of the lives of ordinary citizens. As Russia's presidential election looms, the thoughts occupying many voters are not about politics, but safety, dignity, and long-term stability. In a special series, RFE/RL looks at Russia's deep social problems, which could prove to be a political liability for the Kremlin.
Crumbling Military Puts Kremlin On The Defensive
For Voters, Basic Comforts Of Home Still An Illusion
Oil Wealth Trickling Down -- But Not Far Enough