The UN General Assembly on March 14 adopted a nonbinding resolution demanding the "immediate, complete, and unconditional" withdrawal of all Armenian forces from Azerbaijan's territory.
Thirty nine countries voted in favor. But more than 100 countries abstained. Seven countries, however, including Russia, the United States, and France, voted against.
The three countries are co-chairs of the Minsk Group, which is trying to facilitate a negotiated settlement to the Nagorno-Karabakh conflict. They argued that, as mediators, they had to remain neutral.
In a statement released on March 15, the Russian Foreign Ministry criticized the resolution, saying that its "basic principles...meet only the interests of Azerbaijan."
Speaking to reporters in Baku, Azerbaijani Deputy Foreign Minister Araz Azimov said Moscow, Paris, and Washington "have put themselves in a difficult situation." Azimov added that "the UN resolution is a serious message to Armenia and a warning for the co-chairs. We will cooperate with them on the basis of their position in the UN General Assembly."
Meanwhile, on March 13, Armenia's Foreign Minister Vartan Oskanian said President-elect Serzh Sarkisian was prepared to meet with Azerbaijani President Ilham Aliyev to discuss the Karabakh conflict. Oskanian said France, Russia, and the United States were trying to arrange the meeting, which could happen at the NATO summit in Bucharest in April.
Yerevan and Baku have given conflicting reports about a clash that erupted in Nagorno-Karabakh in early March. Armenia said eight people were killed, while Azerbaijan said the number was 20.
Armenian forces seized control of Nagorno-Karabakh and seven surrounding regions from Azerbaijan in the early 1990s, in a war that claimed an estimated 30,000 lives and forced about a million people to flee their homes.
Nagorno-Karabakh has been under control of ethnic-Armenian forces since a 1994 cease-fire.
RFE/RL's Russian Service contributed to this report. Material from news agencies was used in this report
Nagorno-Karabakh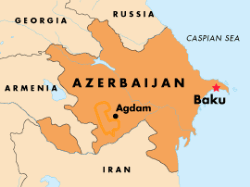 Click on the map to see an enlarged map of the Nagorno-Karabakh conflict area.
In February 1988, the local assembly in Stepanakert, the local capital of the Azerbaijani region of
NAGORNO-KARABAKH
, passed a resolution calling for unification of the predominantly ethnic-Armenian region with Armenia. There were reports of violence against local Azeris, followed by attacks against Armenians in the Azerbaijani city of Sumgait. In 1991-92, Azerbaijani forces occupied most of Nagorno-Karabakh, but the Armenians counterattacked and by 1993-94 had seized almost all of the region, as well as vast areas around it. About 600,000 Azeris were displaced and as many as 25,000 people were killed before a Russian-brokered cease-fire was imposed in May 1994.
For a complete archive of RFE/RL's coverage of the Nagorno-Karabakh conflict,click here.
Of particular interest:
2005 In Review: Conflicts In Caucasus Still Characterized By Gridlock
Nagorno-Karabakh President Expresses Optimism