Speaking to RFE/RL's Georgian Service, Aziko Sisvadze, an economist, says the Western alliance represents his country's best chance to remain an independent state.
"The only solution, the historic chance for Georgia's survival, is to join NATO," Sisvadze says. "Regardless of whether or not we will decide to join NATO, Russia's aggression will persist. This is the long-term perspective. Therefore, if Georgia is to exist, it will only be together with Europe."
Georgia and Ukraine are seeking a Membership Action Plan at this week's NATO summit in Bucharest. And while fear of a resurgent Russia accounts for a big part of their desire to join, it is not the only factor.
In addition to providing security and peace of mind for countries living in a very rough neighborhood, NATO advocates also see the trans-Atlantic alliance as their best chance of embedding democratic values and practices in countries where such norms have been slow to take hold.
And according to acting U.S. Assistant Secretary of State for European and Eurasian Affairs Kurt Volker, the allure of joining one of the West's most exclusive clubs constitutes an important part of the alliance's soft power in the region.
"We look at it in terms of human development," Volker says. "What can we do to strengthen democracy, market economies, rule of law, human rights, security, integration into international institutions, global economy, and cooperation on transnational issues that are very important and very difficult."
In Russia's Interest?
NATO is, to some degree, entering uncharted territory in considering Georgia and Ukraine's bids. Democratic governance has always been a requirement for membership in the alliance. But in previous waves of expansion, new members such as the Czech Republic, Poland, and the Baltic states had completed their postcommunist political reforms and were widely considered full-fledged Western democracies.
Georgia and Ukraine, however, are not quite there yet. Georgia's 2003 Rose Revolution and Ukraine's 2004 Orange Revolution respectively moved each farther along the road of democratic reform. But both countries still suffer from weak institutions, personalized rule, and immature democratic practices. Volker says the NATO strategy dovetails with democracy-building efforts by the United States and the European Union.
"What we are doing as a country, as the United States, and what NATO is doing, and what the EU is doing, and what these countries are doing for themselves, is working at ways to introduce reforms, to strengthen governance, to build stronger, healthier, better societies and countries through institutions, through economic growth, integration and so on," he says. "We believe that doing this makes the region better, makes the region safer and more stable, and is ultimately in Russia's interests as well. Russia, having countries like this, will find that they are good neighbors to have. So we don't view this as a competition with Russia in the first instance."
Independent, Not Democratic
Analysts in Georgia say that membership in the alliance means that the country's rulers will not be able to use security threats from Russia as an excuse to backslide on democratic reforms. Many in the opposition accused President Mikheil Saakashvili of doing just that when he declared a state of emergency after massive street protests in Tbilisi in November.
Shalva Pichkhadze, head of the Tbilisi-based organization "Georgia for NATO," says that once Georgia is a member of the alliance, such excuses for cracking down on the opposition will lose force.
"The closer Georgia gets to NATO, the greater the chance that Georgia irreversibly becomes a democratic state. Because today, the ruling elite and the ruling party often speculate that there is a threat coming from outside and they say that first we need to build a strong state, strong state institutions, and that democracy can wait," Pichkhadze says. "If we become a NATO member state, or if at least we move forward one step and start to fulfill the Membership Action Plan, which brings us closer to NATO, then I think this speculation becomes more and more groundless."
Analysts also point out that Georgia has never had a truly democratic transition of power where one elected president peacefully handed power over to another.
Georgia's first post-Soviet president, Zviad Gamsakhurdia, lost power in a coup d'etat in 1992 and was succeeded by Eduard Shevardnadze -- who himself was deposed in the 2003 Rose Revolution that eventually put Saakashvili in power. Saakashvili won reelection this year in snap elections that followed his declaring a state of emergency. NATO membership, says Pichkhadze, would put an end to such practices.
"It will, to some extent, at least guarantee for the first time in modern Georgian history a democratic transfer of power. Georgia has not proven so far that it is a democratic state in terms of a democratic transition of power. For 17 years, it has been an independent state, and in this 17 years we have never had a democratic transfer of power within the constitutional framework. I think if Georgia becomes a NATO member state, revolutions and coups will never happen in Georgia again."
'International Dimension'
Ukraine has had a democratic transfer of power, first in 1993 when Leonid Kuchma defeated incumbent President Leonid Kravchuk. Current President Viktor Yushchenko won power in a rerun election after widespread allegations of fraud led to the 2004 Orange Revolution.
Ukraine's democratic institutions, however, remain weak and political authority is highly personalized. Since Yushchenko and pro-Western reformers took power, the country has been subject to periodic bouts of instability and chaos.
Oleksandr Sushko, director of the Center for Peace, Conversion, and Foreign Policy, tells RFE/RL's Ukrainian Service that external factors like NATO and the European Union are crucial in prodding Ukraine to reform its political institutions and state bureaucracy.
"For Ukraine, a country with rather low executive discipline, it is important to have plans and commitments which have an international dimension," Sushko says. "They add an extra stimulus and mobilize the state apparatus to implement those commitments. Of course, had we had an ideal state apparatus, we would not need it."
Analysts say the stability that comes with NATO membership helps improve the economic climate and spurs foreign investment. This year's host country, Romania, for example, experienced a surge of outside investment after joining NATO in 2004. A liberalized tax regime and Bucharest's accession to the EU last year are widely credited with the increase, but observers say the psychological effect of being a NATO member also played a role.
"When a state is a NATO member, for investors it -- at least psychologically -- creates more guarantees of stability; internal, domestic stability and external stability," Pichkhadze says. "The country is more protected from outside and is more stable inside."
NATO summit coverage
A Meeting Of 'Old' And 'New' Minds
Commentary: Germany And The Georgian And Ukrainian NATO Bids
NATO Diary: Bucharest, You Are No Munich!
New NATO Commitments Lead Kabul To Take Greater Security Role
France Offers Troops To Bolster ISAF Mission
Central Asia: Odd Couple Crashes NATO Summit
NATO: Overtaxed Allies Assess Role In Afghanistan
Russia: NATO Divided On Expanding Alliance, But Moscow's Stance Is Clear
Vox Pop: Is 'Fear Factor' Behind Your Country's NATO Aspirations?
NATO: Defense Ministers Focus On Afghan Reconstruction
NATO: In Rough Neighborhood, Hopefuls Feel Lure Of 'Soft Power'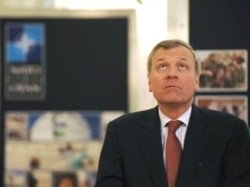 LOTS TO TALK ABOUT: The agenda of this week's NATO summit in the Romanian capital has included key questions about relations with the Balkans, the Caucasus, Afghanistan, Ukraine, and Russia. Entering the event, there was risk of gridlock, as Georgia and Ukraine sought "Membership Action Plans" over strident objections from Russia. Meanwhile, Balkan aspirants Albania, Croatia, and Macedonia already had their MAPs but faced varying degrees of resistance to their membership from inside the alliance. Secretary-General Jaap de Hoop Scheffer (pictured above) and NATO leaders were also grappling with the alliance's biggest current challenge and putative "top priority," its Afghan mission. Relations with Russia provided further drama as Washington pressed ahead with its effort to build a missile-defense system in Europe.