Although the MAP doesn't guarantee future membership, it de facto puts countries on track to joining the Western military alliance. So far, every country participating in the MAP has either joined the alliance or is expected to do so soon.
NATO launched the action plan in 1999 to help aspiring countries meet NATO standards and prepare for possible future membership. Its creation drew on the accession of the Czech Republic, Hungary, and Poland, which had joined NATO the same year.
Nine countries were given MAPs in 1999 -- Albania, Bulgaria, Estonia, Latvia, Lithuania, Macedonia, Romania, Slovakia, and Slovenia. All but two -- Albania and Macedonia -- went on to enter the NATO alliance during its next wave of expansion in 2004.

Raft Of Reforms
NATO's website describes the MAP as a "program of advice, assistance, and practical support" to countries wishing to join the alliance. But what does it mean in practice for participating countries?
"The MAP is a set of criteria that the country needs to fulfill to show its progress in the military reform process, but also in the general democratic and political development process," explains Alastair Cameron, the head of the European Security Program at the London-based Royal United Services Institute for Defense and Security Studies.
"Generally speaking, the reforms induced in the military field -- in terms of bringing the military sector up to the standard of NATO existing member states -- then benefit the wider social and political environment of that country," Cameron adds.
In the military sphere, MAP countries must both upgrade their military up to NATO standards and show proof that their armed forces are under democratic control.
Participant countries are requested to settle any ethnic or territorial disputes by peaceful means, demonstrate their commitment to human rights and the rule of law, and promote social justice and economic freedom.
MAP members should also guarantee that their domestic legislation doesn't pose any hurdles in their cooperation with NATO.
From NATO's perspective, the MAP is chiefly a tool to ensure that entrants actually benefit the alliance and don't merely reap the advantages of membership.
The object of a MAP "is to direct countries to do those things that are going to be essential if they want to be effective allies -- that is, producers, and not just consumers, of security," says Robert Hunter, a former U.S. ambassador to NATO who currently heads the NATO-related nongovernmental Atlantic Treaty Association and is a senior adviser for the U.S. RAND Corporation think tank.
"It relates not just to what they do in their domestic politics and economics but to demonstrating that their military has gone through the kinds of reforms that are going to make it potentially a useful ally," Hunter says.
Buffer For The Alliance
Each MAP is tailored to the applicant country's individual profile and varies in length.
Two of the three current MAP members, Albania and Macedonia, have been waiting nearly 10 years for an invitation to formally join the alliance. They are expected to take that step this week in Bucharest, although a long-standing dispute between Greece and Macedonia may ultimately scupper Skopje's bid.
A third Balkan country, Croatia, obtained a MAP in 2002 and is likewise set to receive a membership invitation this week.
Two other countries to emerge from the former Yugoslavia -- Bosnia-Herzegovina and Montenegro -- have expressed interest in receiving a MAP, but are not expected to receive a plan in Bucharest.
All of NATO's new members and aspirants during the past 10 years have emerged from a separate alliance program, the Partnership for Peace, which was created in 1994 to smooth relations between the alliance and states in Europe and the former Soviet Union.
There are currently 23 states in the Partnership for Peace, including Russia, Serbia, and all of the Central Asian states. Not all are destined, or even hoping, for NATO membership, but Hunter says the programs allow every country to progress at its own pace:
"It's highly flexible. If a country is already well on the way though its membership in Partnership for Peace and other consultations with NATO, it can be relatively quick, a matter of a year or so," he says. "Or it can be stretched out if a country is really not working as expeditiously as NATO would hope it would. In a way, it's to create a buffer between where they are now and the actual decision to join NATO."
Like every year, NATO will assess the performance of MAP countries this week at its annual summit. But few political analysts expect NATO to hand out MAPs to Ukraine and Georgia, although both countries are engaged in Intensified Dialogue with NATO -- a preliminary stage to obtaining a MAP.

A Divisive Issue
While the United States has thrown its weight behind Ukraine and Georgia, other countries, such as Germany and France, are reluctant to grant MAP status to the two former Soviet nations.
Critics point to Ukraine's public division over NATO membership and to lasting separatist conflicts in the Georgian regions of Abkhazia and South Ossetia. NATO's secretary-general, Jaap de Hoop Scheffer, also said Georgia's NATO hopes suffered a "hiccup" when authorities violently dispersed opposition protests in Tbilisi last November.
But even if the two countries remove these obstacles and meet reform targets, MAP and NATO memberships are far from guaranteed as political considerations play a determining role in NATO's membership decisions.
"It's very much both about the appetite within the NATO countries themselves to accept certain member states because of the capacity they might be able to bring, and about the ability of the applicant country to fulfill the criteria it has been tasked with," says Cameron from the Royal United Services Institute.
"In an alliance such as NATO, you have 26 countries that all have national priorities. Certain countries have expressed their interest, for example, for Georgia and Ukraine to join, whereas other countries are more reserved. And the reason for that will be, again, political," he says.
NATO countries are well aware that embracing Ukraine and Georgia will spark the ire of Moscow, which has fiercely opposed the two countries' efforts to move closer to the Western military alliance. Russia and its president, Vladimir Putin, have made no secret of their aversion to the notion of NATO expansion in the post-Soviet neighborhood.
Still, some observers are suggesting that if Ukraine and Georgia fail to receive a MAP this week in Bucharest, they may not have to wait an entire year before their bid is reviewed again. The NATO alliance can technically grant a MAP at any time in the year -- and may simply be waiting for outgoing President Putin to step down in May before they make the move.
NATO summit coverage
A Meeting Of 'Old' And 'New' Minds
Commentary: Germany And The Georgian And Ukrainian NATO Bids
NATO Diary: Bucharest, You Are No Munich!
New NATO Commitments Lead Kabul To Take Greater Security Role
France Offers Troops To Bolster ISAF Mission
Central Asia: Odd Couple Crashes NATO Summit
NATO: Overtaxed Allies Assess Role In Afghanistan
Russia: NATO Divided On Expanding Alliance, But Moscow's Stance Is Clear
Vox Pop: Is 'Fear Factor' Behind Your Country's NATO Aspirations?
NATO: Defense Ministers Focus On Afghan Reconstruction
NATO: In Rough Neighborhood, Hopefuls Feel Lure Of 'Soft Power'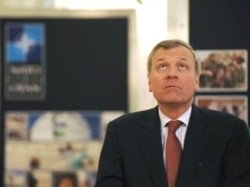 LOTS TO TALK ABOUT: The agenda of this week's NATO summit in the Romanian capital has included key questions about relations with the Balkans, the Caucasus, Afghanistan, Ukraine, and Russia. Entering the event, there was risk of gridlock, as Georgia and Ukraine sought "Membership Action Plans" over strident objections from Russia. Meanwhile, Balkan aspirants Albania, Croatia, and Macedonia already had their MAPs but faced varying degrees of resistance to their membership from inside the alliance. Secretary-General Jaap de Hoop Scheffer (pictured above) and NATO leaders were also grappling with the alliance's biggest current challenge and putative "top priority," its Afghan mission. Relations with Russia provided further drama as Washington pressed ahead with its effort to build a missile-defense system in Europe.