A Meeting Of 'Old' And 'New' Minds
Commentary: Germany And The Georgian And Ukrainian NATO Bids
NATO Diary: Bucharest, You Are No Munich!
New NATO Commitments Lead Kabul To Take Greater Security Role
France Offers Troops To Bolster ISAF Mission
Central Asia: Odd Couple Crashes NATO Summit
NATO: Overtaxed Allies Assess Role In Afghanistan
Russia: NATO Divided On Expanding Alliance, But Moscow's Stance Is Clear
Vox Pop: Is 'Fear Factor' Behind Your Country's NATO Aspirations?
NATO: Defense Ministers Focus On Afghan Reconstruction
NATO: In Rough Neighborhood, Hopefuls Feel Lure Of 'Soft Power'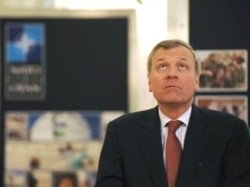 LOTS TO TALK ABOUT: The agenda of this week's NATO summit in the Romanian capital has included key questions about relations with the Balkans, the Caucasus, Afghanistan, Ukraine, and Russia. Entering the event, there was risk of gridlock, as Georgia and Ukraine sought "Membership Action Plans" over strident objections from Russia. Meanwhile, Balkan aspirants Albania, Croatia, and Macedonia already had their MAPs but faced varying degrees of resistance to their membership from inside the alliance. Secretary-General Jaap de Hoop Scheffer (pictured above) and NATO leaders were also grappling with the alliance's biggest current challenge and putative "top priority," its Afghan mission. Relations with Russia provided further drama as Washington pressed ahead with its effort to build a missile-defense system in Europe.