Uzbek President Islam Karimov indicated a willingness to increase his country's cooperation with NATO to aid efforts in Afghanistan.
Turkmen President Gurbanguly Berdymukhammedov spoke about Afghanistan and met with the Afghan and U.S. presidents, with whom energy was a major topic of discussion.
Berdymukhammedov and Karimov could play significant roles in NATO plans for Afghanistan -- which shares borders with both their countries -- and both Central Asian leaders hammered home this point during their speeches in Bucharest.
NATO is hoping to establish a land corridor that would run from Russia through Turkmenistan and Uzbekistan to deliver nonmilitary materiel to Afghanistan. Karimov said he is interested in his country participating in the land route, mentioning an agreement signed in February with Germany, which has troops stationed at a small military base in Termez, Uzbekistan, concerning the railway transit of German cargo via Uzbekistan.
Matthew Clements, the Eurasia editor at the London-based Jane's Information Group, says the route makes sense. "What should be pointed out is that while it may be a risky route politically, the other overland route is through Pakistan and through the Northwest Frontier Province, and this is obviously not completely desirable from a NATO or U.S. perspective because of the security issues," Clements says. "Just recently, a number of oil tankers were blown up at a border crossing point in an ambush by Pakistani militants."
Tashkent's Tack
Depending on Uzbekistan might be regarded as risky by some NATO members, given that U.S. troops were ordered to leave an Uzbek military base in 2005 after official U.S. criticism of the Uzbek government's deadly crackdown against protesters in the eastern city of Andijon earlier that year.
But Clements suggests that such concerns might be overblown.
"We've seen the removal of the U.S. air base there previously, following [Western] criticism after Andijon, and it's very difficult to see how that could happen again," Clements says. "There does seem to be an effort in certain factions of the West to re-engage Uzbekistan and to almost overlook its human rights situation. It looks like now, because of the strategic interest in getting this overland route, the U.S. is willing to talk to them again."
Karimov has put forward his own proposal to help establish stability in Afghanistan: resurrecting the "6+2" idea of a decade ago. The group involved Afghanistan's neighbors -- Pakistan, China, Tajikistan, Uzbekistan, Turkmenistan, and Iran -- with Russia and the United States attempting to get Afghanistan's Taliban movement and the United Front (aka Northern Alliance) to agree to a peace deal. The group was never able to broker a successful cease-fire, however, and disbanded after U.S. forces chased the Taliban from power in late 2001. Karimov proposed reforming the group as the "6+3" to include NATO in future talks.
Clements says any new group would probably fare no better than the previous group but that such a format could at least give the Central Asian states a greater voice in Afghan events.
"The viability of it would still be in question because exactly how much the Central Asian states can achieve in their policy towards Afghanistan is always going to be questionable," Clements says. "I think there is a desire from the Central Asian countries to have some sort of say, some sort of influence on Afghanistan. I think there is a growing realization between [the Central Asian states] and Russia that the insecurity in Afghanistan is actually no good for them, especially in terms of opium trafficking, which is a big problem for the Central Asian countries and Russia."
Berdymukhammedov pointed out that his country is already helping Afghanistan by supplying electricity to northern areas and sending humanitarian aid that includes diesel fuel and flour. But the Turkmen president ventured beyond the boundaries set for Turkmenistan's foreign policy by his predecessor, Saparmurat Niyazov, who died in late 2006.
Ashgabat's Departure
In comments appearing in Turkmen state media on April 4, Berdymukhammedov noted the importance of the NATO summit, which he said Turkmenistan viewed as a "good opportunity for an exchange of opinions about the problems of international security."
Clements says Berdymukhammedov's statements on international security are "pretty significant" and represent a marked departure from those of the late President Niyazov, who repeatedly said Turkmenistan was only interested in trade and economic partnerships with other countries.
"Actually the fact that he was at a NATO summit is also extremely significant considering the highly isolationist policy of Niyazov before this," Clements says, "and the talk about security certainly is another departure from Niyazov's previous policies. So yes, it's very significant and I think it really illustrates Berdymukhammedov's desire to become more fully involved in the international community."
Once in Bucharest, of course, Berdymukhammedov used the NATO summit as a platform to promote his country's energy resources. He spoke about the long-proposed Turkmen-Afghan-Pakistan-India natural-gas pipeline and met with Afghan President Hamid Karzai to discuss the export route.
Talks between NATO and both Turkmenistan and Uzbekistan are still needed to firm up the details of this new cooperation, but it appears both the alliance and the two presidents will come away from this summit with the feeling of having improved relations.
Turkmen-U.S. Meeting
Berdymukhammedov met with U.S. President George W. Bush on the sidelines of the summit. The two men discussed Turkmen energy exports, and Berdymukhammedov reportedly told his U.S. counterpart that Turkmenistan was interested in multiple export routes for its energy resources.
Turkmenistan is rich in natural gas and, to a lesser extent, oil; but it has limited possibilities to ship it to markets. Currently the only pipelines out of Turkmenistan pass through Russia, with the exception of a small pipeline leading to Iran and a gas pipeline to China that will become operational next year. European states in particular are trying to get Turkmenistan to join pipeline projects to export gas to Europe but have been outmaneuvered recently by Russia's Gazprom.
Clements says Berdymukhammedov's talk with Bush brings new hope that projects like the proposed Nabucco pipeline might still be possible, if Turkmen officials believe they are getting "a good deal." He says that the Bucharest meeting could at least help maintain some pressure to prevent those plans from disappearing altogether.
"Directly stating this to Bush certainly is more significant than these low-level talks, and could suggest more impetus for them to boost the Nabucco project," Clements says. "[But] I think that unless we see genuine details on what the deal could be, it still would be hard to suggest that Turkmenistan isn't focused much more on Russia and China at the moment in terms of its energy exports. I think what he's doing here is keeping alive the possibility that it could happen in the future."
NATO summit coverage
A Meeting Of 'Old' And 'New' Minds
Commentary: Germany And The Georgian And Ukrainian NATO Bids
NATO Diary: Bucharest, You Are No Munich!
New NATO Commitments Lead Kabul To Take Greater Security Role
France Offers Troops To Bolster ISAF Mission
Central Asia: Odd Couple Crashes NATO Summit
NATO: Overtaxed Allies Assess Role In Afghanistan
Russia: NATO Divided On Expanding Alliance, But Moscow's Stance Is Clear
Vox Pop: Is 'Fear Factor' Behind Your Country's NATO Aspirations?
NATO: Defense Ministers Focus On Afghan Reconstruction
NATO: In Rough Neighborhood, Hopefuls Feel Lure Of 'Soft Power'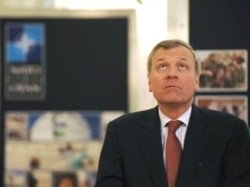 LOTS TO TALK ABOUT: The agenda of this week's NATO summit in the Romanian capital has included key questions about relations with the Balkans, the Caucasus, Afghanistan, Ukraine, and Russia. Entering the event, there was risk of gridlock, as Georgia and Ukraine sought "Membership Action Plans" over strident objections from Russia. Meanwhile, Balkan aspirants Albania, Croatia, and Macedonia already had their MAPs but faced varying degrees of resistance to their membership from inside the alliance. Secretary-General Jaap de Hoop Scheffer (pictured above) and NATO leaders were also grappling with the alliance's biggest current challenge and putative "top priority," its Afghan mission. Relations with Russia provided further drama as Washington pressed ahead with its effort to build a missile-defense system in Europe.