In one camp: the United States and "new" EU members from Central and Eastern Europe pushing strongly to bring Ukraine and Georgia into the military alliance.
In the other: "old" European nations, led by Germany and France, firm in their opposition to granting both NATO hopefuls Membership Action Plans (MAP), a gateway into the alliance.
It wasn't the first time an issue had divided the alliance along "new" and "old" lines. But the debate, conducted in the shadow of mounting Russian resentment, seemed especially acrimonious.
Would Germany and France squeamishly cave in to Moscow's threats? Would the short-sighted newcomers push NATO into a risky standoff with the Kremlin? To be safe, NATO officials had drafted two separate sets of declarations for the summit -- one containing offers of MAPs, the other not.
After a fractious, closed-door debate and a scramble of last-minute deal-making, however, NATO spoke with one voice.
No MAPs would be offered during the summit, it was true. Instead, Secretary-General Jaap de Hoop Scheffer offered Kyiv and Tbilisi something that many believe was even more valuable: "NATO welcomes Ukraine's and Georgia's Euro-Atlantic aspirations for membership in NATO. We agreed today that these countries will become members of NATO."
Clever Marketing?
De Hoop Scheffer said the two countries' MAP applications will be reviewed at a meeting of NATO foreign ministers in December. Speaking in Bucharest on April 4, he reiterated that commitment, saying his words left no "shimmer of a doubt" that Ukraine and Georgia are bound for NATO membership.
The decision -- a "yes" wrapped up in a "no" -- was a feat of clever diplomacy, allowing all sides to claim victory. (Nowhere was this better demonstrated than in Ukraine, where anti-NATO forces celebrated the decision as passionately as President Viktor Yushchenko and other pro-alliance officials.)
It also quieted the rumors of NATO's internal discord, and marked a coup of sorts for the alliance's New Europe contingent, which fought to ensure that the membership guarantee made it into the language of the final agreement.
Karel Schwarzenberg, the foreign minister of the Czech Republic, told RFE/RL in Bucharest that his country, together with Poland and the Baltic States, succeeded in amending an early agreement hammered out between Germany and the United States that dangled the possibility of a MAP in December but included no pledge on membership.
"The first text wasn't that bad. When [Polish Foreign Minister] Radek Sikorsky and I looked at it, we said it is not the dream text, but we could live with it," Schwarzenberg said. "But then the Polish president, Lech Kaczynski, came and said it isn't acceptable for him and the discussion started."
Schwarzenberg said "the Poles led a group, mainly the Baltic States, out of the room" for "a caucus." Once the full meeting reconvened, "this final text came out."
The Upstarts
Asked if it was hard for Germany and France to sign on to the final text, Schwarzenberg said, "I think it was very tough for them, but finally they agreed."
NATO's "new Europe" members might be tempted to view the NATO statement as a sign they have finally edged out the sometimes condescending wing of "old Europe."
The concerns voiced in Germany and France about vexing Moscow by setting Ukraine and Georgia on track for membership had deeply irked many in new NATO states, whose shared history of Soviet domination remains fresh.
Schwarzenberg sought to downplay the divide between old and new. But he acknowledged that officials from the post-Soviet area -- including even Merkel, who grew up in East Germany and who, despite her opposition to the Bucharest MAPs, has generally supported the Georgian and Ukraine bids -- may look at the issue of expansion in a different way.
"I don't think these differences are very big," he said. "It is true that countries that have more recent experience with dictatorships are sometimes more sensitive than countries who never had this experience. Of course, [Germany Chancellor] Angela Merkel is a person who understands such regimes, and has much more instinct for it than many of her Western colleagues, because she knows what she is speaking about."
The last-minute consensus, however, is unlikely to have resolved deep-running differences over the issue.
Some Reservations
Germany and France have repeatedly pointed to Georgia's failure to reassert control over its two separatist provinces of Abkhazia and South Ossetia, and to the lukewarm public support for NATO membership within Ukraine itself.
French Prime Minister Francois Fillon reiterated earlier this week that accepting both countries into NATO would amount to disrupting the geopolitical balance with Russia.
Germany has a particular interest in maintaining a good working relationship with Russia, a key supplier of oil and gas in Europe, as it is eager to move ahead with the North Stream pipeline that will pump Russian natural gas directly to Germany.
But NATO-watchers say divisions are not uncommon within the 26-member alliance and it should be able to weather this one, too, without much trouble.
"NATO, in its democratic organization, is a very flexible alliance," Alexander Garin, a professor of national security strategy at the German Marshall Center, said. "It's enough to look at the example of Iraq, how much it divided the positions of Western powers -- the United States' allies on the one side, everyone else on the other. All the same, the alliance didn't fall apart. The democratic process lends itself to some chaos; it's not a monolith."
RFE/RL's Russian Service and correspondent Brian Whitmore in Bucharest contributed to this report
NATO summit coverage
A Meeting Of 'Old' And 'New' Minds
Commentary: Germany And The Georgian And Ukrainian NATO Bids
NATO Diary: Bucharest, You Are No Munich!
New NATO Commitments Lead Kabul To Take Greater Security Role
France Offers Troops To Bolster ISAF Mission
Central Asia: Odd Couple Crashes NATO Summit
NATO: Overtaxed Allies Assess Role In Afghanistan
Russia: NATO Divided On Expanding Alliance, But Moscow's Stance Is Clear
Vox Pop: Is 'Fear Factor' Behind Your Country's NATO Aspirations?
NATO: Defense Ministers Focus On Afghan Reconstruction
NATO: In Rough Neighborhood, Hopefuls Feel Lure Of 'Soft Power'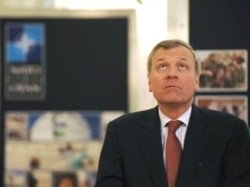 LOTS TO TALK ABOUT: The agenda of this week's NATO summit in the Romanian capital has included key questions about relations with the Balkans, the Caucasus, Afghanistan, Ukraine, and Russia. Entering the event, there was risk of gridlock, as Georgia and Ukraine sought "Membership Action Plans" over strident objections from Russia. Meanwhile, Balkan aspirants Albania, Croatia, and Macedonia already had their MAPs but faced varying degrees of resistance to their membership from inside the alliance. Secretary-General Jaap de Hoop Scheffer (pictured above) and NATO leaders were also grappling with the alliance's biggest current challenge and putative "top priority," its Afghan mission. Relations with Russia provided further drama as Washington pressed ahead with its effort to build a missile-defense system in Europe.