Speaking to a crowd of thousands at St. Mark's Square in the Croatian capital, Zagreb, Bush also expressed hope that Macedonia would join NATO "as soon as possible," along with Bosnia-Herzegovina, Montenegro, and perhaps Serbia.
Bush also urged Zagreb and Tirana to continue reforms. "The invitation to join NATO that Croatia and Albania received this week is a vote of confidence that you will continue to make necessary reforms and become strong contributors to our great alliance," Bush said. "Henceforth, should any danger threaten your people, America and the NATO alliance will stand with you and no one will be able to take your freedom away."
Croatia and Albania were offered full membership at the alliance's summit in Bucharest on April 3.
Bush's host in Zagreb, Prime Minister Ivo Sanader, thanked the United States in his address for its "strong support" for Croatia.
The U.S. president arrived in Croatia late on April 4 after the conclusion of the NATO summit in Bucharest, Romania.
The events in Zagreb were also attended by Macedonian President Branko Crvenkovski and Prime Minister Nikola Gruevski. Bush said he regretted that Macedonia, locked in a dispute over its name with Greece, was not also invited to join.
"In Bucharest, NATO allies declared that as soon as this issue is resolved, Macedonia will be extended an invitation to join the alliance. America's position is clear: Macedonia should take its place in NATO as soon as possible."
Bush said Bosnia-Herzegovina and Montenegro should also advance toward NATO membership. At the Bucharest summit, leaders of the alliance agreed that both countries should begin engaging in intensive dialogue about their wish to join the alliance.
Bush also reached out to Belgrade, where critics angry over international support of Kosovar independence have sought to curb relations with the West. The longtime UN-administered province's majority ethnic Albanian leadership declared independence from Serbia in February.
"The NATO alliance is open to all countries in the region. We welcome the decisions of Bosnia-Herzegovina and Montenegro to take the next steps toward membership, called 'intensive dialogue,'" Bush said. "And we hope that soon a free and prosperous Serbia will find its rightful place in the family of Europe and live at peace with its neighbors."
Finally, Bush praised Croatia, Albania, and Macedonia for their contributions to counter terrorism and to bolster efforts central to two U.S.-led military campaigns.
"Together, the peoples of this region are helping to confront this [terrorist] danger. Today soldiers from Croatia, Albania, and Macedonia are serving bravely in Afghanistan, helping the Afghan people defeat the terrorists and secure their future of liberty. Forces from Albania and Macedonia are serving in Iraq, where they're helping the Iraqi people build a society that rejects terror."
Earlier in the day, at a joint press conference with Croatian Prime Minister Sanader, Bush pledged to work to ease visa rules to allow Croatians easier travel to visit relatives in the United States, although he gave no details.
Following his visit to Croatia, Bush flew east to the Black Sea resort of Sochi, where he is expected to meet with outgoing Russian President Vladimir Putin and President-elect Dmitry Medvedev.
Aspiring Allies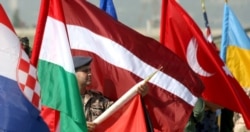 FEAR FACTOR: Membership in the exclusive Western club known as NATO is seen by all aspiring entrants as a security blanket. But for some, the memories of war or the threat of future conflict are more vivid. With Georgia, Ukraine, and Croatia in the running to receive Membership Action Plans -- a key step toward eventual NATO membership -- RFE/RL took to the streets to ask residents whether a "fear factor" plays a role in their countries' NATO aspirations.
See: "Is 'Fear Factor' Behind Your Country's NATO Aspirations?"