Iraq: U.S. Troops' Assessment Of Mission Fluctuates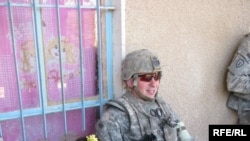 By Richard Tomkins http://gdb.rferl.org/34267DB7-4AAC-45A2-BE9C-B56D1508A314_w203.jpg U.S. troops resting around Forward Operating Base Normandy (RFE/RL) AL-MUQDADIYAH, IRAQ -- Lost in the shuffle of U.S. Army General David Petraeus's testimony to Congress on the security situation in Iraq are the voices of the troops on the ground.
Do the men on the frontline of the fight see progress in security? Do they think Iraqis are moving forward in taking over responsibility for their own lives? Do they believe they are accomplishing something positive?

There are no quick, easy, or definitive answers to those questions. The responses they give vary from day to day and depend on when they are asked. Right after a mission outside the wire -- and all the tensions that go with it -- the gripes and voiced frustrations come fast and furious. Later, when the soldiers are a bit more relaxed, the responses are more reflective.

"They were shocked when we came [to Diyala Governorate's bread basket]. When we got here we walked around and the people didn't even want to make eye contact with us," said Sergeant Rudy Parrenno of the 3rd Squadron, 2nd Stryker Cavalry Regiment. "They were scared. All they heard from Al-Qaeda were these stereotypical things about American forces. It took them a little while to gain a sense of trust.

"An older man with his family came up to me the other day and said that for the first time he and his family have been able to have a good night's rest. That means a lot. That lets you know that everything you're doing in sector is paying off, you're making a difference."

The sergeant's Stryker regiment -- now based around Al-Muqdadiyah, around 80 kilometers north of Baghdad -- has been involved with both urban and rural combat operations. In 2004-05, they were deployed in the northern city of Mosul from their home base in Vilseck, Germany. In September and October 2007, they fought pitched battles against Al-Qaeda and various militias in southeast Baghdad. In January of this year, they chased Al-Qaeda out of Diyala's farming region where the terrorists ran rampant for two years.

Their mission today, conducted out of a forward operating base near Al-Muqdadiyah and satellite operations posts, is not only to keep terrorists out of the province but also to help Iraqis take control of their own security, bridge sectarian divides, and learn the ropes of local democratic self-governance.

Getting Back To Normal
When they left Baghdad, the districts of East Rashid and Dura were returning to life. Residents driven out by sectarian and terrorist violence were returning, schools were opening, and some repopulating neighborhoods had put up signs urging old neighbors to come back and help heal the sectarian divide gunmen had fueled and brought to a bloody explosion in 2006.

"I definitely think what we've done has been worth it," said First Lieutentant Brian Evans, from Oregon. "Just seeing the change in communities from the time we, for example, entered Dura; the effect we have had by our work and just our presence -- reassuring people [of their safety] and helping and allowing the IA [Iraqi Army] and IP [Iraqi Police] do their jobs better because we were there."

Evans, on his first tour of Iraq, believes the surge of troops to increase stability has worked. "I really do," he said. "But at the same time, when you add troops like that you have to expect a payoff. More troops means more security. The real test of time will be when the surge is over. Will the advances made during the surge and the big steps we took forward last, even when we go down to a lesser number of soldiers?"

The surge refers to the increase in the number of U.S. forces last summer to improve security enough for the government of Prime Minister Nuri al-Maliki to institute reconciliation reforms and undertake infrastructure projects to win the confidence of Baghdad's population. At the same time, a U.S. hearts-and-minds counterinsurgency strategy was launched in other areas of the country.

By and large the soldiers spoken to over five months by this reporter are positive on what they are doing and what is being achieved. But they are also disheartened by the 15-month deployment schedule enacted as part of the surge. Most take it in stride. Others do not.

"I'm getting out [of the army]," a specialist by the name of Allen interjected while a reporter was talking to another soldier. "[Expletive] this 15 months stuff. We should just get the [expletive] out of this country. We never should have come here in the first place. We're spinning our wheels. This place has been war-torn since the beginning of time."

Another soldier, Staff Sergeant Jeremy Brown, said one evening after a long mission in the countryside: "I want to leave. Obviously there would be repercussions, but it wouldn't be an overnight. But [leave] sooner rather than later."

Brown, on his second tour in Iraq, said he was frustrated by "having to hold their [Iraqis'] hands." "When I came back, I expected that a lot more IA and IP would be doing the things I'm doing now."

Ups And Downs
Allen's anger and Brown's disappointment may have reflected their mood at the moment. But even if not, "everyone here gives 110 percent [to their missions] and they'll always be there for their buddies," a soldier said.

"You have to look at the positives as well as the negatives. On a day-to-day basis it's hard sometimes for us to see the good. But when you sit back, you can see the changes you made and see they helped make this place more secure."

At the halfway mark in the fiscal year, 90 of the 250 soldiers who have become eligible for reenlistment have done so. The year's goal is 188 and officials hope that will be achieved.

"In 2004, we were fighting out of the FOBs [forward operating bases] trying to win this by clearing or destroying the enemy," said a captain, on his second tour, who requested anonymity. "Now we understand the human dynamic of the counterinsurgency fight. We understand that to win this thing, we must leverage the population.

"I truly believe we are making progress...[and] it takes time. "But if you watch American politics it would make you think we don't have a lot of it."

SUBSCRIBE For weekly news and analysis on Iraq by e-mail,
subscribe to "RFE/RL Iraq Report."