On March 10, the 45-year-old lawyer set up a tent outside the public defender's office in downtown Tbilisi, and declared a hunger strike.

"As a lawyer, it was the only remaining option," says Jangirashvili, speaking by phone from Tbilisi this week, after calling an end to his strike after 29 days. "There are no free courts in Georgia; the role of lawyers is almost nil. We have no mechanism to oppose this."
Jangirashvili, who was lobbying for greater media access to court proceedings and less secrecy in appeal procedures, ingested nothing but water for almost a month; in the process, he lost 15 kilograms and says he feels exhausted.

But Jangirashvili is hailing the strike as a triumph. He says his campaign, which was joined by a number of fellow lawyers, succeeded in raising attention to the dire need of legal reform in Georgia.
"I think it was a success," he says. "My colleagues declared a strike, a legal initiative was introduced in parliament, 40,000 citizens gave their signatures, deputies and opposition figures helped me. My demands have started being fulfilled."

Growing In Use

Jangirashvili is not the first in Georgia to resort to this radical form of protest. Some 60 opposition activists last month staged a protest fast for 17 days to press their call for changes to the country's electoral system ahead of a key parliamentary poll in May.

Georgia itself is no exception -- hunger strikes are becoming increasingly common in neighboring countries, too.

Several journalists in Azerbaijan have been refusing food for more than a week to protest the jailing of three of their colleagues and the general crackdown on independent media.

In Armenia, a collective hunger strike by jailed opposition activists overshadowed the April 9 inauguration of Serzh Sarkisian as the country's new president. About 100 supporters of Levon Ter-Petrossian, who unsuccessfully ran against Sarkisian in the February 19 presidential election, have been in prison since massive protest rallies following the vote.

The Belarusian opposition also regularly resorts to hunger strikes. Former presidential candidate Alyaksandr Kazulin, who is serving a 5 1/2-year sentence for organizing antigovernment protests, starved for 53 days in late 2006 with one demand -- that the UN Security Council officially discuss the situation in Belarus. His plea was not fulfilled, but his ordeal became a powerful statement of protest against Belarus's authoritarian regime.

No Other Way

Throughout the world, hunger strikes are seen as one of the most radical forms of dissent, a protest of last resort.

They have been used by people fighting for a wide range of causes, from Indian spiritual leader Mahatma Gandhi to U.S. and British suffragettes in the early 20th century.

Perhaps the best-known hunger strike was held by Irish republicans in 1981. Twenty-seven-year-old Bobby Sands died in a British jail after an agonizing 66 days without food. Nine other jailed Irish republicans starved themselves to death to protest prison conditions.

But few hunger strikers show that kind of determination. Dr. Otmar Kloiber, the secretary-general of the World Medical Association, says hunger strikes have become a very elastic concept.

"We've seen various kinds of hunger strikes -- by prisoners, by workers. Hunger strikes take place for very different issues and with all kinds of degrees of severity," Kloiber says. "Some people take nothing; but sometimes a hunger strike means not eating anything during the day but eating something at night. Then there are hunger strikes where people refuse only solid food."

Nothing New

Hunger strikes were not uncommon in the Soviet Union, although censors made sure few details trickled down to the public.

Prison authorities often force-fed hunger strikers to avoid the embarrassment of their deaths -- a practice that continues today in places including the U.S. military prison at Guantanamo Bay. The tactic has been widely denounced by critics and medical ethicists as tantamount to torture.

Vladimir Bukovsky, the Soviet-era dissident who recently returned to the headlines with his bid to run in Russia's March presidential elections, was subjected to force-feeding as a political prisoner in Moscow's Lefortovo prison in 1971. He described the experience in an article published in "The Washington Post" in 2005 that is widely quoted as testament to the horrors of force-feeding:

"About a dozen guards led me from my cell to the medical unit. There they straitjacketed me, tied me to a bed, and sat on my legs so that I would not jerk. The others held my shoulders and my head while a doctor was pushing the feeding tube into my nostril.

"The feeding pipe was thick, thicker than my nostril, and would not go in. Blood came gushing out of my nose and tears down my cheeks, but they kept pushing until the cartilages cracked. I guess I would have screamed if I could, but I could not with the pipe in my throat. I could breathe neither in nor out at first; I wheezed like a drowning man -- my lungs felt ready to burst. The doctor also seemed ready to burst into tears, but she kept shoving the pipe farther and farther down. Only when it reached my stomach could I resume breathing, carefully. Then she poured some slop through a funnel into the pipe that would choke me if it came back up. They held me down for another half-hour so that the liquid was absorbed by my stomach and could not be vomited back, and then began to pull the pipe out bit by bit."

'Few Options' Left

Russia's veteran human rights campaigner, 80-year-old Lyudmilla Alekseyeva, recalls the use of hunger strikes during the Soviet era.

"Hunger strikes occurred in camps during the Stalin period. I was a little girl back then," Alekseyeva says. "As an adult, when there was already a dissident movement, I remember that political prisoners in camps also often resorted to this method."

Refuseniks -- Jews and other Soviet citizens who had applied for and been denied the right to emigrate abroad -- also used hunger strikes to pressure authorities into allowing them to leave the country.
Hunger strikes gained pace in the early 1990s following the collapse of the Soviet Union. As the economy unraveled throughout the former Soviet bloc, desperate workers turned to hunger strikes to protest payment arrears.

The 1981 hunger strike by Irish republicans has been instrumental in promoting this form of protest.

But the recent spike in hunger strikes in CIS countries also highlights a new degree of civic despair in the post-Soviet neighborhood. Faced with official indifference and corrupt courts, growing numbers of people see public starvation as the only way of drawing attention to their plight.

Aleksandr Tarasov, a Russian sociologist and expert on contemporary labor movements, says the growing number of hunger strikes reflects a rise in "authoritarian tendencies."

"Compared to late perestroika and the period that immediately followed perestroika -- until 1993-94 -- there has been a massive rollback in terms of the possibilities to defend one's rights through democratic means," Tarasov says. "When people realize that strikes, pickets, and demonstrations don't have the desired result, they are left with very few options."

Still Effective?

At least three hunger strikes are currently taking place in Russia.

Sixteen tradesmen in the city of Komsomolsk-na-Amure, in Russia's Far East, have been refusing food since April 2 to protest the closure of their market.

In Yuzhno-Sakhalinsk, on Russia's Pacific coast, six local deputies are on hunger strike in one of the parliament's cabinets to call for the dismissal of the city mayor.

In Krasnoyarsk, restaurant employees on April 8 barricaded themselves in their workplace and declared a hunger strike to demand the restitution of salary arrears. The restaurant owner has since admitted paying them in foodstuffs instead of money for the past five months, but claims he is currently unable to settle his debt.

Last week, a group of 97 exhausted miners left a mineshaft in the Ural Mountains where they had spent more than a week in protest over pay and work conditions. They had been without food for four days. The mine is owned by Oleg Deripaska, Russia's richest man, and declared a turnover of $14.3 billion for 2007 -- up 11 percent from the previous year.

Hunger strikes, however, appear to have lost some of their power as a pressure tool over the years. While hunger strikers were largely successful in the 1990s, Tarasov says only about half of them now achieve their stated goals.

But because of its length and the physical pain it entails, self-imposed starvation continues to be regarded in many former Soviet countries as the most effective -- and often only -- form of protest.

"I am a categorical enemy of hunger strikes. I always try to talk people out of this cruel way to seek solutions to their problems," Alekseyeva says. "But I am increasingly unsuccessful, because people don't see any other way out."
History Of Hunger Strikes
History Of Hunger Strikes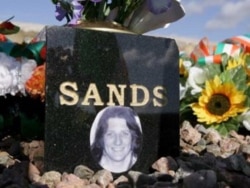 One of the first known references to hunger strikes dates back to medieval Ireland, whose civil code regulated their use as a means to redress an injustice. The wronged person would fast on the doorstep of the offender. If the hunger striker died, the householder -- beside suffering great dishonor -- was held responsible and had to pay compensation to his family.
India had a similar practice, which was abolished by the British-run government in 1861.
One of the world's most famous hunger strikers, Bobby Sands, was from Northern Ireland. He was one of 10 Irish republicans who starved to death in British jails to protest detention conditions.
"I'm continually wrapped up in blankets, but find it hard to keep my feet warm," Sands wrote in his diary on the 16th day of his hunger strike. "It doesn't help my body temperature, drinking pints of cold water. I'm still able to take the salt and five or six pints of water per day without too much discomfort."
Deprived of food, the body uses fat reserves for the first three weeks before drawing on muscles and vital organs for energy. Hunger strikers rarely survive beyond 70 days. Sands died after 66 days.
New, less grueling types of hunger strikes have emerged in recent years. One of them is the "relay" hunger strike, in which protesters hold consecutive 24-hour fasts over an extended period of time.