Unlike the fallout between "old Europe" and the United States over Iraq in 2003, however, this split was said to be about "realpolitik" -- a hard-nosed defense of what Europe perceives as its own interests.
On this view, France and Germany and most of western continental Europe apparently decided that offering Ukraine and Georgia Membership Action Plans (MAPs) would needlessly antagonize an increasingly assertive Russia.
There was an element of gloating in the reaction of the French media to the news that U.S. President George W. Bush had failed to impose his will on the rest of the allies. The daily "Le Monde" ran its summit story on April 4 under the headline "U.S. Thwarted By Europeans Over NATO Enlargement," and "Le Figaro" chimed in with "Sarkozy And Merkel Impose The Voice Of Europe."
The German media were less willing to succumb to self-congratulatory chest thumping and were trying to make sense of the long-term impact of the developments. Thus "Die Welt" appeared almost pensive with its April 4 headline "Self-Conscious Europeans." In "Handlesblatt," correspondent Eric Bonse mused that "the exciting question now is whether [the French and German] 'No' at Bucharest was a one-off veto or if it heralds a shift of power within NATO."
A subtler interpretation was offered to the European Parliament's Foreign Affairs Committee on April 8 by EU foreign-policy chief Javier Solana. A former NATO secretary-general who sat in on all Bucharest meetings as an invited guest, Solana told EU deputies to view the Bucharest summit and the meeting between Russian President Vladimir Putin and Bush a day later as two sides of the same coin. As a result of both meetings, he said, NATO and the EU "can look with optimism [and] constructive realism on the big issues of a strategic nature which are important to us" -- instead of facing a "vacuum" -- when it comes to various arms-control treaties, some of them moribund, signed with Russia.
In December, Russia suspended its participation in the Conventional Forces in Europe (CFE) Treaty, which placed limits on troop levels and conventional weaponry between the Atlantic and the Urals.
In announcing its decision, Moscow said the Cold War-era treaty had "ceased to respond to modern European realities and to meet our security interests." But the major sticking point was Russia's unhappiness over NATO's refusal to ratify the treaty's successor, CFE-II, until Moscow made good on its commitments to withdraw its troops and materiel from Georgia and Moldova. The lack of ratification of CFE-II by all NATO countries, the Kremlin argued, left Russia vulnerable because the Baltic states could possibly harbor troops on its western border.
In Bucharest, Putin indicated that Russia may be willing to reconsider its position on the CFE. Just days later, during his talks in Sochi with Bush, he said that differences remained on finding a replacement for the START nuclear-arms-control treaty, which will expire in 2009, but that progress had been made.
Another key moment will come in 2010, when the Nuclear Nonproliferation Treaty (NPT) will come up for review. The United States and its allies will need the cooperation of Russia to face down a threatened revolt by nonaligned states who argue that the nuclear powers contravene the terms of the treaty by not working to reduce their hoards of nuclear weapons.
Looking at the tea leaves, Ukraine and Georgia must see that their hopes of joining NATO have been diluted.
This is because the pledges given during the Bucharest summit amount to little, if anything. Essentially, NATO's promise simply rephrased part of NATO's charter, which states that "the parties may, by unanimous agreement, invite any other European State in a position to further the principles of this treaty and to contribute to the security of the North Atlantic area to accede to this treaty."
Georgia and Ukraine may have been recognized as European countries, but they still lack a specific MAP toward NATO membership and a unanimous decision by the allies to accept them. In the end, they have promises on which they can't necessarily cash in.
The European allies' strategic perception of Georgia's and Ukraine's situations is unlikely to change in the foreseeable future. Russia will in all likelihood remain steadfastly opposed to their being given MAPs. Solana's interpretation of the state of affairs suggests that, at the very least, both countries will have to wait until the "big pillars" of European security -- strategic arms-control treaties -- have again been secured.
Much has been made of Georgian and Ukrainian leaders' putative joy at receiving promises of eventual NATO membership. The government in Tbilisi faces parliamentary elections later this month and could scarcely afford to be seen as thwarted in its ambition to move closer to NATO. Ukraine's political elites are split down the middle over NATO membership, and President Viktor Yushchenko must avoid appearing to falter in his leadership.
Solana's somber assessment of where both countries stand, delivered on April 8, contains the bitter truth: that neither country is ready for NATO or the European Union. "Ukraine," he said, "does not have a political system that is at the level of the aspirations of some [of its] leaders," a necessary condition for joining NATO and/or the EU. "It lacks political solidity."
Georgia, on the other hand, must understand it will have to resolve its internal conflicts by peaceful means, Solana said. This comes barely a week after the separatist leadership in Abkhazia rejected an all-or-nothing compromise offer from Tbilisi. Privately, EU diplomats say Sukhumi appears to have no intention of rejoining Georgia.
There are wider "structural" implications to the Bucharest decisions that go beyond the immediate fates of Ukraine and Georgia, affecting their closest backers in NATO and the EU -- and thereby, by extension, further serving to undermine their positions with regard to both organizations.
First, there is the undeniable shadow of Russia hanging over the Bucharest decision. While it does not amount to a "veto," Moscow's muscle-flexing has for the first time had an observable effect on NATO decision making.
Second, the United States appears more vulnerable within NATO than at any time in the past. A NATO in which the will of the United States is no longer law is a terrifying prospect for most of its new members, not to mention Ukraine and Georgia.
And finally, when French Prime Minister Francois Fillon said that giving MAPs to Ukraine and Georgia "is not the correct response to the balance of power in Europe, and between Europe and Russia," he did something rather more profound than simply acknowledge Moscow's importance.
Whether he used the term "balance of power" wittingly or unwittingly, Fillon resurrected a concept that many in Europe thought had been buried for good. Solana's right-hand man, former British diplomat Robert Cooper, is the best-known and most eloquent proponent of the view (argued in his 2003 book "The Breaking Of Nations") that the bloc's unique art of pooling member-state sovereignty has forever laid to rest the ghost of nation-state rivalries and the attendant constant threat of war on the continent.
This commentary does not necessarily represent the views of RFE/RL
NATO summit coverage
A Meeting Of 'Old' And 'New' Minds
Commentary: Germany And The Georgian And Ukrainian NATO Bids
NATO Diary: Bucharest, You Are No Munich!
New NATO Commitments Lead Kabul To Take Greater Security Role
France Offers Troops To Bolster ISAF Mission
Central Asia: Odd Couple Crashes NATO Summit
NATO: Overtaxed Allies Assess Role In Afghanistan
Russia: NATO Divided On Expanding Alliance, But Moscow's Stance Is Clear
Vox Pop: Is 'Fear Factor' Behind Your Country's NATO Aspirations?
NATO: Defense Ministers Focus On Afghan Reconstruction
NATO: In Rough Neighborhood, Hopefuls Feel Lure Of 'Soft Power'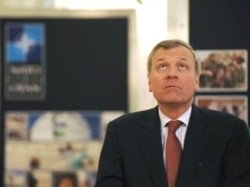 LOTS TO TALK ABOUT: The agenda of this week's NATO summit in the Romanian capital has included key questions about relations with the Balkans, the Caucasus, Afghanistan, Ukraine, and Russia. Entering the event, there was risk of gridlock, as Georgia and Ukraine sought "Membership Action Plans" over strident objections from Russia. Meanwhile, Balkan aspirants Albania, Croatia, and Macedonia already had their MAPs but faced varying degrees of resistance to their membership from inside the alliance. Secretary-General Jaap de Hoop Scheffer (pictured above) and NATO leaders were also grappling with the alliance's biggest current challenge and putative "top priority," its Afghan mission. Relations with Russia provided further drama as Washington pressed ahead with its effort to build a missile-defense system in Europe.