During her April 20 visit, Rice said that she was in Iraq to help promote reconciliation among factions. Speaking to reporters traveling with her, Rice praised Iraqi Prime Minister Nuri al-Maliki's security efforts.
The top U.S. diplomat said she saw a "coalescing of a center in Iraqi politics" in which the Sunni, Kurdish, and elements of the Shi'ite leadership "have been working together better than at any time before."
Rice's visit comes as the government appears to be reaching a decisive moment in its showdown with al-Sadr's militia, the Mahdi Army. The government has been cracking down on al-Sadr's followers.
In a statement issued on April 19, the Shi'ite cleric said he was giving a "final warning" to the Iraqi government to choose the "path of peace" or face the consequences.
The statement was read by the powerful Shi'ite cleric's spokesman, Salah al-Ubaidi, in Al-Najaf, south of Baghdad.
"I'm giving the final warning and the final word to the Iraqi government: Either it comes to its senses and takes the path of peace or it will be seen as the same as the previous government," al-Sadr's spokesman, Salah al-Ubaidi, said in Al-Najaf, south of Baghdad. "If it does not stop the militias that have infiltrated the government, then we will declare an open war until liberation."
Dueling Ultimatums
Al-Sadr, who is believed to be in Iran, also called for the independence and sovereignty of Iraq, criticizing Prime Minister Nuri al-Maliki's government for its alliance with U.S. forces.
Al-Sadr said he had already tried to defuse tensions as early as in August 2007 by declaring a ceasefire, but that the government responded by closing his offices and "resorting to assassinations."
The Shi'ite-dominated government has ordered al-Sadr to disband his Al-Mahdi Army or face a ban from Iraqi politics. It has also asked all political groups to leave state buildings they seized and turn them over to the authorities.
Al-Sadr's warning came amid fresh clashes between his Al-Mahdi Army and Iraqi troops supported by foreign forces in the capital and the south of the country.
In Al-Sadr City, the cleric's power base in the capital, intense fighting have been going on since April 18.
The U.S. military says 20 militia fighters were killed in clashes with U.S. forces overnight in the district. Spokesman Lieutenant-Colonel Steven Stover called the series of gun battles and air strikes the "hottest night" in weeks.
Reports say a U.S. air strike in the northwestern Shula neighborhood killed and wounded several people overnight. Abu Haitham said he had family members among the dead.
''Enough destruction, enough blood. The Iraqi people are dying," Haitham said. "Today, the rocket hit my house, tomorrow it will strike yours. Think of the people. Think of the Iraqi people. Think of the people. Enough blood. Enough blood.''
AFP reports that loudspeakers at mosques in Al-Sadr City called people to "fight the occupiers." Residents quote the late-night loudspeaker messages as demanding that the siege of Al-Sadr City be lifted and urging the Iraqi troops not to fight their "brothers."
On Saturday, the Baghdad government claimed success in a new push against Shi'ite militants in the southern city of Al-Basrah. On April 19, Iraqi troops backed by U.S. and British forces launched an operation in the city's Al-Hayaniyah district, where al-Sadr has strong support. There was no clear information about casualties.
Iraqi forces and Al-Mahdi Army fighters also clashed in Al-Nasiriyah, leading authorities to impose a curfew in the southern city on April 19.
Fear And Apprehension
Al-Sadr's warning has sparked fears among Iraqis that the country was bracing for a further increase in violence.
''We hope there won't be another war, Iraqis shouldn't fight among themselves," an unidentified Baghdad resident said. "I hope that Sadr's ultimatum is an ultimatum for peace.''
A resident from Al-Sadr City agreed, but also called for the lifting of what he called the siege of his neighborhood.
"We don't want things to become a war. We want peace, we are tired," the unidentified resident said. "I live in Al-Sadr City. I have been up since 0600 and I had to pass through three districts to get to work. We want this siege to stop. We are a people who have always been persecuted. Al-Sadr City has always been persecuted.''
Reports say tensions in the neighborhood have been increased by the construction of a wall in the district by U.S. and Iraqi forces. The U.S. military says the wall is needed to prevent rocket fire coming from Al-Sadr City and aimed at the heavy fortified Green Zone compound that houses Iraqi government buildings and embassies.
Al-Basrah was the scene of intense fighting about three weeks ago, after Iraqi forces made an attempt to disarm militias in the city. The fighting spread to various parts of Iraq, including in Baghdad's Al-Sadr City, killing hundreds of people. The militias were not disarmed, but promised to take their weapons off the streets.
Compiled from agency reports
Who Speaks For Islam?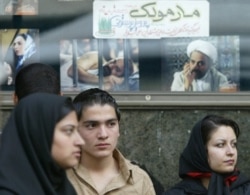 Young Muslims at a movie theater in Tehran (AFP file photo)


CROSS-CULTURAL DIALOGUE: On June 13, RFE/RL hosted a roundtable discussion entitled "Who Speaks For Islam?" The event was hosted by U.S. Undersecretary of State for Public Diplomacy and Public Affairs Karen Hughes and featured scholars of Islam from the United States, Europe, and the Middle East.
LISTEN
Listen to the entire briefing (about 2 hours and 15 minutes):

Real Audio
Windows Media
RELATED ARTICLES
Undersecretary Of State Pushes For More Interfaith Dialogue
Prominent Western Muslim Rejects 'Clash Of Civilizations' Idea
Scholar Warns Europe Of 'Clash Within Civilization'
Antiterrorism Battle Can't Be Won Without Full Muslim Involvement

A thematic webpage devoted to issues of religious tolerance in RFE/RL's broadcast region and around the globe.