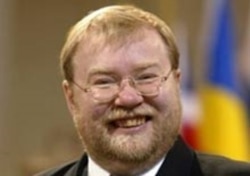 Former Estonian Prime Minister Mart Laar has more recently become known as a vocal supporter of Georgia's pro-Western aspirations. Laar served as a special adviser to Mikheil Saakashvili after the 2003 Rose Revolution, and helped the government move forward on a program of liberal reforms. Laar spoke to RFE/RL Georgian Service correspondent Nino Gelashvili on April 22, one day after Tbilisi accused Moscow of shooting down an unmanned Georgian plane over the breakaway region of Abkhazia. Laar compared the relationship between the two countries to sumo wrestling: "whoever loses their balance first, loses."
RFE/RL: Georgia failed to get a NATO Membership Action Plan at the Bucharest summit in early April. Would the "balance" between Tbilisi and Moscow improve if Georgia were to get a MAP?
Laar: Yes. Because that would be a clear sign that Russia can understand. The promise they were hoping to get from the West was that there would be no MAP at this time. That they got. But they've taken that promise to mean that they will now have a free hand in Georgia. And they won't.
RFE/RL: Why did countries like France and Germany oppose the MAP? Was Russia the main factor, or was it because Georgia wasn't ready?
Laar: No, it was because of Russia. It was just naive to hope to integrate Russia in a positive way into the discussion, and to give Dmitry Medvedev a "fresh" start as the new president of Russia. That's not how Russia understands things. Russia never admires weakness. The only thing it admires is strength.
RFE/RL: Is there anything the EU and the international community can do?
Laar: Russia is about to see its relationship with the West deteriorate very badly. Russians understand that the dependence is on both sides: Europeans to some extent are dependent on Russia, and in the same way, Russia is dependent on the EU. When you deal with Russia, you must know this country. We [Estonians] know it. We have lived under Russian occupation for more than 50 years. A lot of Europeans have not.
Editor's note: The Estonian Parliament on April 23 issued a statement expressing "deep concern" over Russia's decision to intensify ties with Abkhazia and South Ossetia. "Emphasizing the principle set out in the Bucharest Summit Declaration that third countries have no say in the decisions concerning the enlargement, the Riigikogu calls upon the Member States of NATO to issue the Membership Action Plan to Georgia in December 2008."