Belarus: RFE/RL Cites Online 'Solidarity' In Face Of Cyberattack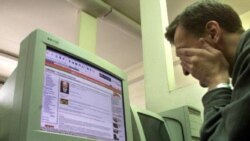 By Ihar Karnej and Brian Whitmore http://gdb.rferl.org/10701FE8-839C-482D-8275-A5EC12749D19_w203.jpg Internet user in Minsk (file photo) MINSK/PRAGUE -- Radio Free Europe/Radio Liberty's Belarus Service is lauding the country's online journalism community for rallying to the U.S.-funded broadcaster's assistance after its website suffered a crippling cyberattack.
The massive and coordinated attack, which began on the morning of April 26 as journalists were preparing coverage of protests in Minsk marking the 22nd anniversary of the Chornobyl nuclear disaster, knocked the service offline for more than two full days.
"We are back!" read the headline on the service's homepage when it went back online on the evening of April 28.
"Dear friends. We value your solidarity and we promise to support any site that falls victim to such an attack in the future," read the accompanying post thanking 22 Belarusian websites for hosting content from the service's journalists while the site was disabled. "Thanks to all of you for your support of freedom."
Alyaksandr Lukashuk, director of RFE/RL's Belarus Service, says the response to the attack may have set a precedent for future online esprit de corps among pro-democracy advocates and journalists.
"What we see now is the first attempt in the Belarusian Internet community to act in solidarity to an attack on press freedom," Lukashuk says. "And it may be the most valuable -- and unexpected -- result of this attack."
It is still unclear who was behind the attack. But the fact that Belarusian opposition websites like those of Charter 97 and European Radio for Belarus were hit at the same time as RFE/RL has led many to suspect the regime of authoritarian President Alyaksandr Lukashenka was the mastermind.
Timing Is Everything
The attack comes at a time of heightened tensions between Washington and Minsk. Belarus has stepped up the arrest of pro-democracy activists and has ordered the United States to reduce the size of its embassy in Minsk to five people.
RFE/RL's Lukashuk says a smaller-scale cyberattack targeted his service's website on the same date in 2007.
In an online poll conducted on the Belarus Service's website, 87 percent of respondents blame the authorities for the attack.
"The character of the attack shows that the Belarusian authorities continue to block information on the Internet," Natalia Radina, the editor in chief of Charter 97's website, tells RFE/RL's Belarus Service. "Usually this happens during protest actions and election campaigns. What is particular to this case is that it was not just the case of [state telecom agency] Beltelekom blocking a site. It was a DOS attack. This is evidence that the Belarusian authorities use criminal actions against opposition sites."
DOS, or "denial-of-service" attacks, attempt to make a targeted website unavailable to users, normally by flooding the site with fake requests to communicate.
RFE/RL has been a frequent target of DOS attacks, but the latest incident was unprecedented in scale.
The attack against RFE/RL was so powerful that it penetrated the firewall that protects all the broadcasters' online activities and temporarily disabled a total of eight of its websites, affecting services to Kosovo, Azerbaijan, Tajikistan, Iran, the Balkans, Russia, and Tatarstan, in addition to Belarus.
At the attack's height, RFE/RL websites were receiving up to 50,000 fake hits every second.
Official Hostility
Belarus is regularly cited as having one of the world's most repressive media environments. Freedom House, a U.S.-based rights monitor whose annual press freedom survey was issued on April 29, ranks Belarus alongside Turkmenistan and Uzbekistan as three of its worst performers globally on media rights.
Christopher Walker, the director of studies at Freedom House, says the regime in Minsk has in recent years expanded its overall media crackdown to include the Internet -- one of the few places where journalists and ordinary citizens can still communicate without "government filters."
"Belarus falls into the category of a country whose possibilities for unrestricted discussion are greatest on the Internet at the moment, and it's one of the few positive areas there," Walker says. "Nevertheless, the authorities there work assiduously to restrict media freedom, and I think this has been a clear trend over quite a few years now."
Internet experts say it is extremely difficult to determine the origins of a DOS attack.
Yury Zisir chairs the popular Minsk-based web portal tut.by, which suffered a cyberattack earlier this year and has still not discovered the culprit despite reporting the incident to the police and conducting its own internal investigation.
"The reaction [from the police] when they tried to figure it out was that it is impossible to find the source," Zisir says. "Such an attack is very cheap to carry out. For $100 a day, you can order a hit [against a website] with no problem. It is cheap and it is not possible to find the source."
He says that tut.by's own investigation led it to a provider on the island of Borneo. "Supposedly there was a program there [on Borneo] that was behind everything," Zisir says. "It was clear that there was [already] nothing there. Somebody was just taunting us."