HRW: Uzbekistan Continues Andijon 'Persecution'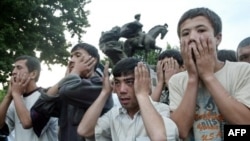 Human Rights Watch says the Uzbek government continues to "vigorously" persecute anyone it deems to have a connection to or information about the deadly crackdown against protesters in Andijon three years ago.

In a new report, the New York-based watchdog says the government's persecution continues to generate new refugees from Andijon.

The report contains the testimonies of 27 people who fled in 2007 and 2008.

HRW is urging the United States and the European Union to apply pressure to end the harassment.
About This Blog
"Watchdog" is a blog with a singular mission -- to monitor the latest developments concerning human rights, civil society, and press freedom. We'll pay particular attention to reports concerning countries in RFE/RL's broadcast region.
Journalists In Trouble
RFE/RL journalists take risks, face threats, and make sacrifices every day in an effort to gather the news. Our "Journalists In Trouble" page recognizes their courage and conviction, and documents the high price that many have paid simply for doing their jobs. More