Armenia: PACE To Debate Yerevan's Compliance With Demands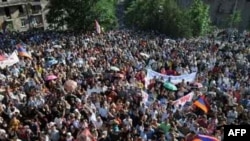 Opposition demonstrators rallied in Yerevan on June 20 (AFP) The Council of Europe's Parliamentary Assembly (PACE) will hold its summer session in Strasbourg next week, where it will hold an urgent debate to assess Armenia's compliance with more than a dozen demands leveled by the assembly following postelection violence in March.
PACE has said an urgent debate on Armenia at its June 23-27 plenary session is "warranted."
In a statement issued on June 20, it said progress made so far by the Armenian authorities in meeting the assembly's demands has been judged "insufficient" by the co-rapporteurs of PACE's Monitoring Committee.
One of the co-rapporteurs, French Senator Georges Colombier, tells RFE/RL that there had been a lack of progress on the issue of political prisoners.
"It's clear that since the Resolution 1609 was approved last April by the Council of Europe, the authorities have made a lot of progress in meeting our demands, particularly concerning legislative changes," Colombier said. "We are calling for a quicker response on the issue of political prisoners. Only those who have done something [wrong] should stay in prison."
PACE's demands, spelled out in Resolution 1609, called on the Armenian authorities to hold an independent and transparent inquiry into the violent clashes between the police and protesters in March, in which 10 people were killed. It also urged the release of political opponents jailed in the days following the February 19 presidential election, and demanded dialogue between the government and the opposition.
Colombier and the other co-rapporteur, former British Deputy Prime Minister John Prescott, visited the country on June 16-17 to assess the progress.
Colombier said PACE will consider imposing sanctions on Armenia, including stripping the country of its voting rights within the assembly. But he said dialogue with Yerevan should be maintained.
"Sanctions imposed by the Council of Europe will not automatically free prisoners. Stopping the dialogue with Armenia is not necessarily the best way to put Armenia back on the democratic path," Colombier said.
"One shouldn't forget that they have been experiencing democracy for 16 years only. One can see that in old democracies -- for instance France, which has been a republic for two centuries -- we sometimes have to make improvements," he added.
Thousands of opposition supporters protested in Yerevan on June 20 during the first major opposition demonstration since the deadly clashes in March.
The protesters were demanding a rerun of the February presidential election, in which then-Prime Minister Serzh Sarkisian claimed victory with an official result of 53 percent of the vote.
Opposition leader and former President Levon Ter-Petrossian, Sarkisian's main opponent in the contest, disputed the results, alleging the election was marred by numerous voting irregularities.
Highlights of PACE's summer session will also include debates on the functioning of democratic institutions in Azerbaijan and Turkey, and a special debate on the state of democracy in Europe, involving guest speakers from civil society.
Other topics to be debated include the fight against damage to the environment in the Black Sea and empowering women in a modern, multicultural society.
Serbian President Boris Tadic is scheduled to address the assembly on June 26.

SUBSCRIBE For weekly news and in-depth analysis on Armenia, Azerbaijan, Georgia, and Russia's North Caucasus by e-mail,
subscribe to "RFE/RL Caucasus Report."