Two major Russia-related events have occurred literally one after another this month. The first was the death of the acclaimed but controversial Russian writer Aleksander Solzhenitsyn, who was granted a lavish state funeral in Moscow on August 6. Then just two days later, Russian armed forces entered South Ossetia, purportedly to protect Ossetians, who are Russian citizens, from a massive Georgian infantry and artillery attack.
For the majority of those who call themselves former Soviet citizens, these two events have nothing in common. But for citizens of at least one former Soviet republic, these two tragic events are somehow related.
Even though Solzhenitsyn's name was taboo for Soviet citizens for decades, he used to be regarded an icon of liberal values, a hero who dared to challenge the monster and was unafraid to pay the price. He was equally a hero for the democratically oriented Kazakh intelligentsia. However, on September 18, 1990, Kazakh intellectuals stopped idolizing him and concluded instead that he was a chauvinist.
On that date, the then very popular Soviet newspaper "Komsomolskaya pravda" published as a separate supplement an extended essay by Solzhenitsyn entitled "Rebuilding Russia," in which he assumed the role of "national guru," expounding his ideas on how to resurrect Russia. That essay sparked violent antipathy among Kazakhs. Solzhenitsyn wrote that under Vladimir Lenin, the founder of the Soviet state, the Communist Party leadership drew the border between Russia and Kazakhstan in "a senseless way, giving Kazakhstan some territories that historically were parts of Russia." Solzhenitsyn argued that Kazakhstan's northern territories were geographically part of southern Siberia and should have been included within the Russian Federation.
Shortly after Solzhenitsyn's essay appeared, then-Soviet President Mikhail Gorbachev affirmed in several television interviews that at least five oblasts in northern Kazakhstan were in fact Russian territory, and he called for a broad-ranging discussion of the issue. In the course of that public discussion, the northern regions of Kazakhstan, the population of which at that time was overwhelmingly Russian, practically split into two camps.
Stella Vasileva, a member of the city soviet in Ust-Kamenogorsk (now Oskemen) in northeastern Kazakhstan, proposed a referendum on whether East Kazakhstan Oblast, of which Ust-Kamenogorsk was the capital, should join the RSFSR. The local population was plunged into turmoil. Meetings, demonstrations, and mass gatherings -- some in support of the proposed referendum and some opposing it -- became an everyday occurrence in most major cities, and people obsessively discussed the issue over lunch or across the kitchen table. While Russians supported the proposal, Kazakhs were against it, and ethnic minorities such as Tatars and Chechens were divided.
In 1991, only the intervention of nationalist leaders and state officials managed to prevent a standoff between Russian Cossacks and several thousand young Kazakhs in Uralsk (now Oral) in the northwest of the republic from degenerating into violence.
It took almost 10 years before Russian nationalist groups and movements in Kazakhstan stopped quoting Solzhenitsyn's "Rebuilding Russia." The last occasion on which they did was in 1999 in Oskemen, after Kazakh police arrested a group of 14 Russian nationalists led by a Moscow resident, Viktor Kazimirchuk. The Russians were accused of attempting to overthrow the local oblast government and establish an Autonomous Republic of Russian Altai on the territory of East Kazakhstan Oblast. They were tried by a local court and sentenced to terms of imprisonment ranging from four to 18 years.
Ethnic Russians living mostly in the north of the country still account for over 30 percent of Kazakhstan's total population. Many of them still either consider themselves Russian citizens or link their own futures and those of their children with Russia. Because Kazakhstan's constitution bans dual citizenship, officially they are all Kazakh nationals. But many of them secretly hold Russian passports, and that number is growing thanks to the recently launched program simplifying the procedure under which former Soviet citizens may apply for Russian citizenship.
Russia's stated rationale for its "military operations" in Georgia was to protect its own citizens -- meaning Ossetians living in Georgia and holding Russian passports -- from the threat of ethnic cleansing at the hands of the Georgian authorities. But that is not the whole story. This is a clear message that Russia in 2008 is not the Russia of the 1990s. A message to the West, a message to Georgia and Ukraine with their aspirations to join EU and NATO, and, possibly, a message to other former Soviet republics -- that Russia might use the presence on their territory of Russian citizens as a pretext to exert political or economic pressure.
For the past 17 years, Kazakhstan's leaders have shown remarkable pragmatism, flexibility, and political savvy in maneuvering between Russia and the West, and specifically in balancing the need to capitalize on the country's vast hydrocarbon reserves against the risks involved in alienating Russia. The events of the past two weeks show they cannot afford to diverge even an inch from this prudent strategy.

Merhat Sharipzhan is the former director of RFE/RL's Kazakh Service. The views expressed in this commentary are the author's own and do not necessarily reflect those of RFE/RL
Crisis In Georgia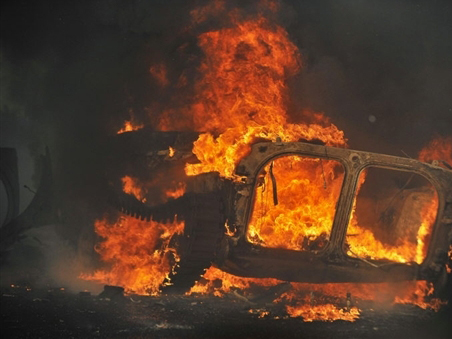 For RFE/RL's full coverage of the conflict that began in Georgia's breakway region of South Ossetia,
click here
.