Abkhaz lawmakers have approved the text of an independence appeal submitted by the unrecognized republic's de facto president, Sergei Bagapsh.
Vyacheslav Tsugba, deputy speaker of the People's Assembly of Abkhazia, told RFE/RL's North Caucasus Service that legislators concluded that current negotiations over Abkhazia's final status had reached a deadlock, and that "the existence of Abkhazia and Georgia in one state is impossible."
"Abkhazia has existed as an independent state for 15 years and it has all the necessary traits of an independent state," Tsugba said. "We have a viable government, our economy is developing, all the attributes of state power have been created, there is a legitimate opposition and an independent press."
Government spokeswoman Madina Bganba tells RFE/RL's North Caucasus Service the appeal is due to be approved on August 21 during a public gathering of lawmakers and political parties in the main city of Sukhumi.
Bganba described the assembly as "a customary form of expression of the will of the people here in Abkhazia. In view of recent events in South Ossetia and Abkhazia, the people of Abkhazia will once again try to express their opinion."
From there, it will move to Moscow, where the upper house of parliament, the Federation Council, has called an emergency session on August 25 to discuss the independence claims of both Abkhazia and Georgia's second breakaway region, South Ossetia.
Georgian Reintegration Minister Temur Iakobashvili has dismissed the appeal as meaningless. In fact, Abkhazia has several times asked Russia for recognition, most recently in March.
But this time, the appeal comes as Georgia and Russia remain locked in a military conflict over the separatist regions, which are internationally recognized as part of Georgian territory but which Moscow has nurtured as a de facto extension of its own borders.
Russia's Interfax news agency quoted Federation Council speaker Sergei Mironov as saying the council is "ready" to recognize Abkhaz and South Ossetian independence, "if that is what the people of these republics want and also if there is a corresponding decision by the Russian president."
RFE/RL Caucasus analyst Liz Fuller says the stipulation, and the fact that it has been several years since Abkhazia held a formal referendum on the issue, leaves the Kremlin and Russian President Dmitry Medvedev the flexibility to postpone a decision on Abkhazia almost indefinitely.
"On the question of the probability that Russia will go ahead and acknowledge Abkhazia as an independent state, I think that's highly unlikely," Fuller says.
"The Duma and/or the Federation Council will meet next week and discuss the issue. Presumably they could say they require another indication of support from the Abkhaz people, and then Abkhazia would hold another referendum. The whole thing would be kicked down the line and give the Russian leadership some breathing space.
"The situation in Georgia would die down, the attention of the international community would be distracted elsewhere, and that would give Medvedev and his buddies time to plot how and when -- and if -- they will actually go ahead and recognize independence."

Invoking The Kosovo Precedent
Still, Russia's quick accommodation of the Abkhaz independence appeal sends a very clear message: the Kremlin is eager to drive an ever-greater wedge between Georgia and its breakaway regions.
Russia has spent the past several years solidifying economic and diplomatic ties with the territories. Now, with the Russian military still controlling a large portion of Georgian territory, Moscow has only amplified its disregard for Tbilisi's claim to territorial integrity.
Russia is also keen to punish the West for its support of the Balkan territory of Kosovo, where ethnic Albanians in February successfully declared independence from Serbia despite furious opposition from Belgrade and Moscow.
Moscow and Tbilisi are still locked in a high-stakes standoff that began on the night of August 7-8, when Russian and Georgian forces entered into a brief but intense war sparked by violence in South Ossetia.
Russia defends its actions by invoking a moral obligation to protect the residents of South Ossetia, many of whom have been granted Russian passports by Moscow, and share an ethnic kinship with Ossetians living in the Russian republic of North Ossetia.
Abkhaz official Tsugba said that events in South Ossetia "have shown that only Russia can protect small nations" against what he called "Georgia's genocide."
The Abkhaz and Ossetians are both distinct ethnic groups who say they were involuntarily folded into the Soviet Republic of Georgia by Josef Stalin and subjected to the forced resettlement of ethnic Georgians.
Both Abkhazia and South Ossetia have accepted Moscow's patronage as the surest exit from what they see as Georgian domination. But both -- particularly Abkhazia, which unlike South Ossetia has no ethnic kin in Russia -- have suggested the preferred outcome is outright independence, rather than annexation by Russia.
The situation presents a challenge for Moscow, which is eager to hoist the West on its own petard by using Kosovo as a pretext for Abkhaz and South Ossetian independence, which the West opposes.
At the same time, Moscow is certain to tread carefully to prevent any independence nod to Sukhumi and Tskhinvali from reigniting independence claims in republics of its own like Chechnya.
RFE/RL's North Caucasus Service contributed to this report
Crisis In Georgia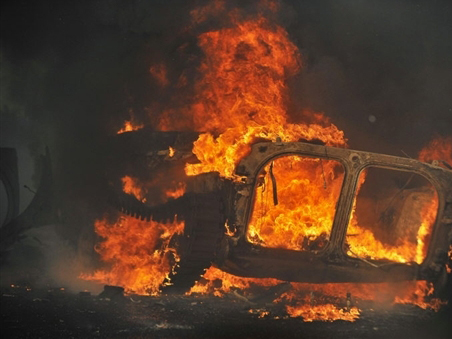 For RFE/RL's full coverage of the conflict that began in Georgia's breakway region of South Ossetia,
click here
.