Although the Georgian government has for several years actively lobbied the international community for support its demands that the Russian peacekeepers deployed in Abkhazia and South Ossetia be replaced by an international contingent, its arguments for doing so have been overwhelmingly political, rather than practical.
The Russian peacekeepers in both regions have by and large fulfilled their mandates, and where they have failed, those failures were generally the direct consequence of the way the peacekeeping missions were structured.
Georgia's military onslaught on the South Ossetian capital, Tskhinvali, during the night of August 7-8 and the so-called peace-enforcement operation Moscow launched in retaliation have now polarized the positions of the various players involved. Russia, Georgia, and the European Union on August 12-13 drafted a plan for de-escalation of tensions that envisages the deployment of international peacekeepers. The leaders of the two breakaway republics continue, however, to insist that only a continued Russian peacekeeping presence can provide full security for their respective populations.
In June 1992, then-Russian President Boris Yeltsin and Georgian leader Eduard Shevardnadze met in Dagomys, near Sochi, and signed an agreement that ended sporadic low-level fighting in South Ossetia, in which up to 1,000 people died over the previous two-three years. That Sochi Agreement provided for the creation of trilateral Joint Peacekeeping Force comprising 500 peacekeepers each from Russia, Georgia, and North Ossetia, and establishing a quadrilateral Joint Control Commission to oversee their activities.
Russia, Georgia, North and South Ossetia also nominated representatives to a Joint Control Commission tasked, according to the International Crisis Group, with monitoring observance of the cease-fire agreement; drafting and implementing conflict-settlement measures; promoting dialogue; facilitating the return of internally displaced persons; and addressing issues related to postconflict reconstruction.
In March 1994, the mandate of the Conference for Security and Cooperation in Europe (CSCE) to encourage dialogue in South Ossetia was extended to monitoring the Joint Peacekeeping Force; to that end, the CSCE (later, the Organization for Security and Cooperation in Europe, or OSCE) was from that time also represented on the Joint Control Commission.
Under Shevardnadze, the trilateral peacekeeping operation functioned successfully, and sporadic talks were held, including between Shevardnadze and the then-de facto president of South Ossetia, Lyudvig Chibirov, on ways to reach a political solution to the conflict. Parallel to those talks, Russia, Georgia, and the European Commission sought to address the issue of funding for postconflict reconstruction.
Saakashvili Shakes Up Situation
The situation changed following the election in January 2004 of Mikheil Saakashvili as Georgian president. As part of his pledge to stamp out corruption, Saakashvili launched a campaign to eradicate large-scale smuggling between Russia and Georgia via South Ossetia, deploying additional Interior Ministry forces to South Ossetia for that purpose. In August 2004, Saakashvili's close associate, then-Interior Minister Irakli Okruashvili, who was born in Tskhinvali, launched a clandestine military operation to win back control of South Ossetia that was a spectacular failure.
Since then, Saakashvili has unveiled several successive peace plans for South Ossetia, all couched in terms intended to convince the international community of his bona fides, but that failed to address the security concerns of the local Ossetian population, who continued to look to the peacekeeping force for protection. At the same time, for the past two years the Joint Control Commission has failed to meet because one side or another invariably set unacceptable preconditions or objected to the proposed venue. And the escalation of hostilities over the past two months was facilitated by the fact that the individual peacekeeping posts were manned either exclusively by Georgian troops, or by a combination of Russians and Ossetians, which explains why Ossetian military forces could attack Georgian peacekeepers' posts without running the risk of injuring their co-ethnics.
In Abkhazia, a Russian peacekeeping contingent was deployed in the summer of 1994 under the aegis of the Commonwealth of Independent States (CIS), two months after the signing of a UN-brokered cease-fire agreement between Georgia and Abkhazia. No date was set for the expiration of their mandate, and they can be withdrawn only with the consent of both the Georgian and Abkhaz sides.
Unlike the peacekeepers in South Ossetia, the Russian contingent in the Abkhaz conflict zone was from the outset the target of attacks and ambushes by Georgian guerrilla forces with the tacit complicity of the local population, which is predominantly Georgian. Russian military sources claim that at least 1,600 Russian peacekeepers have been killed in Abkhazia since 1994. The unarmed UN Observer Mission in Georgia (UNOMIG), too, has suffered casualties. Its personnel have been abducted at gunpoint on three separate occasions, in October 1999, June 2000, and December 2000. In the fall of 2001, when Shevardnadze co-opted a group of Chechen fighters to infiltrate Abkhazia via the Kodori Gorge, a UNOMIG helicopter was shot down, killing nine people, including five UNOMIG personnel.
The quarterly reports submitted by the UN secretary-general to the Security Council on the activities of UNOMIG almost always stress the fruitful cooperation between UNOMIG and the CIS peacekeeping force. But the Georgian authorities have repeatedly accused the Russian peacekeepers of failing to take adequate measures to protect the predominantly Georgian residents of Abkhazia's southernmost Gali Raion against harassment by Abkhaz police, and of turning a blind eye to smuggling across the Inguri River, which forms the border between Abkhazia and the rest of Georgia. In November 2007, for example, Georgian National Security Council Secretary Aleksandre Lomaia claimed Tbilisi has evidence that the Russian peacekeepers are involved in illegal arms and drug trafficking and in money laundering.
The Russians reject Georgian allegations that they fail adequately to protect the Georgian population of Gali, pointing out that their mandate does not encompass policing activities. In order to allay the security concerns of the local Georgian population, the UN in 2003 gave the green light for the deployment of an international civilian peace force in the conflict zone to complement the UNOMIG observers. But the Abkhaz authorities agreed only to the deployment of those police officers on Georgian territory south of the Inguri, not in Gali. They further rejected in June 2008 a U.S. proposal to establish joint Abkhaz-Georgian police patrols in Gali.
New Peacekeeping Regime
In the wake of the Georgian artillery assault on Tskhinvali during the night of August 7-8 and the Russian military response, Saakashvili has made clear he considers any continued Russian peacekeeping presence in either South Ossetia or Georgia unacceptable. But in light of the pressing need to provide security for all residents of South Ossetia, whether Ossetian or Georgian, who wish to remain in or return to their homes, the provisional peace plan agreed on by Russian President Dmitry Medvedev and his French counterpart Nicolas Sarkozy in Moscow on August 12, an abridged version of which Saakashvili endorsed on August 13, makes provision for the implementation by the original Russian peacekeeping contingent in South Ossetia of unspecified "additional security measures" pending the "international mechanisms." On August 16, kavkaz-uzel.ru quoted Russian Defense Ministry official Lieutenant General Nikolai Uvarov as saying the Russian peacekeeping contingent in South Ossetia will be increased and provided with armored vehicles.
Whether the formulation "international mechanisms" implies international observers or a full-fledged peacekeeping force was apparently not spelled out. De facto Ossetian President Eduard Kokoity told Russian journalists in Moscow on August 14 after formally signing the draft peace plan that "only Russian peacekeepers will be deployed in Abkhazia and South Ossetia," regnum.ru reported. At the same time, Kokoity expressed readiness to discuss with the OSCE, the UN, and the Group of Friends of the UN Secretary-General for Georgia the possibility of deploying international observers on Georgian territory directly adjoining South Ossetia and Abkhazia.
"No Georgian peacekeepers, who not only ran away but also shot in the backs of their Russian and South Ossetian colleagues in the most dastardly and treacherous way, will be on South Ossetian soil ever again," Kokoity said. "Only Russian peacekeepers will be stationed on South Ossetian and Abkhaz soil. Today we can talk with the OSCE, the European Union, and the UN Secretary-General's Group of Friends and discuss only the number of observers -- but not on the territory of South Ossetia. These observers should conduct monitoring on Georgian territory."
The same agency quoted him as telling Reuters four days later that South Ossetia would not agree to international observers either, as in the past they have "distorted" the true state of affairs there. A meeting in Vienna on August 18 of the OSCE's Permanent Council failed to reach consensus -- essential for any OSCE decision -- on the dispatch to South Ossetia of up to 100 observers in addition to the eight attached to the OSCE Mission in Tskhinvali. But senior Finnish Foreign Ministry official Aleksi Harkonen told journalists after the meeting that he remains optimistic an agreement can be reached.
"The differences are fairly wide, [however] we have made a lot of progress today on a percentage of questions," Harkonen said. "There are some questions of principle where we are working on language which will be acceptable to everybody, but we are not there yet."
Reaching consensus on a full-fledged peacekeeping force could prove even more problematic, for two reasons. First, as Finnish Foreign Minister and OSCE Chairman in Office Alexander Stubb pointed out on August 13, an EU force, which is the most probable option, would need a UN mandate. And second, the number of countries willing to provide troops could prove limited, given existing commitments to missions in Iraq and Afghanistan, and those EU member states that are most likely to volunteer could prove unacceptable to Abkhaz and South Ossetian leaders.
Ukraine has for years affirmed its readiness to send a peacekeeping force to Abkhazia under a UN mandate, but Abkhaz parliament speaker Nugzar Ashuba declared in September 2007 that neither Ukraine nor Lithuania may send peacekeepers to Abkhazia as volunteers from both countries fought on the Georgian side during the 1992-93 war. In July 2007, then-Polish Defense Minister Aleksander Szczyglo was quoted by Interfax as saying Poland was willing to send peacekeeping forces to Abkhazia and/or South Ossetia if required. He explained that such a mission would require a formal invitation from Georgia and a UN mandate.
Speaking on August 15 in Sochi at a joint press conference with visiting German Chancellor Angela Merkel, Russian President Medvedev stressed that the composition of any peacekeeping force should be acceptable to the people of South Ossetia and Abkhazia, and that they trust only the Russians.
"We, of course, are not against international peacekeepers, but this is not about our position," he said. "We are also doing our share of ensuring security in this complex region. But the problem is that the Ossetians and the Abkhaz themselves trust nobody else but Russian peacekeepers."
Crisis In Georgia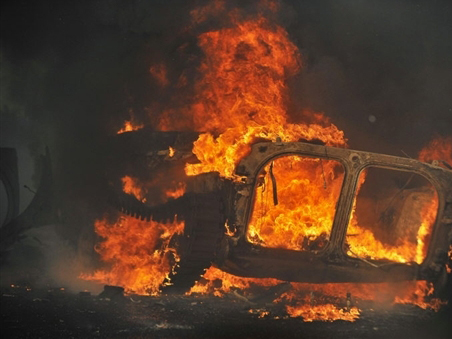 For RFE/RL's full coverage of the conflict that began in Georgia's breakway region of South Ossetia,
click here
.