New Under The Black Flag Live Blog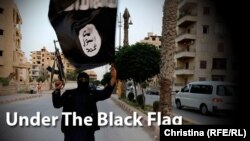 Dear Readers,
To bolster coverage in the aftermath of Russian air strikes in Syria and the attacks in Paris, Under The Black Flag is switching to a Live Blog format.
Please feel free to bookmark the new page.
Best Wishes,
RFE/RL Editors
About This Blog
"Under The Black Flag" provides news, opinion, and analysis about the impact of the Islamic State (IS) extremist group in Syria, Iraq, and beyond. It focuses not only on the fight against terrorist groups in the Middle East, but also on the implications for the region and the world.
​