KABUL/PRAGUE -- On a bright summer day, amid the towering mountains surrounding the Panjshir valley north of Kabul, locals recently voiced their support for Abdullah Abdullah.
The crowd cheered him as their favored candidate in Afghanistan's August 20 election, and lauded him as a comrade of the late Afghan guerilla leader Ahmed Shah Masud -- Panjshir's most prominent son.
Abdullah is prominent among a generation of young Afghans who take pride in having fought alongside Masud during the "jihad" against the Soviets in the 1980s, and in having participated in "maqomat," or resistance, against the Taliban and Al-Qaeda in the 1990s.
His campaign seems to have mobilized the constituency. During a recent campaign event in the northeastern Kundoz Province, local leader and Abdullah supporter Moulavi Mouhmmad Azim Azimi said the Afghan people wanted "fundamental changes in the form and make-up of the current political system."
"They also want the rights of thousands and millions of martyrs of this nation who all died defending our religious values and protecting the security of our people and improving their economic prospects," Azimi told the gathering of tribal leaders, clerics, former fighters, and youth.
Guerilla Leader's Doctor
Abdullah, 48, was born in Kabul to an ethnic Pashtun father who was appointed to the Senate by Afghanistan's last king, Zahir Shah. After earning his degree as an ophthalmologist during the Soviet occupation of Afghanistan in early 1980s, Abdullah migrated to neighboring Pakistan. But upon returning to his mother's native Panjshir, he became a close confidant and personal physician of Masud.
Polyglot and urbane Abdullah became Masud's spokesman when the guerilla leader was named defense minister after the communist regime collapsed in 1992.
In the following years, the Afghan capital was decimated by factional infighting among the various Mujahedin factions. As a new hard-line Islamist militia, the Taliban, swept across Afghanistan in the mid 1990s, Abdullah emerged as the chief diplomat to the governing coalition opposing the movement.
When U.S. Special Forces and bombers were in the last phase of bringing down the Taliban regime years later, Abdullah claims to have proposed during the December 2001 Bonn conference that Hamid Karzai be named the country's new leader. He went on to serve as a foreign minister in the interim, transitional, and elected Karzai administrations before being replaced in 2006.
Abdullah now sees an opening in the failure of the administration he left three years ago. With many Afghans expressing disappointment with the inefficiency and corruption that has plagued Karzai's government, Abdullah is running under a banner of "hope and change" and remains adamant he can turn things around.
"He [Karzai] has turned a golden opportunity into a disastrous situation. The people will ask [him], 'How will you turn things from a disastrous situation to a better situation?'," he tells RFE/RL. "I don't think the incumbent is capable of that. Afghanistan needs change, and I represent that change through my programs and my plans and my strategies."
Whether dressed in smart business suits for indoor meetings and media interviews, or in Afghan robes and headgear while canvassing the public, Abdullah projects the image of a modern Afghan at ease with his "jihadi" past and integration into the modern world.
People who have worked closely with him praise his leadership and diplomatic skills. Octogenarian former Afghan diplomat Ravan Farhadi, who represented Afghanistan at the UN from 1993 to 2006, has expressed admiration for his former boss, who took over as a caretaker foreign minister in 1999.
While representing a government that increasingly lost territories to the Taliban onslaught, Abdullah delivered crushing diplomatic blows to the hard-line movement.
"During the Taliban reign, he supervised...the functions of the Foreign Ministry from outside Afghanistan because the Taliban did not control the foreign offices outside the country and our mission in the United Nations," he tells RFE/RL adding that "the Taliban were unable, despite Pakistani support, to enter the UN for one minute."
Though running as an independent, his campaign has received support from significant parts of the Jami'at-e Islami -- a faction of the Afghan version of the Muslim Brotherhood dominated by ethnic Tajiks.
He has also gained backers from within the now-divided United National Front, which emerged as a broad coalition of Islamists, former communists, and royalists in opposition to Karzai.
On the back of a formidable political machine, Abdullah is considered to be the man with the best chance among the three dozen challengers of garnering enough votes to force a runoff with Karzai.
Support For Parliamentary System
Abdullah is promising political transformation, the crux of which is to change Afghanistan's five-year-old presidential form of government to a parliamentary one led by a prime minister answerable to the parliament. He wants to devolve power to the local level with elected governors, mayors, and local administrators.
Although Afghanistan's political elite compromised on the issue after heated debate during a Loya Jirga in 2004, Abdullah suggests that apart from the United States, presidential systems have not succeeded.
"When you see a presidential system, it has led to autocracy. And unfortunately, what's happening today is that distance between the people and the government, which is growing -- the government which is not accountable to the people," he says.
"Part of it is leadership, part of it is management, part of it is the system itself. So there [in a parliamentary system] people's participation can be ensured -- broader participation -- as well as the accountability of the government."
Abdullah has criticized Karzai's presidential system
Abdullah suggests that his diplomatic skills will come in handy as the idea of reconciling with moderate Taliban, whether significant leaders or foot soldiers, gains traction as a way of stabilizing Afghanistan.
Abdullah, who led the Afghan delegation to the Afghanistan-Pakistan Regional Peace Jirga in 2007, claims he is the right person to do that because the current reconciliation efforts are shrouded in secrecy.
Abdullah says he knows "how to make peace and I think the conditions for making peace are better today than they were 10 years ago. But at the same time it needs, requires, understanding from all sides."
He suggests that "the first thing is the commitment for making peace. That's there as far as I am concerned, as far as our programs are concerned, and as far as our team is concerned," he says adding that "hopefully, with a sort of Afghan-led national reconciliation program, the door will be open."
Critics claim that Abdullah's close association with a political movement might tarnish his national appeal. In a recent one-hour long call-in show hosted by RFE/RL's Radio Free Afghanistan, most questions asked by listeners dealt with his political past.
His detractors often point to Abdullah's time as a foreign minister, when he came under criticism for purportedly staffing the ministry with members of his faction.
But supporters say his message is attracting people from across the country.
Abdul Qadeer Daqiq, the head of Abdullah's campaign in the Western Farah Province, claims he has broad support among the people. He cites a recent event in the remote corner of Afghanistan during which hundreds of participants from all walks of life and ethnicities expressed their support for Abdullah.
"There were people from [Farah] city. Recent graduates of the high school and the head of the local youth council and their representatives all participated to declare their support," he tells RFE/RL's Radio Free Afghanistan.
"The representatives of [Pashtun] Barakzais, Noorzais, and Tajik tribes have all expressed their support, as have those of the Shi'a [sect]."
With most senior "jihadi" leaders supporting and campaigning for Karzai's reelection bid, Abdullah's main challenge is to form, consolidate, and deliver a national coalition akin to the one his supporters claim to have in Farah.
RFE/RL Radio Free Afghanistan correspondents, Hamid Mohmand in Kabul, Noor Mohmmad Sahim in Konduz, and Ahmad Shah Fekrat in Farah contributed reporting
Afghan Presidential Campaign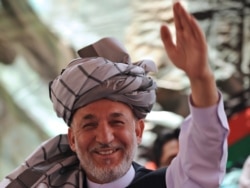 On The Campaign Trail
Afghan President Hamid Karzai and presidential challenger Abdullah Abdullah campaigned in early August at separate rallies in Kabul. Play