As expected, Afghan President Hamid Karzai and former Foreign Minister Abdullah Abdullah have welcomed the Independent Election Commission's announcement that a second-round vote will be necessary to determine which of the two will be the country's next leader.
After days of intense lobbying by Western diplomats and politicians, Karzai said on October 20: "We believe that the decision is legitimate, right, and in accordance with the Constitution of Afghanistan. We think it will promote Afghan national interests. We believe that it will strengthen the process of democratization in Afghanistan."
And the incumbent's comments, in turn, were greeted warmly by Western leaders keen on seeing the country move forward after the weeks of political wrangling and uncertainty that followed the August 20 election.
Abdullah followed suit on October 21 by thanking Karzai and agreeing to take part in the runoff. But Abdullah also recognized the risks Afghans face in having to return to the polls, adding that "they should be confident that that risk is worthwhile."
"I would like to see that our people are participating without an environment and atmosphere of fear and intimidation," Abdullah said.
The candidate's comments echo concerns of many observers who warn that the runoff election, to be organized and held by November 7 amid the onset of winter, will encounter formidable logistical and security challenges, and might do little to overcome the fraud that plagued the first round.
"Considering Afghanistan's current situation, I think it will be difficult to conduct [the second round] as transparently as the Westerners and Americans expect," Independent Election Commission head Azizullah Ludin told RFE/RL's Radio Free Afghanistan.
"Understand that we witnessed heaving fighting in many parts of the country on that election day. In such an environment, where war continues, how can we observe everything perfectly in order to bring transparency to the process?"
Attempt At Legitimacy
Ludin's comments came after the Independent Election Commission adjusted candidates vote counts after reviewing the decisions of the UN-backed Electoral Complaints Commission (ECC) issued on October 19.
The ECC had invalidated ballots from 210 polling stations where fraud was evident, reportedly throwing out well over a million votes as a result.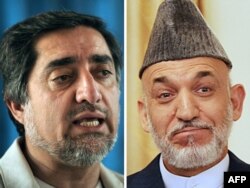 Afghan presidential candidates Abdullah Abdullah (left) and Hamid Karzai
The revised vote count officially dropped Karzai's tally -- which preliminary figures placed at about 55 percent -- to 49.67 percent, just below the outright 50 percent majority needed for a first-round victory. Abdullah's preliminary tally of 28 percent jumped to 31.5 percent.
Karzai responded to the commission's findings during a press conference in Kabul alongside U.S. Senator John Kerry (Democrat, Massachusetts) and UN mission chief Kai Eide.
Kerry acknowledged that the August 20 elections were "far from perfect." But after conducting lengthy negotiations in an effort to resolve the ensuing political stalemate, he lauded the top two candidates' actions.
"Let me emphasize that [Karzai's] agreement to move the process forward with respect to the runoff will allow the national leadership to govern with legitimacy," Kerry said, adding he and Abdullah both "demonstrated their dedication to building a lasting democracy."
Will Second Round Be Any Better?
But is Afghanistan ready to hold a second vote on such short notice? Wadir Safi, a political analyst in Kabul, doesn't think so, and that considering the "logistical and security" issues the runoff entails, ensuring turnout high enough to give the election legitimacy will be difficult.
"The turnout was quite low in the first round of the election, too. I don't think even 5 percent of the voters would take part in the second round," Safi says
However, Safi predicts that, even in the event of low turnout and additional fraud, "the outcome of the runoff would be accepted by everyone" both in Afghanistan and the West.
He says that this is despite the fact there "is no guarantee" that the runoff will be free of fraud. "The second round is going to be a symbolic act, not a real, free and fair election," Safi adds.
Stressing the United States' and the international community's continued commitment to peace and democracy in Afghanistan, U.S. President Barack Obama called the decision to hold a second round an "important step forward in ensuring a credible process for the Afghan people which results in a government that reflects their will."
British Prime Minister Gordon Brown said in a statement issued after the decision was announced that, "It is vital that the new Afghan government has legitimacy in the eyes of its people. I have consistently said that the election must be allowed to run its course and that all concerned should respect the process.
"There is no doubt that there have been flaws and we will need to apply the lessons of this process," Brown added.
RFE/RL's Radio Free Afghanistan contributed to this report