The campaign for Afghanistan's August 20 presidential election is gathering momentum in Kabul. Election posters for incumbent President Hamid Karzai and his 40 challengers compete for space and attention on the city's walls and lamp posts.
Latest opinion polls indicate that Karzai is the clear front-runner, with former Foreign Minister Abdullah Abdullah a distant second and former Finance Minister Ashraf Ghani well back in third.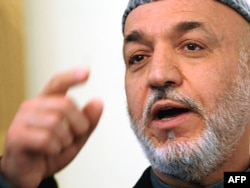 Incumbent President Hamid Karzai
Most of the candidates have set up their offices in the capital, and supporters are holding gatherings to express support for their favorite candidate.
RFE/RL Radio Free Afghanistan (RFA) correspondent Hamid Mohmand reports that security fears restrict such gatherings to hotels and wedding halls, where hundreds of participants typically listening to lengthy speeches. The gatherings end with prayers for the candidate's success as guests are served a copious Afghan meal.
Mohmand says the same pattern is seen across Afghanistan's relatively stable northern provinces.
But some in Kabul are calling for a delay in the election as concern mounts about what is happening -- or not happening -- in the country's south and east.
A gathering of Pashtun tribal chiefs of the Yousafzai tribe last week urged postponement because of prevailing insecurity in 20 out of 34 Afghan provinces.
"Fighting is going on in 20 or 21 provinces of Afghanistan and it's not possible to hold elections there," says Mira Jan Saheqi, a tribal leader. "We back democracy, but we told officials in the United Nations Assistance Mission in Afghanistan that if elections are held in the ongoing situation, they won't be considered complete."

Pessimistic And Apathetic
While most Afghan officials and international observers view such opinions as too pessimistic, the general attitude toward the election in the insurgency-plagued southern provinces of Afghanistan can be described as apathetic.
Elyas Daiee, a correspondent for RFA in southern Helmand Province, says that in Lashkar Gah, the dusty provincial capital, signs of the election are barely visible one week after the start of the two-month election campaign.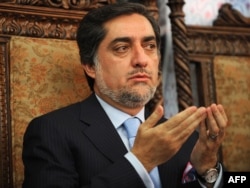 Former Foreign Minister Abdullah Abdullah
Daiee says that apart from security fears, there is little interest in the whole process.
"Some people are so disappointed with the process that they consider it a sin to participate this time because they enthusiastically voted last time but nothing changed," he says.
Daiee says the security situation in the south is so tense that local candidates contesting provincial council elections, to be held simultaneously alongside the presidential vote, dare not canvass outside the few major towns and cities in the region. Kandahar, the regional metropolis, has so far only seen one major campaign gathering -- when hundreds of Pashtun Barakzai tribal leaders pledged support for incumbent President Hamid Karzai.
'Difficult Times Ahead'
Earlier this month, General David Petraeus, the head of U.S. Central Command, said that insecurity was at an all-time high in Afghanistan.
"There is no question that the situation has deteriorated during the past two years in particular," Petraeus said. "And that there are difficult times ahead."
Recent media reports suggests that fugitive Taliban leader Mullah Mohammad Omar, who Afghan officials claim is hiding in neighboring Pakistan, is attempting to fight off the U.S. troop surge by trying to unite all the Taliban factions under a single command.
Mohammad Seddiq Kamran, a resident of Shajoy district in southern Zabul Province, tells RFA that under prevailing circumstances, he can't imagine elections being held in his home province.
"The situation in Zabul is very bad, and I don't think elections can be held in Zabul Province," Kamran says. "Moreover, the troops and the police who come here in the name of improving security in fact end up harming people."
The situation in the volatile provinces in the country's southeast is mixed.
Amir Bahir, an RFA correspondent in Khost Province, says that compared to the neighboring provinces of Paktia and Paktika, the process is moving ahead more smoothly because of the relatively better literacy levels in Khost. He says that while campaigning is ongoing in a few major towns in the region, voting will be a challenge in the province's remote districts.
Gathering Pace
Located on a major trade route between Afghanistan and Pakistan, the situation in the eastern Afghan city of Jalalabad and surrounding Nangarhar Province is better. Compared with its neighboring provinces, Nangarhar has seen reconstruction projects being completed under the watchful eyes of Governor Gul Agha Sherzai, whom locals fondly call "bulldozer."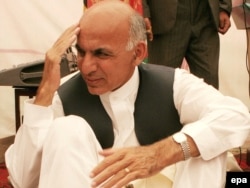 Former Finance Minister Ashraf Ghani
Campaigning is gathering pace in Jalalabad, but the situation in the mountainous provinces east of Jalalabad is complicated.
Rohullah Anwari, RFA's correspondent in the eastern province of Kunar, says the election process in the region is moving forward slowly.
While Asadabad, the capital of Kunar, has seen a few election-related gatherings, the process is barely noticeable in neighboring Nuristan Province. Anwari says that residents and local officials there even complain that many have not been registered to vote yet.
Anwari also sees a general lack of interest in the process.
"During the last election, people were very enthusiastic," he says. "In parts of Kunar, men and women voted while under live fire. But people are not enthusiastic now because of the dismal performance of the representative they chose earlier."
Keeping in view the volatile situation in parts of the country, the Afghan Election Commission is keeping open the option of delaying the August 20 vote in certain regions.
"The 55th clause of the election law states that if insecurity in a region endangers its legitimacy, then the Election Commission has the authority to delay or suspend election in that region," Anwari says.
Afghan officials and international observers, however, continue to hope that efforts to improve security and an informative election campaign will attract popular attention and turn the August 20 vote into a success against the odds.
Radio Free Afghanistan correspondents Salih Muhammad Salih, Faridoon Ibrahimi, Qadir Habib, and Asmatuallah Sarwan contributed to this story