News that incumbent Afghan President Hamid Karzai officially signed up to run for reelection came as no surprise.
The shock came when he named the two vice-presidential candidates who will run alongside him: Mohammad Qasim Fahim Khan and Karim Khalili.
For many Afghans and their champions around the world, the mention of Fahim's name as the senior of the two vice-presidential candidates gave a hollow ring to Karzai's promises to bring "security, peace, and tranquility" to the country.
While Karzai spoke of working for the "welfare of interests of the people of Afghanistan" for another five years, they see the choice of Fahim as a bad omen for democracy and human rights in Afghanistan.
This is because Fahim's reputation for brutality as a former guerrilla chief -- and the allegations of human rights violations he carried out in that capacity -- precedes him.
Human Rights Concerns
Global rights watchdogs reacted swiftly to the development.
Among them was Brad Adams, Asia director of Human Rights Watch, a New York-based organization whose reports have linked Fahim to human rights abuses and to providing protection to criminal cartels and drug traffickers.
"To see Fahim back in the heart of government would be a terrible step backward for Afghanistan," Adams says. "He is one of the most notorious warlords in the country, with the blood of many Afghans on his hands from the civil war."
Once a mujahedin guerilla employed in the effort to oust Soviet forces from Afghanistan, the portly Fahim evolved to become one of the top commanders in the subsequent civil war against the Taliban. He assumed the leadership of the anti-Taliban Northern Alliance after its leader,
Ahmad Shah Mas'ud
, was assassinated by Al-Qaeda on September 9, 2001. He went on to become a vice president and defense minister in the Karzai-led post-Taliban transitional government.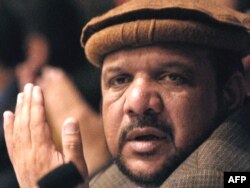 Former Defense Minister Mohammad Qasim Fahim
But Karzai dropped him from the presidential ticket in 2004, and also replaced him as defense minister. At the time, Fahim's removal from office was seen as a step forward in the effort to curtail the strength of Afghanistan's warlords.
Today, despite the expansion of the Afghan security forces and inroads into areas once solely dominated by strongmen and their forces, Fahim and other warlords are still seen as capable of returning to their former roles as militia commanders.
And Hajji Sayed Daud, an Afghan political commentator who heads the Afghan Media Resource Center in Kabul, says that Fahim's nomination has sparked fears that warlords will once again become central to Afghan politics.
"People are concerned about these folks who still have illegal weapons and control armed groups and that, if they are brought back to power, it will destabilize Afghanistan," Daud says.
"But Karzai is not worried about this. His only aim is to win elections. He is satisfied that the international community -- the U.S. and NATO in particular -- will take care of all the fighting in Afghanistan, [which enables] Karzai and his team and group to engage in corruption and plunder."
Uniting The Country
With the days counting down before the formal election campaign kicks off, Karzai's opposition appears to be in complete disarray, and too deeply divided to field a common candidate. Following Karzai's official announcement to run, most pundits in the Afghan capital now predict an easy win for the incumbent.
And this, some observers believe, can be partly attributed to his contentious choice of Fahim as a running mate.
Daud claims that in including Fahim on his ticket, Karzai successfully took down the United National Front -- a broad coalition of former mujahedin commanders and their onetime communist rivals. Fahim was one of its key founding members and leaders.
The alliance was seen as the only political grouping capable of producing a candidate capable of ousting Karzai. By sharing his ticket with Fahim, Karzai effectively pulled the rug out from under the alliance.
Furthermore, Karzai appears to gain an edge in navigating the challenges posed by Afghanistan's complex tribal and ethnic makeup.
Fahim is an ethnic Tajik from the north; Khalili an ethnic Hazara. What the ethnic Pashtun Karzai gains from adding the two men to his team is the opportunity to present himself as a true national figure -- and somebody who can heal ethnic rifts.
Media reports claim that Kai Eide, head of the United Nations' mission in Afghanistan, tried to persuade Karzai not to pick Fahim as his running mate. Once the decision was made, Eide was described as being "saddened" and "disturbed" by it.
Neelab Mubariz, a spokeswoman for the UN Mission in Kabul, however, denies that Eide expressed any such reservations, telling RFE/RL's Radio Free Afghanistan that the UN is only interested in seeing a successful and democratic election.
"Mr. Eide has not said anything about a particular individual," Mubariz says. "Our position is that high standards should be followed -- both for the candidates and the process."

Still Facing Questions
As for Fahim's supporters, they are adamant that Karzai made the right choice.
Gharzai Khwakhogay, a Fahim confidant, says that their leader has a considerable following in certain provinces of Afghanistan, meaning he can bring in the vote for Karzai.
Khwakhogay also notes that Fahim has never been convicted of the crimes he has been accused of, adding that the resurfacing of allegations against him can be considered part of a smear campaign in an election year.
"The reality is that after three decades of war in Afghanistan, a lot of people are accused in Afghanistan," he says. "But blaming somebody and proving it are two different things. Accusations can be only true once proved in a court of law. People who accuse Fahim should have gone to the courts over the past seven years. Of course, it is easy just to accuse people."
However, with Karzai making his rounds in Washington, topped by a meeting with President Barack Obama on May 6, he may find his running-mate choices to be a hard sell.
Washington insiders have at times suggested that since taking office in January, the Obama administration has tried to distance itself from Karzai. The focus, they say, is squarely on helping to ensure a fair and transparent Afghan election process.
Karzai's choice of Fahim as a running mate, and accusations inside Afghanistan that he is using his position to affect the election process, could combine to increase the divide.
RFE/RL Radio Free Afghanistan correspondents Hamid Mohmand and Jawad Mujahid in Kabul contributed to this report