Iran's president, Mahmud Ahmadinejad, arrived in Lebanon to a hero's welcome and blaze of fanfare that belied the country's rising intercommunal tensions and Western misgivings about his visit.
Shouts of "khosh amadi" ("welcome" in Persian) and showers of rice, sweets, and petals greeted the Iranian leader as he waved to crowds from an open-topped car after arriving in Beirut on October 13 to kick off a two-day trip.
It was Ahmadinejad's first visit to Lebanon, where Iran has cultivated a close relationship with Hizballah, the Shi'ite Islamist group that fought a bitter five-week conflict with Israel in 2006. His plans included an address to a Hizballah-organized rally attended by tens of thousands of people after meetings with senior Lebanese politicians, including President Michel Suleiman, Prime Minister Saad al-Hariri, and Nabih Berri, the parliament speaker.
Preparation for his arrival had been under way for weeks, with pro-Hizballah neighborhoods festooned with posters of Ahmadinejad along with Iran's supreme leader, Ayatollah Ali Khamenei, and the late Ayatollah Ruhollah Khomeini, leader of the 1979 Islamic Revolution.
The warmth of the reception contrasted with foreboding expressed by Israel, the United States, and Sunni politicians in Lebanon. More than 200 prominent Lebanese citizens signed an open letter in advance of the trip asking Ahmadinejad to avoid using Lebanon as a "spearhead" for confronting Israel.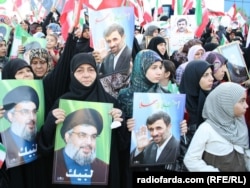 Lebanese hold posters of Ahmadinejad and Hizballah leader Hassan Nasrallah as they wait for the Iranian president's convoy in Beirut.
That move echoes the feelings of many non-Shi'ite politicians in Lebanon's fragile unity government, who have accused Ahmadinejad of treating their country as "an Iranian base on the Mediterranean."
Israel -- whose demise Ahmadinejad has frequently forecast -- denounced the visit as a "provocation."
Iranian Client State?
Ahead of the visit, Efraim Inbar, director of the Begin-Sadat Center for Strategic Studies in Tel Aviv, said the Iranian president's arrival marked a milestone in a Hizballah takeover of Lebanon aimed at turning it into an Iranian client state.
"The important issue is that we see another step in the 'Hizballah-ization' of Lebanon,'' Inbar said. "Lebanon is further losing its independence and Hizballah is taking over, with Ahmadinejad encouraging these forces and signaling to the whole Middle East that Lebanon is becoming an Iranian protectorate."
At a news conference with President Suleiman, Ahmadinejad rejected charges of Iranian intervention in Lebanon's affairs.
"We believe that the Lebanese people and also the people of the region are capable of conducting their own affairs on their own and to conduct the relationships with each other on the basis of justice and respect,'' Ahmadinejad said.
"Our region does not need the interference of regional or outside powers. We agreed with his Excellency the president to intensify our calls and meetings and to exchange our experiences in order to reach the maximum of our capability and success and to support each other."
But that anodyne description was challenged when the president visited southern Lebanon on October 14, where he addressed a rally in the town of Bint Jbeil, exalted to mythical status by Hizballah because it was heavily bombed in the 2006 conflict with Israel. There were suggestions before the visit that Ahmadinejad would travel to the Lebanese-Israeli frontier and court yet more controversy by throwing highly symbolic stones into Israel.
Stirring The Pot
According to Hilal Khashan, a Lebanese political scientist, Ahmadinejad's visit was a projection of Iranian regional power.
''He is coming for his own Iranian reasons," Khashan said ahead of the visit. "He wants to show the world that Iran is a regional power, and that Iran is a confrontation state with Israel. The fact that he will be visiting Bint Jbeil in the south, which Hizballah calls the capital of liberation, means a lot to him. First he wants to convey to his people that Iran is preponderant. He wants to show that Iran is a major power player that must be treated with respect and understanding, and must be engaged instead of confrontation.''
Inbar says Israel sees Iran's backing for Hizballah as a threat to its security which has the potential to lead to further conflict.
"It definitely provides a challenge to Israel's security as Lebanon, Syria, and Hamas-ruled Gaza are actually serving Iranian interests and all of them have threatening capabilities for Israel's civilian population," Inbar argued. "We don't want to provoke a war, but this is something that we have to take into consideration if some kind of violent contingencies are developing in the area."
Ahmadinejad's arrival also came against a backdrop of rising sectarian tensions between Sunni and Shi'ite factions in Lebanese domestic politics. A United Nations-backed court is expected shortly to implicate Hizballah figures in the 2005 killing of Sunni Prime Minister Rafik al-Hariri, father of the current incumbent.
Hizballah has already dismissed the UN investigation as "politicized." But suggestions of its involvement have raised fears of a resumption of intercommunal strife 20 years after the end of a civil war that tore Lebanon apart and increased the suspicion many Sunni and Christian Lebanese feel about Ahmadinejad's visit.
That sentiment was summed up by one man, named as Georges, who told AFP: "This is no longer our country. This country is for [Hizballah] and Iran now, and God knows [Hizballah] is cooking up for us after the visit."
But Hizballah's leader, Hassan Nasrallah -- who addressed Ahmadinejad's Beirut rally by video link -- insists that Lebanese of all persuasions owe a debt to Iran.
''The country that stood by Lebanon during the worst of times, during the worst of wars and the worst fallout from a war that Lebanon has ever had, how should we treat it in return?" he asked rhetorically. "Even when we differ amongst ourselves politically, we should be thankful to this country and respectful to it.''
At the close of his trip,
Ahmadinejad appeared near the Israeli border
for the most sensitive part of his tour, a visit to the southern Lebanese towns of Maroon Al-Ras and Bint Jbeil, just a few hundred meters from the Israeli frontier.
In his speech, Ahmadinejad praised what he called Lebanese resistance and verbally attacked Israel, saying Zionists "are mortal."