Iranian President Mahmud Ahmadinejad, who was reelected for a second term in the disputed June 12 election, is due to present his new cabinet next week.
To win approval, he needs to secure a confidence vote in the Iranian parliament, or Majlis. This, in turn, means securing the support of the conservative lawmakers who dominate the Majlis.
Such approval, however, does not appear to be a foregone conclusion.
The IRNA state news agency reports that conservative lawmakers -- including parliamentary speaker Ali Larijani -- held an informal meeting this week with Ahmadinejad in an attempt to persuade him to share his cabinet picks in advance.
Such a move, they suggested, was the only way to ensure that they would back his choices in the confidence vote.
Ahmadinejad refused, saying any preliminary discussion would violate Iranian law.
The debate has spurred some Iranian experts to say there are signs of a growing rift between the president and his conservative base.
Controversial Figure
Last month, Ahmadinejad angered many conservatives by appointing his aide, Esfandiar Rahim Mashaie, to serve as his first presidential deputy.
Mashaie had proven a controversial figure because of statements in which he described Iranians as friends of the Israeli people, and said any conflict was with the Israeli government only.
Iran's Supreme Leader Ayatollah Ali Khamenei ordered Ahmadinejad to remove Mashaie from the post. But it took the Iranian president a week to respond to Khamanei's demand, prompting furious calls from conservatives for Ahmadinejad to obey the supreme leader.
Any failure of Ahmadinejad's administration is something the conservative camp will be held responsible for, as well.
Ahmadinejad last month also sacked his intelligence and culture ministers, further fueling speculation about disagreements between government conservatives.
Mohammad Sadegh Javadi Hesar is a former lawmaker based in the city of Mashhad. He says while the rumors of a rift between Ahmadinejad and his conservative backers may be real, it is unlikely that lawmakers would go so far as to give a motion of no-confidence for the president's cabinet picks.
"[Conservative lawmakers] try to play down the inadequacies of Ahmadinejad's administration, because any failure of Ahmadinejad's administration is something the conservative camp will be held responsible for, as well," Hesar says.
"Therefore, they're trying, by any means possible, to prevent any extreme or costly actions by President Ahmadinejad in forming a cabinet. They are lobbying for a form of the cabinet in unofficial meetings with Ahmadinejad in order to gain support, to some extent, from a majority of conservatives," he says.
'Show Trials'
Iran has been mired in political turmoil since June, after hundreds of thousands of protesters took to the streets to protest Ahmadinejad's reelection.
Opposition sources say 69 people have been killed in postelection violence.
According to official Iranian figures, nearly 4,000 protesters, activists, and opposition supporters have been arrested since the vote. More than 100 people were forced to appear in Tehran's Revolutionary Court for court proceedings criticized as "show trials" by the West.
Hesar says conservatives will try to prevent any existing rifts from escalating further.
Ahmadinejad has promised to make "significant changes" in his cabinet, bringing in new faces -- including many young people. He has reportedly included a female candidate, as well.
According to the Mehr news agency, the president is considering Marziyeh Vahid Dastjerdi for the post of health minister. If approved by parliament, she would be the first female cabinet minister in Iran since the 1979 Islamic Revolution.
Ahmadinejad's vice president, Parviz Davoodi, is being considered for the position of science minister, Mehr reported. Sayeed Mohammad-e Husseini, the previous deputy science minister, is now a candidate for the post of minister of culture and Islamic guidance.
Ahmadinejad is not expected to include reformists in his cabinet.
Changes may still be ahead. Mohammad Yaganli, a former reformist lawmaker, told RFE/RL that Ahmadinejad has always been an unpredictable politician and may amend his list of nominees up until the time of the vote.
RFE/RL's Radio Farda contributed to this report.
The Battle For Iran's Future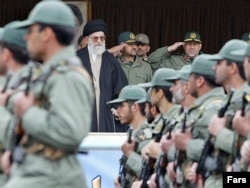 The Battle For Iran's Future
With much more than a disputed presidency at stake for Iranians, RFE/RL's Charles Recknagel and Mazyar Mokfi explore the power plays that could reshape Iran's political establishment.
Click here
for news, blogs, and analysis of the presidential election and aftermath.
Iran Election Special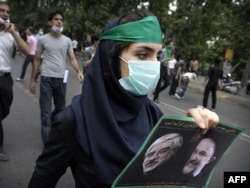 RFE/RL's Full Coverage
Following the disputed reelection of Iranian President Mahmud Ahmadinejad, supporters of Mir Hossein Musavi have taken to the streets to protest.
Click here
for news, blogs, and analysis of the presidential election and aftermath.
Iran Election Diary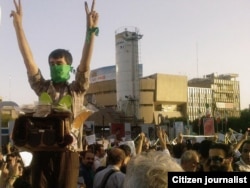 Disputed Presidential Vote
There have been protests and clashes with police on the streets of Tehran following the disputed reelection of Mahmud Ahmadinejad. RFE/RL collects videos, photos, and messages on social-networking sites coming out of Iran to attempt to get a picture of what is happening inside the country.
Click here