Turkey's support for the ill-fated Gaza-bound aid flotilla was part of a drive to seek confrontation with Israel and win support in the Arab world, influential Israeli analysts say.
The move reflects a fundamental foreign-policy shift by Recep Tayyip Erdogan's Justice and Development Party (AKP) government that has seen Turkey increasingly turn its back on the West and seek alliances in the Muslim world. Attacking Israel is a symbolically vital part of the supposed new strategy, the analysts believe.
Efraim Inbar, director of the Begin-Sadat Center for Strategic Studies at Bar-Ilan University in Tel Aviv, says Turkey threw its weight behind the aid convoy -- where at least nine aid workers died after it was stormed by Israeli commandos on May 31 -- knowing that it was a "provocation" with potentially violent consequences.
"I have no evidence that they wanted this to happen but anybody who is involved in organizing a provocation probably knew that this could happen. Turkey could have agreed to the Israeli terms that the ships should load the contents of their aid to the Gazans in an Israeli port, we would inspect and pass it on. I see no reason not to accept this approach," Inbar says. "I think that Turkey is looking for instances where it can show it is against Israel in order to win sympathy in the Muslim and Arab world."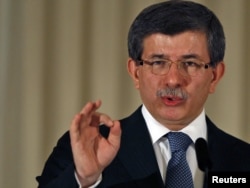 Turkey's Ahmet Davutoglu attacked the Israeli raid as an "illegal act."
Turkish Foreign Minister Ahmet Davutoglu has insisted that Turkey tried to avoid a confrontation. He said the government had tried unsuccessfully to persuade the aid groups behind the convoy to offload the shipment at ports other than Gaza.
Gaza War As Turning Point
Once Israel's closest Middle East ally, Turkey has put its newfound hostility on official display since the botched raid, which has drawn international condemnation.
In an extraordinarily combative speech, Davutoglu told an emergency meeting of the UN Security Council that Israel risked losing "its legitimacy as a respectful member of the international community." The architect of a more eastern-centered foreign policy that some observers have dubbed "neo-Ottoman," Davutoglu is understood to have promoted a more openly pro-Palestinian stance, arguing that the issue is vital to Turkish public opinion.
It is certainly vital to the opinion of Erdogan, a onetime Islamist who has become increasingly vocal in his criticism of Israel since the 2008-09 bombardment of Gaza that resulted in the deaths of around 1,400 Palestinians.
Addressing the Turkish parliament on June 1, the prime minister described the flotilla raid as "a turning point in history," adding, "Nothing will be the same again." He called for Israel to be "absolutely punished by all means."
Turning To The East
Inbar identifies Erdogan's Islamist leanings as crucial to Turkey's reorientation -- a process that also includes a growing intimacy with Israel's sworn enemy, Iran -- and to the launch of the aid flotilla.
"Turkey should never have allowed those aid ships to go to Gaza and we have indeed a problem with the prime minister, Erdogan, who has made several times anti-Semitic statements and he is driving his country away from the West," Inbar claims. "Basically, we see a Turkey that is distancing itself from the West and its relations with Israel are just one phenomenon which characterizes a larger change in Turkish foreign policy."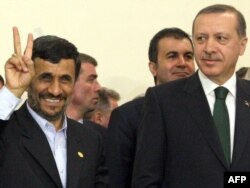 Iran's Mahmud Ahmadinejad with Turkey's Recep Tayyip Erdogan -- Turkey has promoted itself as a mediator between Iran and the West.
Feeding Israeli suspicions has been the role in the convoy of an Istanbul-based charity, the Human Rights and Freedom Group (IHH), an organization Israel accuses of supporting the Palestinian Islamist movement Hamas and of having links to Al-Qaeda.
The charity's organizers say it is funded by Turkey's wealthy Islamic merchant class, a group that is also seen as Erdogan's most important support base. Three of the boats in the flotilla, including the "Mavi Marmara" -- scene of the worst of the violence on May 31 after it was stormed by Israeli commandos -- were purchased by IHH from a company owned by Istanbul's municipal authority, which is run by allies of the prime minister.
However, Martin Van Creveld, emeritus professor at Hebrew University in Jerusalem, believes there is a more prosaic explanation for Turkey's changed attitude to Israel. The turning point, he believes, came with Angela Merkel's reelection as German chancellor in 2008, after which she all but ruled out Turkish membership of the European Union -- prompting Turkey to reevaluate its foreign policy and drive it into the hands of Muslim states, including Iran.
"The European Union made it very clear in, I think, October-November 2008 that Turkey was never going to be a member. So the Turks reassessed their policy and decided they needed allies and since Europe wouldn't have them, they turned to the east towards Syria and Iran and we are part of that change," Van Creveld says. "If you want to curry favor with the Arabs, if you want to curry favor with the Iranians, you attack Israel."
'Losing Their Edge'
More critical for Israel's long-term security, according to Van Creveld -- a veteran historian of the Israeli Defense Forces -- are the military and intelligence weaknesses evident from the botched May 31 raid. He says stopping the convoy was essential to deter possible future efforts to ship arms to Gaza, but criticizes the operation as lacking the key ingredients essential for such missions.
"What went wrong was the way this was done and my guess is that they just had bad intelligence, bad planning, and you could see it for yourself on TV," Van Creveld says. "Success in such operations relies on surprise, either overwhelming force or surprise. This time there was no surprise and no overwhelming force and they did not even try to compensate for their absence by other means, such as deception. So what do you expect if you attack a ship with 600 people [on board]?"
The raid was the latest in a long string of Israeli military miscues, including the heavily criticized Gaza bombardment, the 2006 strikes on Lebanon intended to uproot the Iranian-backed Hizballah organization, and this year's assassination of a senior Hamas figure in Dubai. The latter episode triggered a diplomatic row after it was alleged that Israeli intelligence agents involved in the killing had used forged passports of British and Australian nationals.
For Van Creveld, the failings are symptomatic of a long-term malaise signaling that Israel is losing its vaunted military and intelligence sharpness.
"Fundamentally, if you fight the weak over a long time then you become weak. We have been fighting the weak for decades now and we are weakening proportionately, no question about it," Van Creveld says. "This is no longer the famous military that we used to have."