Surobi and Paghman, two districts that lie east and west of the Afghan capital Kabul, served as front lines during the civil war that convulsed the country in the 1990s.
Today they are calm but off limits to Kabir Ranjbar, a candidate in Afghanistan's September 18 elections. Although he will be on the ballot, Ranjbar says it is not safe for him to campaign in these districts and he relies on people coming to Kabul to hear his message.
Like the majority of the districts' residents, Ranjbar is a Pashtun, but his history as an ex-leftist who sided with the former Soviet-backed governments does not sit well with former mujahedin commanders based in the region.
Ranjbar's difficulties illustrate the obstacles faced by many independent candidates in elections where much is at stake for President Hamid Karzai and the future direction of the country.
Today we can't even hope that Afghanistan will go back to democracy in the next few years
Ranjbar nevertheless hopes that his calls to sideline warlords and create a political system free of corruption will strike a chord with voters, although he knows he faces an uphill struggle.
"Our resources are limited and we run our campaign empty-handed. On the contrary, candidates affiliated with some political factions have broad backing," Ranjbar said. "They have the backing of certain foreign countries and factions who had piled up a lot of ill-gotten wealth in recent years. They are benefiting from it now by spending it generously."
Broad Field
More than 2,500 candidates are competing for 249 seats in Afghanistan's lower house of parliament. And more than 17 million eligible voters are expected to participate in the vote amid heightened security and despite fraud concerns.
Candidates are elected from individual constituencies, with the 249 seats divided among the country's 34 provinces, based on population. Among them, 68 seats are reserved for women.
Kuchis, or Afghan nomads, have a countrywide constituency because of their mobile lifestyle. Most candidates are running as independents but are part of larger coalitions.
In a statement sent to Afghan and international media on September 16, the Taliban vowed to disrupt the process. The Afghan Election Commission has already closed 1,000 out of a total of just under 7,000 polling stations nationwide. Most of the closed stations are in Taliban-controlled southern and eastern regions, which has raised concerns that 1.5 million voters, the majority of them ethnic Pashtuns, will be effectively disenfranchised.
This campaign has attracted a much larger field of candidates than the last parliamentary polls, held in 2005, possibly because of the perks and privileges given to Afghan lawmakers. Parliamentarians enjoy a generous monthly salary, official security detail, and influence over senior officials due to their control of public coffers and role in confirming cabinet members.
While the upper house is considered by many a mere talking shop, the lower house deliberates and approves all laws. Its various commissions have a strong oversight role over government institutions.
The outgoing parliament was a house divided, where former communists jostled with Islamists and Western-educated technocrats. The inability of any group to gain control often forced parliamentarians to seek compromises.
Much At Stake
If supporters of President Hamid Karzai manage to gain control of the house, Karzai will have a much easier time running the government and he will be able to push for major personal initiatives such as reconciliation with elements of the Taliban. Observers say that control of the parliament would also give Karzai greater bargaining power with the international community and Washington in particular.
Conversely, a house controlled by Karzai's opponents might further undermine his authority.
Shukria Barakzai, a former magazine editor, has emerged as one of the more outspoken of the current parliament's 68 women members.
As she campaigns for another term, she spends her days navigating Kabul's clogged traffic, hopping from one gathering to another. She remembers her early days as a young lawmaker who dreamt of seeing rule of law established in her country.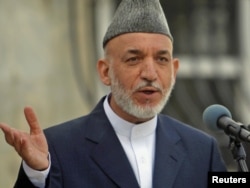 The outcome of the elections is expected to impact Karzai's presidency
But rising insecurity, mushrooming corruption, and the strengthening of warlord power over the years gradually dashed her hopes of seeing a stable and progressive Afghanistan anytime soon. She is dismayed by the large number of former jihadi commanders contesting the elections, some of whom she says are bankrolling the campaigns of women candidates in the hope of controlling their votes if elected.
"Today we can't even hope that Afghanistan will go back to democracy in the next few years. Today, freedom of expression is used to promote ethnic, linguistic, and regional interests," Barakzai said. "The elections have morphed into a commercial process from a national process where political, regional, and ethnic interests are promoted."
Few candidates are running on party platforms with a national manifesto. Supporters of President Karzai and his opponents in the former anti-Taliban Northern Alliance are running somewhat centralized campaigns by supporting candidates in their provincial constituencies.
The Hizb-e Wahdat-e Islami and Junbish-e Milli Islami parties, representing ethnic Hazara and Uzbek minorities, have also fielded candidates in provinces across Afghanistan. Observers, however, see them as struggling to retain their current small numbers in the parliament because they lack wider public appeal.
Kabul-based political analyst Mohammad Younus Fakur says that the lack of a level playing field in Afghan politics, combined with the uncertain security situation, makes it hard to predict the outcome of the vote.
He believes that the next parliament will likely be a rainbow parliament with pro-Karzai and pro-Northern Alliance factions forming the largest blocs. But the general absence of issues-based campaigning, security fears, and concerns about fraud have already made many Afghans indifferent to the process.
"None of the candidates has tried to mobilize people based on a program or line of action so that people can hope that if these people are elected they will form good laws and will bring a change," Fakur says.
Barakzai, however, disagrees and points to the heavy participation of youth in the election process as an early sign of hope. "We have no option but to be optimistic," she says. "Our youth do not believe in hatred and are investing in our common values. This makes me hopeful."