When he joined the Soviet partisans in World War II to free his native Latvia from Nazi occupation, Vasily Kononov had no doubts he was on the right side of history.
Highly decorated by the Soviet Union following the war, he never imagined his anti-Nazi activities would one day land him in jail for war crimes.
But in 1991, the Soviet Union collapsed and Kononov's legal troubles began. Latvian prosecutors in 1998 indicted him for the murder of innocent civilians during World War II -- a charge he vehemently denies, insisting the civilians were in fact prominent Nazi collaborators.
The 88 year-old has since been tried six times and spent nearly two years in prison.
As veterans around the world prepare to lavishly celebrate the 65th anniversary of the end of World War II in Europe this weekend, Kononov is nervously awaiting a final verdict by the European Court of Human Rights.
And with the Russian press flush with rumors that the judges in Strasbourg have already voted against him, Kononov is not in a festive mood.
'Evil Must Be Fought'

"I'm upset, because I always fought for truth," Kononov says. "I started combating [Nazi] occupants when I was 18. Then I spent many years working in law-enforcement agencies, where I fought against murderers, rapists, and thieves. I always lived with the belief that evil must be fought and defeated."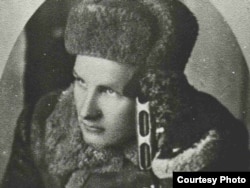 Soviet partisan Vasily Kononov in a picture from the 1940s
For Kononov, whose life was shattered by the war, the war-crime accusations are a slap in the face. His partisan activities led to his father, mother, and aunt being sent to concentration camps in Germany. His parents survived but his aunt died. His uncle and cousins were killed in combat.
Kononov himself was wounded several times, suffered shell-shock twice, and had to undergo three operations after the war.
He is so far the only anti-Nazi Soviet partisan to have been convicted of crimes against humanity.
On May 17, the Strasbourg court is due to rule whether Latvia had sufficient grounds to jail him. The judgment, which cannot be appealed by either side, will mark the end of an almost 12-year legal saga that has pitted Latvia against Russia.
Occupier, Not Liberator
Latvia and other Baltic nations regard the Soviet Union as an occupier, not a liberator, and say the crimes perpetrated against the Balts under Soviet rule are no different than those committed by the Nazis. Justice is justice, they say, regardless of who won the war.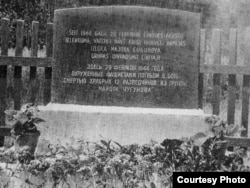 A memorial stone marking the place where 12 Soviet partisans were killed by Nazis in the Latvian village of Malye Baty on February 29, 1944.
"Why is it important to prosecute people who are considered to be guilty of Holocaust crimes -- namely, genocide?" asks Valters Nollendorfs, the director of external affairs at the Museum of Occupation in Riga. "Crimes have to be prosecuted and justice has to be brought. Justice not carried out is just as bad as the injustice that has taken place."
Russia, which suffered huge losses in what it calls the Great Patriotic War, regularly accuses Latvia of seeking to glorify its Nazi collaborators and belittle the Soviet Army's role in liberating the region from Nazi occupation. Moscow says a ruling against Kononov on May 17 will bolster what it perceives as Latvia's campaign to rewrite World War II history. It has thrown its weight behind the veteran, providing him with a Russian passport and funds to finance his defense.
Despite rumors of Kononov's imminent defeat in Strasbourg, the European Court of Human Rights has defended him in the past. Following a complaint filed by Kononov, the court ruled in 2008 that the Latvian judges' decision to jail him had no legal basis in international law. It condemned the "overly general and summary nature of the domestic courts reasoning" and awarded him 30,000 euros in moral damages.
The Latvian government appealed and the case was sent back to the European court's Grand Chamber.
Sentenced To Death
The charges against Kononov go back to an episode that took place in 1944 in Nazi-occupied Latvia.
In February, a group of 12 partisans that included two women and a baby stopped to spend the night in a barn in the village of Malye Batny. Hours later, German Nazi troops surrounded the barn and burned it to the ground, killing everyone inside.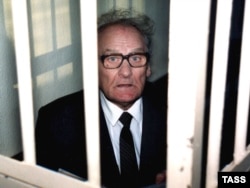 Kononov in a Riga courtroom in January 2000
The massacre caused outrage within the partisan movement, whose tribunal sentenced to death several villagers who Kononov says were tricked into admitting they had tipped off the Germans. On May 27, a unit of partisans led by Kononov seized Malye Batny and killed nine villagers.
Latvian prosecutors claim the victims were ordinary civilians and accuse Kononov of war crimes because two of the dead were women, including one in her last month of pregnancy.
Kononov argues that the women, too, were armed Nazi collaborators and that partisans had not known about the pregnancy.
He also denies having personally participated in the attack on Malye Batny.
"I didn't take part in the operation," he says. "My father's village was close by and I stayed behind so that no one recognized me. After all, I spent my childhood in this area. That I was there is a pure invention."
Political Considerations
With the witnesses long dead, there is little chance the truth will ever be established about what happened that day in Malye Batny. The European Court of Human Rights will nonetheless have to settle the dispute, and some are worried that Russian pressure and political considerations may influence the judges.
Konstantin Kosachyov, an influential politician who heads the Russian Duma's Foreign Affairs Committee, warned this week that a ruling against Kononov would be a "disgrace for Europe" and a "catastrophe" for the already strained relations between Moscow and the rights court.
The spokesman for Latvia's Foreign Ministry refused to comment for this story before May 17 but said the ministry will be closely watching the court's ruling.
While Kononov's case may have more to do with politics than history, some historians hope the case will help shed light on a particularly divisive period of history.
"Maybe this court case will encourage a calm, objective, historical analysis of this period," says Yelena Zubkova, a Russian historian specializing in the Baltic States. "It's high time to examine these historical events, including who partisans were. After all, it was a very mixed, ambiguous movement."