Iranian scientist Shahram Amiri is due to arrive in Iran from Qatar in the early hours of July 15.
His plane will land at Tehran's Imam Khomeini Airport, where he is likely to be welcomed by Iranian officials and also his elderly father, his wife, and the 7-year-old son he left behind more than a year ago.
The 32-year-old scientist has apparently been through a lot of stress in the past few months and is likely to face tougher times once he gets home.
Once in Tehran, Amiri will have to give Iranian intelligence officials an account of how he ended up in the United States and what kind of classified information about Iran's nuclear program he gave U.S. officials, even though some Iranian officials claim he has never been involved in Iran's nuclear program.
Iranian Foreign Minister Manuchehr Mottaki has said
the government will wait
until it knows "what has happened over these past two years, and afterward we will see if he will be considered a hero."
In public appearances, Amiri will have to confirm everything that has been said by Tehran about his case and is likely to provide more details.
Alaedin Boroujerdi
, the head of the Iranian parliament's National Security and Foreign Policy Committee, has said that Amiri's return to Tehran will shed light on the "unclear dimensions" of his case.
In a
July 13 interview
with the Danish Atlantic television news, Amiri said he was abducted by secret agents while on a pilgrimage to Saudi Arabia last year, drugged, and taken to the United States on a military plane.
He also said the CIA pressured him psychologically and with a bribe of up to $10 million to talk to the U.S. media and claim to have documents on his laptop that implicate Iran's nuclear program.
Similar claims were made in mid-June by an
"informed source"
who had spoken to the hard-line Fars news agency, which is thought to have ties to the Revolutionary Guards.
The unnamed source said Amiri had been under psychological pressure by the Americans, who had tried to get him to talk about Iran's nuclear program.
The source claimed that Amiri provided "false information" to the CIA, which eventually discovered -- after trying various interrogation methods -- that Amiri had no ties to the nuclear program.
The source also said the CIA pressured Amiri to declare that "he personally had taken asylum to the United States, and, second, to say that he was an individual who was informed about Iran's nuclear program and that the approach of these nuclear activities is military." The source said Amiri had refused to do so and was subsequently threatened with being handed over to Israeli Mossad.
In a report aired on
Iranian state television
on June 13, Amiri gave a slightly different version. He said the Israeli government told the United States that if they couldn't manage to make him cooperate, the Israelis would be happy to take over and make him talk.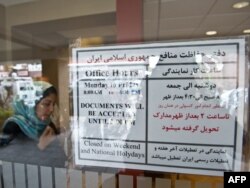 A sign at the entrance of the Iranian interest section of the Pakistani Embassy in Washington, D.C., where Amiri surfaced on July 13.
Amiri
told Press TV
that once he arrived in Iran, he would clarify the allegations made about him and provide more details about the past year of his life.
"I think I will be unable to get into details during this limited period of time and I will postpone it to when I am hopefully in my dear country, Iran, so I can speak to the media and my own people with ease of mind and tell them about my ordeal over the past 14 months, incidents that have been a mystery to many," he said.
It is widely expected that Amiri will be used -- at least for some time -- as a propaganda tool by the Iranian establishment, which will portray the case as a victory for Iran and a fiasco for U.S. intelligence services.
An Iranian legislator, Mohammad Karamirad, has called Amiri's "abduction" a "most obvious case" of "state terrorism."
He also said that Iran's own investigation proved that Amiri was not a nuclear scientist and didn't have a role in its nuclear program.
The parliament's National Security Committee's Boroujerdi said Amiri's "abduction" has disgraced the United States and called for Washington to be held responsible under international laws for "terrorist behavior."
He also dismissed speculation that Amiri's return to Iran would result in a swap deal for the three American hikers held by Iran.
The ILNA news agency quoted him as saying, "We have between 10 to 12 citizens who have been abducted in this manner in the U.S. If there is a swap one day, the fate of all those individuals who are on U.S. soil should be clarified."
In Washington, State Department spokesman Philip Crowley repeated the official line that Amiri was neither coerced to come to the United States or to leave.
"Once he gets back to Iran, I suspect that he'll have a variety of things to say, and my advice would be [to] take what he says with a grain of salt." Crowley told reporters on July 14.
-- Golnaz Esfandiari