The attempted Christmas Day terror attack on a U.S. airliner has provoked much soul searching in Washington and talk of the need to reexamine U.S. intelligence-gathering operations.
After ordering a snap review of what went wrong, U.S. President Barack Obama blamed the incident on a failure by the country's intelligence agencies to share intelligence and "connect the dots," allowing a suspected Al-Qaeda operative to board a commercial flight with the aim of blowing it up.
The problem, he said, wasn't a lack of information but, in fact, an overabundance of it.
And that, paradoxically, may be one of the biggest challenges facing the U.S. intelligence community right now, according to several counterterrorism and intelligence experts.
Bruce Hoffman, a professor of security studies at Georgetown University and a member of the government's National Security Preparedness Group, is deeply acquainted with the inner workings of the U.S. intelligence community.
The former counterterrorism scholar-in-residence at the CIA and adviser to the Coalition Provisional Authority in Iraq says the U.S. intelligence community is "overloaded and overstressed" by the sheer volume of raw data pouring in that needs analyzing. "Some of it is a deliberate Al-Qaeda ploy to flood the system, in essence, with noise to overwhelm and distract us."
Many analysts share Hoffman's view that the major challenge facing the U.S. intelligence community is trying to make sense of the thousands of bits of raw data that pour in through hundreds of channels each day.
Too Much Information
Since the terrorist attacks of September 11, 2001, the United States has invested billions of dollars to expand its electronic intelligence net over most of the world. That net catches millions of cell-phone conversations, e-mails, sightings, tips, bank withdrawals, money transfers, plane-ticket purchases, and more.
All those individual bits of information have to be examined by analysts working against the clock to see if they match up and form a cohesive picture of future attacks or plots.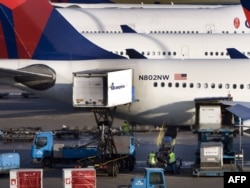 Has Al-Qaeda begun flooding U.S. intelligence agencies with too much to follow?
In the case of the foiled Christmas airliner attack, they didn't beat the clock.
"We've spent an incredible amount of money making sure we acquire more and more and more," says Jack Rice, who spent nearly five years as a CIA agent in the 1990s. "Not just the [CIA], but the Pentagon, the NSA, a whole series of organizations that collect a lot of stuff. And the more stuff you have the harder it is to sift through."
The 9/11 attacks triggered a massive reorganization of how the U.S. intelligence community gathers and analyzes information on terror-related threats. The "red flags" that were ignored nine years ago -- like foreign-born, novice pilots buying lessons in how to fly airliners and a presidential brief called "Bin Laden Determined To Strike Inside the U.S." -- suddenly became red flags of alarm over how the nation's intelligence-gathering agencies were doing their jobs.
An umbrella agency called the Department of Homeland Security was created to oversee U.S. border, coastal, and airport security. The CIA lost its role as the nation's spymaster, replaced by the newly created National Counterterrorism Center (NCTC) and the office of the Director of National Intelligence (DNI), now headed by Dennis Blair.
The NCTC was created to be the beating heart of the intelligence community -- the uber-agency that would compel the FBI, CIA, National Security Agency (NSA), Defense Intelligence Agency, Treasury Department, and rest of the 16 agencies charged with gathering information on potential terror threats to share what they know.
It's also the place where the "dots are supposed to be connected," to use a phrase commonly heard in Washington these days; a clearinghouse for all the collected intelligence where analysts from every agency take turns sifting and analyzing the raw data and gather three times a day -- at 8 a.m., 3 p.m., and 1 a.m. -- to update the status of threats to the homeland.

Washington Turf Wars
But the NCTC's establishment also separated the intelligence-gathering process from the analysis process, which the CIA and many other agencies didn't agree with.
Fred Burton, a former counterterrorism specialist at the State Department and now vice president of intelligence for the global intelligence company Stratfor, says the CIA is still bitter over being replaced by the NCTC as the lead agency on foreign operations and having to watch its powerful relationships with counterparts like Britain's Scotland Yard shrink.
"Turf wars in Washington are nothing new. We still have tremendous turf battles that are under way between the DNI and the CIA, as well as the FBI, which has a global mission today," says Burton.
Those issues were supposed to have been sorted out in the post-9/11 environment, he says, "but to be blunt, they haven't been."
The very skills that spies and analysts excel at in their work -- distrust and suspicion -- still spill over into working relationships, according to Brian Fishman, a counterterrorism scholar at the New America Foundation.
He says the thousands of people who work in the U.S. intelligence community "ultimately have the same goals -- they all want to prevent these sorts of attacks."
But he adds that "different organizations have different bureaucratic cultures and they trust people that understand those cultures. And they don't necessarily trust as easily people from a different bureaucratic culture with a different way of doing things."

Overwhelming Intelligence
In a recent piece for "The Washington Post," Hoffman argued that after 9/11, Al-Qaeda's leadership adopted a new strategy against the United States, which he calls a "death by a thousand cuts" approach.
He says it involves overwhelming the country's intelligence-gathering system with meaningless data to confuse it; striking U.S. allies (like Spain and Britain) for supporting the U.S.-led wars in Afghanistan and Iraq; recruiting "lone operatives" from countries without U.S. visa restrictions; and expanding their operations into failed and lawless states, like Yemen, where the previously little-known group Al-Qaeda in the Arabian Peninsula is based.
Hoffman argues that the systemic failure of intelligence analysis and airport security that occurred in the attempted airliner bombing on Christmas was, at its core, "a failure to recognize Al-Qaeda's new strategy."
He says the redundancy that was built into the system after 9/11 to act as a safety net that would catch mistakes "isn't enough, and it really boils down to a changing mind-set, as well, that sees Al-Qaeda as it is: this very dynamic, very evolutionary adversary, and that mandates that we prepare not just for yesterday's threat but we need a system that's more anticipatory and that's better at preempting, as well."
Following last week's security review, President Obama ordered several immediate changes implemented throughout the intelligence community.
He told his Director of National Intelligence to establish clear lines of responsibility and accountability within the NCTC. Obama ordered the State Department to tighten its process for issuing U.S. visas. And he told the CIA to speed up its distribution of intelligence reports to other agencies. More reforms are coming, he vowed, and progress will be measured.
A New Approach
But what Hoffman and many other analysts fear is missing from Obama's plan is a complete reevaluation of just who the enemy is, and what it's capable of.
"I think we have to do a better job of anticipating and outsmarting Al-Qaeda than we do now. I think we've inherently been in a responsive and reactive mode, which we do superbly. But when we're confronted by a very evolutionary and dynamic enemy like Al-Qaeda we have to do better," he says.
Former CIA agent Rice agrees, and adds that too many people in the intelligence field wrongly believed that Al-Qaeda "were on the run, that they weren't effective, that they couldn't actually get out and run with the big dogs. Well that's false. In fact, what we find is they are in some ways very, very capable, and they're also shockingly flexible. That's one of their strengths."
And that, says the New America Foundation's Fishman, is the most sobering lesson for the intelligence community about what happened on December 25 -- that for Al-Qaeda, "it doesn't take all that much to pull something like this off. And that is the scary part about this."
"These are people like any other that are motivated to do terrible things and they're looking for cracks in security systems to do that," Fishman says.
"They are no smarter than anybody else, they don't have very good resources, but they're creative and they are exacting in their planning and they've had a lot of time to think about doing this. So they're able to find innovative ways to find gaps in the system."
The challenge for the U.S. intelligence community is filling those gaps before they're found.