Another Iranian Diplomat Seeks Asylum In Norway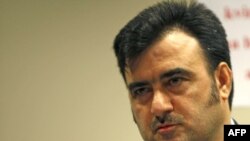 An Iranian diplomat based in Belgium says he has defected and will seek political asylum in Norway -- the third Iranian diplomat to defect in Europe this year.
Farzad Farhangian, press attache at the Iranian Embassy in Brussels, today told reporters in Oslo that he's seeking political asylum with all his family.
"I'm apologizing to the Iranian people. During the last 30 years I was of service to the Iranian people, but the deviation that the Iranian republic has reached leaves me no choice. I hope to be the voice of the opposition."
Farhangian is the third Iranian diplomat to resign and seek asylum in a Nordic country.
Hossein Alizadeh, a senior official at the Iranian Embassy in Helsinki, is
seeking asylum
in Finland.
Mohamed Reza Heydari, ex-consul general of Iran's embassy in Oslo, was granted asylum by Norway earlier this year after resigning his post. Heydari, who quit to protest the crackdown on postelection dissenters in Iran, had
predicted
that other diplomats would similarly defect.