Armed Insurgents Blocked In Daghestan Village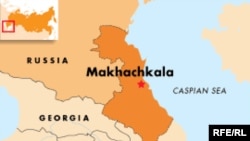 KIZILYURT, Daghestan -- Security forces in Russia's North Caucasus republic of Daghestan have attacked a house in Kirovaul village where a group of armed insurgents were reportedly trapped, RFE/RL's Russian Service reports.

Officials of the Kizilyurt district had announced a counterterrorist operation regime in the region. There have been several shoot-outs between security forces and the insurgents in this area in recent days. No casualty report was available.