YEREVAN -- Armenia has hailed the parliamentary elections in the disputed Nagorno-Karabakh territory as a sign of the breakaway Azerbaijani region's strengthening democracy, RFE/RL's Armenian Service reports.
Armenian Foreign Minister Edward Nalbandian said on May 24 that recognition of the right of the people in Nagorno-Karabakh to decide their fate is "central," Armenia's state-run Armenpress reported. Voters in Karabakh went to the polls on May 23 to elect their fifth parliament since the unrecognized republic broke free from Azerbaijan's control in the early 1990s.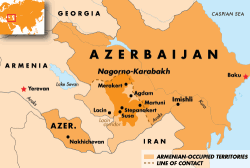 Nalbandian said that with the latest elections, "the citizens of the Nagorno-Karabakh Republic once again have proved their resolve to express their will to live freely and independently."
But Azerbaijan condemned the elections. Azerbaijan's Central Election Commission described the vote as a "new election farce."
Results published by the Karabakh Central Election Commission (CEC) on May 24 showed self-declared Karabakh Prime Minister Ara Harutiunian's Free Fatherland party leading the vote with some 47 percent. Parliament speaker Ashot Ghulian's Democratic Party of Artsakh and the Armenian Revolutionary Federation (Dashnaktsutyun) garnered some 32 and 24 percent of the vote, respectively.
The Communist Party reportedly failed to clear the 6 percent hurdle, which is required under Karabakh's election laws to enter the legislature.
More than 70 percent of some 95,000 eligible voters turned out to vote in the elections, according to the CEC.
More than 50 international observers reportedly attended the Karabakh elections. Four political parties with a total of 82 candidates were vying for 17 parliamentary seats. The remaining seats in the 33-seat body were contested by 44 candidates in single-mandate constituencies. Each legislator in Karabakh is elected to a five-year term.
Karabakh, populated overwhelmingly by ethnic Armenians, broke away from Azerbaijan following a three-year war that left some 30,000 dead. A Russia-brokered cease-fire ended the bloodshed in 1994. The current negotiations between Armenia and Azerbaijan conducted with the mediation of the United States, France, and Russia as part of the Organization for Security and Cooperation in Europe's Minsk Group have not brought a peace agreement.
European Union foreign policy chief Catherine Ashton late last week called the planned elections in Karabakh illegal and said the event "should not prejudice the peaceful settlement of the Nagorno-Karabakh conflict."
Russia, meanwhile, was less categorical on May 24 in its assessments of the impact of the Karabakh elections. "In Moscow we do not think the course of the Karabakh peace process could depend on the holding of elections in Karabakh," said Russian Foreign Ministry spokesman Andrei Nesterenko.
Still, officials in Karabakh said the polls demonstrated the unrecognized republic's commitment to democracy.
"It is a pleasure to live in a country that supports democratic values. And democracy is a value for us, along with independence and sovereignty," said Karabakh leader Bako Sahakian after casting his vote.