YEREVAN -- The Armenian dram has lost nearly 6 percent relative to the euro and 3 percent to the U.S. dollar in the last three weeks, falling below the target level set by the authorities in March, RFE/RL's Armenian Service reports.
The dollar bought 385.5 drams at the close of trading at Yerevan's NASDAQ OMX stock exchange on September 23, up from 381.75 drams registered during the previous trading session on September 18.
The Central Bank of Armenia is largely avoiding heavy intervention in the local currency market, a radical change from an earlier exchange-rate policy that was heavily criticized by opposition politicians and economists. The bank spent an estimated $700 million of the country's hard-currency reserves on keeping the dram's value virtually unchanged from last October through the end of February, before allowing its nearly 20 percent devaluation on March 3.
The measure was necessary for the release of a $540 million stand-by loan from the International Monetary Fund (IMF).
The Central Bank forecast in March that the dram's average rate will vary from 360-380 per dollar this year.
Central Bank Deputy Governor Vache Gabrielian told the newspaper "Hayots Ashkhar" last week that "we do not expect serious fluctuations" in the currency the rest of the year. Gabrielian said the dram's weakening is primarily caused by currency speculation.
World Economic Crisis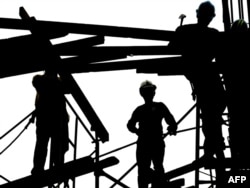 Multimedia coverage on the impact of the global financial crisis on markets and individuals across RFE/RL's broadcast region. More