Armenian Ombudsman Under Fire From Government, Opposition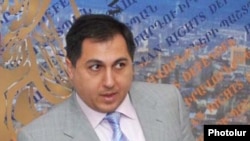 Armen Harutiunian has incurred criticism both from the government and from a major opposition bloc for the report on human rights that
he unveiled
on March 10.
Eduard Sharmazanov, a spokesman for President Serzh Sarkisian's Republican Party, dismissed the report, which criticized the country's "oligarchic" political system, as "unsubstantiated" and "not objective." "I don't exclude that there are persons who were dealt with illegally. I don't exclude that there are problems with laws in our country," Sharmazanov told RFE/RL's Armenian Service. "But I think it would be wrong to call them widespread."
Meanwhile, Levon Zurabian, a leading member of former President Levon Ter-Petrossian's Armenian National Congress, criticized Harutiunian for not devoting more of his report to a condemnation of the reported violations during the February 2008 presidential election (in which according to official returns Ter-Petrossian placed second after Sarkisian with just 21.5 percent of the vote), to the postelection violence in which 10 people died, and to the mass arrests and trials of Ter-Petrossian supporters. Zurabian accused Harutiunian of taking on "the role of an advocate for Serzh Sarkisian's regime."
Anush Martirosian
About This Blog
This blog presents analyst Liz Fuller's personal take on events in the region, following on from her work in the "RFE/RL Caucasus Report." It also aims, to borrow a metaphor from Tom de Waal, to act as a smoke detector, focusing attention on potential conflict situations and crises throughout the region. The views are the author's own and do not represent those of RFE/RL.