YEREVAN -- Armenian President Serzh Sarkisian will meet with the leaders of dozens of political parties to discuss his controversial fence-mending agreements with Turkey, RFE/RL's Armenian Service reports.
A presidential spokesman said on September 14 that the meeting will take place on September 17 and be part of the "internal political consultations," which Ankara and Yerevan have agreed to undertake before signing two protocols on the normalization of bilateral relations next month.
Presidential press secretary Samvel Farmanian said formal invitations to discuss "the current stage of the normalization of Turkey-Armenia relations" with the president have been sent to the heads of all political parties active in the country.
It's the third meeting held by Sarkisian in this format. The previous two meetings, in November and March, were focused on the peace process associated with the conflict over the breakaway Nagorno-Karabakh region and the government response to the global financial crisis, respectively.
Nearly 50 party leaders, most of them loyal to Sarkisian, attended the meetings, which were boycotted by some opposition parties. The main opposition party, the Armenian National Congress, boycotted both meetings.
Anti-Turkey Protests
Meanwhile, 50 opposition activists have camped outside the prime minister's office in Yerevan's largest square while 24 others have begun a hunger strike outside the nearby Foreign Ministry building to protest the deal with Turkey,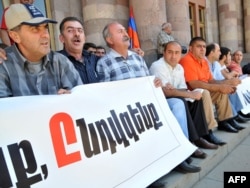 Members of the Dashnaktsutiun party demonstrating in Yerevan
Carrying banners and chanting "No concessions to Turkey!" the protesters, mostly supporters of the nationalist Armenian Revolutionary Federation (Dashnaktsutiun), demanded that the government accept amendments devised by Dashnaktsutiun to the proposed deal.
One protester told RFE/RL that "we demand that the government abandon plans to sign the Turkish-Armenian protocols. We hope that our authorities have retained a little common sense."
Another said, "We demand that they don't betray our feelings for the lost homeland."
The hunger strike is meant to be largely symbolic, as participants and other party members will take turns refusing food for two days.
Vahan Hovannisian, a Dashnaktsutiun leader, has confirmed that he and other party leaders will attend the meeting with Sarkisian.