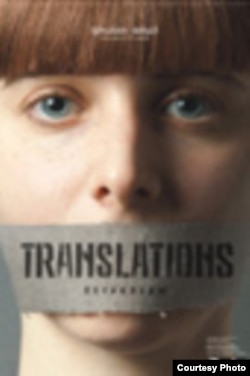 "Translations" poster by Uladzimier Tesler
The disappearance of controversial posters promoting the premiere of Minsk's Kupala theater production of a play called "Translations" prompted me to try to find out what happened.
The posters depicted a woman with her mouth taped shut and were, until recently, on prominent display at the Kupala box office and other venues throughout the Belarusian capital.
In the metro underpass of Minsk's central Kastrychnitskaja station, the entire current repertoire of this season's Kupala theater offerings fit on a pink sheet of A4-sized paper. I ask the token teller what happened to the large posters for Mikola Pinihin's play that previously hung along the walls of the underpass.
"I have no idea why they're no longer here," she tells me. "They were probably prohibited."
The Kupala theater's management pleads ignorance, too. "We received no official recommendations concerning the posters," says a representative.
The poster is the work of well-known Belarusian artist Uladzimier Tesler. He, too, is perplexed about what's behind the posters' disappearance.
"People have already approached me saying, 'Your posters are suddenly gone.' But I don't see anything sinister behind it."
Tesler explains that "Translations" is a play about the forced imposition of the English language in Ireland during the 19th century. "In the play, the 'Irish' characters speak Belarusian while the 'British' speak Russian. This parallel probably bothered somebody. But for goodness sake! What's the problem?! It's just a misunderstanding."
Audiences who have already seen the play by Irish playwright Brian Fryl have noticed parallels between Ireland and Belarus.
In the play, the resident of the small Irish village of Bejle Beg live in their own world, one centered on family, work, love, and school. One day, British armies arrive and they are intent on turning Irish Bejle Beg into British Bejle Beg.
"Translations" is a play about the history of the English colonization of Ireland, about how one language squeezes out another.
Whom, if anyone, the posters might have offended among the powers-that-be remains a mystery.
Some suspected the Belarusian Public Council on Morals, headed by Mikaly Charninets, who also heads the government-backed Union of Writers of Belarus. The same council recently tried to ban a concert in Minsk of the German rock group "Rammstein," claiming the band propagates various perversions. Charhinets was unavailable for comment, but his deputy Aliaksandr Miadzvedz said he couldn't remember the council ever discussing any posters for any plays.
A spokesman for the Belarus Culture Ministry also denied any involvement in the disappearance of the posters.
-- Ihar Karniej