For Sergei Gusev, a Russian computer programmer living in Moscow, the vicious gas war pitting his country against Ukraine has been confined to headlines on the television screen.
Russia's decision on January 7 to cut all natural-gas supplies to Ukraine, a key transit route for Europe, has left more than a dozen countries scrambling to cope with an exceptional cold snap.
But in the Gusev household, the temperature remains comfortably warm around the clock as Sergei, his wife, and their baby daughter snuggle up at home for their long Christmas break. "We haven't felt anything at all; there haven't been any changes. It's always warm at our place, around 22-23 degrees, even though we've set it for the minimum temperature," he says.
The two-room apartment even gets so stuffy that the family regularly keeps the windows open to let in freezing air.
Sergei doesn't have a strong opinion about the dispute between Russia and Ukraine. But he says he feels sorry for the hundreds of thousands of people in Europe left in the cold by the dispute. "It's hard for me to make a judgment, because both sides are trying to turn the situation to their advantage," he says. "Russia can say that Ukraine steals gas, that it's cutting supplies, and that Ukraine itself should deliver what it has stolen. On the other hand, I feel sorry for the nations that are currently suffering, including Transdniester, where the situation is critical."

Repercussions Across Europe
Europe depends on Russia for one-quarter of its natural gas, and about 80 percent of that gas is shipped through pipelines crossing Ukraine.
Austria, Bulgaria, Croatia, the Czech Republic, France, Greece, Hungary, Italy, Macedonia, Romania, Serbia, Slovakia, Slovenia, and Turkey have all reported a halt in Russian gas shipments, while Germany and Poland say their supplies have substantially dropped.
Russia turned off its gas supplies as the result of a pricing dispute with Ukraine, which pays far less for its natural gas shipments than many EU countries.
When the two sides failed to strike a deal on a new, market-level price, Moscow decreased its shipments through Ukrainian pipelines, but said the full amount needed for its European clients remained.
When European deliveries started coming up short, Moscow accused Kyiv of siphoning off supplies, and shut the gas off altogether.
Kyiv has denied diverting fuel. Officials from the country's state-run Naftohaz energy company have pointed to the country's vast underground storage system, saying Ukraine -- unlike many consumer countries further west -- has sufficient reserves to weather the dispute until April.
Homes remain well-heated across Ukraine, despite some residents saying temperatures in their apartments have dropped and reports that Kyiv's main heat supplier has started using oil to compensate for falling gas supplies.
Still, most Kyiv residents interviewed by RFE/RL's Ukrainian Service on January 8 said they were unmoved by the fate of their shivering European neighbors. "We are suffering, and I don't care about Europeans," one woman said.
"They should sort this out with Russia, because it's Russia that supplies Europeans, so the two sides should sort this out," another Kyiv resident said. "The weather here is colder, so I can't say so far that I'm very sorry for them."
In a poll conducted on the website of RFE/RL's Ukrainian Service, only 23 percent of respondents voiced sympathy for European countries left without gas. Another 73 percent said Europe was paying the price for failing to give Ukraine adequate political support in its dispute with Moscow.
Vadim Karasyov, the director of the Kyiv-based Institute of Global Strategies, tells RFE/RL's Russian Service that neither Kyiv nor Moscow is playing the gas dispute to their advantage vis-a-vis the European Union.
"Some kind of compromise needs to be found," Karasyov says. "Both sides have fought for a while, but this gas war has not brought Russia any major advantage, even though the European Union backed Ukraine a lot less this time than it did in 2006."
RFE/RL's Russian and Ukrainian services contributed to this report
The Briefing: Gas Crisis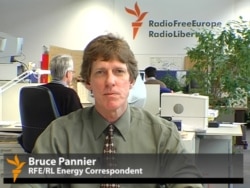 The Briefing
RFE/RL energy correspondent Bruce Pannier discusses the gas feud between Russia and Ukraine. Play