This week's visit by the U.S. president's national-security adviser and the head of the Central Intelligence Agency to Pakistan was portrayed as a feel-good trip that highlighted the high level of cooperation between Washington and Islamabad.
But despite what may have been written about CIA chief Leon Panetta's and General James Jones's meetings with civilian and military leadership during their visit, analysts in Pakistan say all is not well between the two sides.
They note that as senior U.S. officials visit Islamabad to make new demands -- mostly about increasing military or law enforcement efforts against myriad extremist groups in Pakistan's western border regions -- Pakistani officials continue to respond by urging patience, asking for more money and weapons, and calling for a true understanding of their military, political, and economic limitations.
Former Pakistani diplomat Tayyab Siddiqui says the U.S.-Pakistani relationship is currently on a "bumpy road" and the visit by the two senior U.S. officials a week ahead of a planned second round of strategic dialogue was significant.
He says that the attempted car bombing in New York's Times Square has intensified U.S. demands for an all-out offensive in North Waziristan, a district in the western Federally Administered Tribal Areas (FATA) along the border with Afghanistan. He says the Pakistani military is wary of signing on to such an operation until it can be sure that it would work to its advantage and not backfire in the form of a huge backlash, possibly resulting in terrorist attacks.
"There has been a lack of understanding between the American administration and Pakistan Army in particular," Siddiqui says. "The losses that [the] Pakistan Army has suffered in earlier operations in South Waziristan in FATA region and [the northwestern region] of Swat and the like [will prompt] questions in their minds about what exactly has been achieved. And how the purposes of Pakistan's territorial security has been advanced or ensured."
Pakistan was the West's major Muslim ally during the Cold War and received upwards of $50 billion in military hardware and economic assistance from Washington. But relations were strained by Islamabad's inability -- or unwillingness -- to go after Islamist extremists on its soil after the 9/11 attacks. And as the United States has continued to supply Pakistan with aid money -- more than $25 billon over the past nine years -- its demands for military and law enforcement action against extremist groups and individuals have increased.
Showing Patience
In Islamabad, security analyst Talat Masood says that the Obama administration is under a lot of domestic pressure to do something about the security threats emanating from Pakistan's tribal regions. This, he says, prompts frequent visits by senior U.S. officials who use "their economic and military clout to influence political and military decisions [in Pakistan]."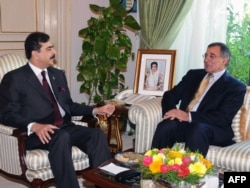 Pakistani Prime Minister Yousuf Raza Gilani (left) with CIA chief Leon Panetta in Islamabad on November 20
Former General Masood says that as U.S. officials pressure and cajole Pakistanis, leaders in Islamabad are resisting Washington. This he says, is evidenced today by the slow pace with which they are responding to U.S. demands for an all-out offensive in North Waziristan, where CIA drones frequently target Al-Qaeda and Taliban leaders.
"When it comes to something which they [Pakistani leaders] think would be detrimental to Pakistan's national integrity or security, they do take positions like what they are taking in respect of North Waziristan at the moment because they think they are already overstretched," Masood says. "And it may be counterproductive to take them on at this stage and make all the militant factions get united. So, I think, they are resisting that. But at the same time, it doesn't mean that they don't understand that they will undertake this [operation]."
He says that Washington and Islamabad need to harmonize their views on achieving stability in Pakistan and the surrounding region. This, he says, cannot be achieved by military means alone.
Masood suggests that Islamabad may be wary of losing the support of citizens who might be endangered by military operations. In addition, he says, Pakistan is well aware of the need to consolidate its gains in the Swat and South Waziristan regions, where militants still launch sporadic attacks after they were forced out by large-scale military operations last year.
"America must understand the limitations of Pakistan. You cannot expect the type of efficiency that is expected of a develop[ed] country," Masood says. "Pakistan's resources, its infrastructure, both human as well as physical infrastructure, can only take up to a point."
Calm On The Surface
Western officials, for their part, appear to be well aware of Islamabad's limitations, but would nevertheless like to see genuine commitment to the effort to root out extremist groups on Pakistani soil. While details of Panetta's and Jones's discussions in Islamabad are slim, experts suggest the portrayal of that message was the main objective of their visit.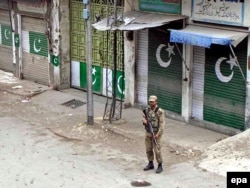 A soldier on guard during curfew hours in Mingora, Swat Valley, in April
Pakistani and international media reported that Pakistani President Asif Ali Zardari, Prime Minister Yousaf Raza Gilani, and army chief General Pervez Kayani have agreed to target the militant stronghold in North Waziristan. The two sides also reportedly expressed their mutual appreciation for their cooperation in the ongoing investigation into the failed Times Square car bombing allegedly attempted by a Pakistani-American, who has claimed to have undergone training in Pakistan's tribal areas.
Unnamed officials have told Pakistani media that the visiting U.S. delegation also delivered a message from President Barack Obama that warned of serious consequences in the event that a future attack on U.S. soil were to originate from Pakistan. U.S. Secretary of State Hillary Clinton publically aired the same message earlier this month.
The public posturing of both sides, however, was calm and measured.
"Both countries are, and will be, taking to confront the common threat we face from extremists and prevent such potential attacks from occurring again," read a short official statement describing the discussions. "Both sides pledged to intensify efforts, increase cooperation, and do everything possible to protect our citizens."
RFE/RL correspondent Ahmadullah contributed to this report from Islamabad