Assaulting An Officer, Or Intervention Attempt?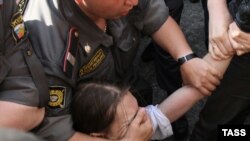 Judges in Moscow have sentenced a man to 2 1/2 years in prison for breaking a policeman's nose during an opposition rally.

The unusually harsh sentence has caused outrage among opposition leaders and rights campaigners, who view it as a warning to all opposition protesters.

According to police, 56-year-old Sergei Makhnatkin is an opposition activist who resisted arrest and assaulted the police officer during an unsanctioned rally last December.

Makhnatkin, however, tells a very different story. He says he was simply walking past the site of the rally when he saw several policemen beating up an elderly female protester and asked them to stop. He says he hit the police officer in self-defense after being thrown into a police van, handcuffed, and beaten up.

The Moscow court has refused to hear the nine protesters who witnessed the incident.

Interestingly, the policeman is not the only person to have suffered injuries during recent opposition protests.

Police smashed the arm of journalist Aleksandr Artemyev in three different places while forcefully dispersing a rally in Moscow on May 31.

During his lengthy prison stay, Makhnatkin will have much time to mull over the oddities of the Russian justice system, which allows police to routinely batter citizens while punishing peaceful attempts to stop the beatings.

In the meantime, he has launched a hunger strike.

-- Claire Bigg
About This Blog
"Watchdog" is a blog with a singular mission -- to monitor the latest developments concerning human rights, civil society, and press freedom. We'll pay particular attention to reports concerning countries in RFE/RL's broadcast region.
Journalists In Trouble
RFE/RL journalists take risks, face threats, and make sacrifices every day in an effort to gather the news. Our "Journalists In Trouble" page recognizes their courage and conviction, and documents the high price that many have paid simply for doing their jobs. More