Admirers around the globe today mark the 150th anniversary of the birth of Anton Chekhov, one of history's best-loved writers of plays and short stories.
More than a century after his death, Chekhov is one of the most widely translated and imitated writers in the world. His works are performed as far afield as Tokyo, Santiago, and New Delhi. Already available in many dozens of languages, Chekhov this year will be translated for the first time into a number of African tongues, including Swahili. He even has a crater on Mercury named in his honor.
The Russian author, known for his modesty, would have been stunned to know that he is still remembered, let alone admired. A few months before he died of tuberculosis in 1904, Chekhov famously predicted that his works would be read for another seven years before falling into oblivion.
A host of worldwide events this week honoring his life and work are once again proving him wrong.
Odessa-born acting teacher and theater director Yury Alschitz, who lives in Berlin, has organized a Chekhov conference in Yelets, a small Russian town mentioned in his play "The Seagull."
"The themes he deals with, his writing, are not tied to a particular age," Alschitz says. "I think his plays can be staged a hundred years from now. His stories are always alive, always pertinent, like Shakespeare's works. Chekhov's plots are always simple, but one can see a lot in these simple stories. Each era sees in them a powerful reflection of its own problems."

Complex Characters
An early performance of "The Seagull" at the Moscow Art Theater (MKhAT) in 1898 was a resounding success that established him as Russia's leading playwright.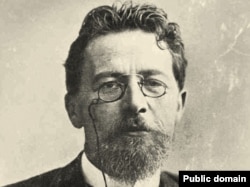 Chekhov thought his works would be forgotten soon after his death.
It was quickly followed by the equally popular plays "Uncle Vanya," "Three Sisters," and "The Cherry Orchard."
Late Russian literary critic Vladimir Veydle saw the now-historic MkhAT staging of "Three Sisters" as a child. In a 1973 interview with RFE/RL's Russian Service, he recalled the performance, which starred acting legends Konstantin Stanislavsky as Lieutenant Colonel Aleksandr Vershinin, and Olga Knipper, Chekhov's wife, as the emotional middle sister Masha, who begins a clandestine and doomed affair with Vershinin.
"According to Chekhov's notes, in the scene where Lieutenant Colonel Vershinin says goodbye to Masha, he hugs her and quickly leaves," Veydle recalled. "On stage, Stanislavsky turned to Masha before reaching the door, looked at her, and Knipper answered his gaze for a whole minute. It seemed that this minute would never end. Spectators held handkerchiefs to their eyes, barely suppressing sobs. I can still recapture this instant and see them both, and it can make me cry."
The work of Chekhov, a practicing doctor who described medicine as his "wife" and literature as his "mistress," has lost none of its relevance.
His plays are a poignant testament to the decay of the landowning class in a dying Tsarist Russia. But what makes Chekhov's appeal endure is the complexity of his characters and the universality of the feelings that gnaw at them, most of which revolve around the loss of happiness.
Intimacy And Irony
Moldovan theater director Mihai Fusu, who recently staged "The Seagull" in the Romanian city of Braila, says that Chekhov "touches on almost all aspect of human relations."
Georgian theater director Giorgi Margvelashvili, who also heads Tbilisi's Theatre and Film University, says Chekhov's stories and characters become "incredibly familiar and intimate for everyone. Every single person in the audience -- provided he or she is watching a good staging of his play -- is confronted with his own past and present."
"The audiences see difficulties they experienced in their lives, in relationships with others, with their own selves, with the outside world," Margvelashvili says. "This is perhaps what matters the most and is the reason why his plays are never outdated. In every generation, directors continue to want to stage his plays."
Chekhov is particularly loved in Britain, where theaters tirelessly stage his plays.
A poster for the Romanian staging of "The Seagull"
"For us in England, it seems that Chekhov is almost an Englishman, although of course he is 100 percent Russian," says British Chekhov specialist Rosamund Bartlett, who oversaw a Chekhov festival at London's Hampstead Theater this month. "We are famous for our rather ironic humor, and Chekhov's work abounds with this sense of irony and humor."
The Russian author is much loved in France, too, where his distinctive blend of drama and comedy strikes a chord, according to theater director Alain Francon.
"I continue my work on Chekhov's plays, which means trying to understand how the tragic and the comic are organically linked," Francon says. "When the tragic is alone, it's not very interesting because we quickly fall into compassion. When the comic is alone we quickly fall into derision. I think it is essential that both are organically linked, and it's the author who has linked them in an essential way."
Russia this week launched a six-month theater festival in Moscow to commemorate its beloved playwright. The festival will feature Chekhov's plays as well as works inspired by Chekhov, and will feature theater troupes from countries including Germany, Sweden, Japan, Chile, and Canada.
RFE/RL's Russian, Georgian, and Moldovan services contributed to this report