*Correction appended
The president of Russia's troubled North Caucasus region of Ingushetia is in critical condition after his convoy was
hit by an explosion
this morning near Nazran.
Yunusbek Yevkurov is the fourth official to be wounded or killed in Daghestan and Ingushetia during a
bloody three-week span
in an incident that bears signs of an assassination attempt by the North Caucasus resistance.

The 45-year-old career military intelligence officer, whom Russian President Dmitry Medvedev named eight months ago as president of the Republic of Ingushetia, was injured when a car bomb exploded as his cortege was driving from Nazran to Magas.
Vladimir Markin, a spokesman for the Russian Prosecutor-General's Office, told journalists in Moscow that "an explosive device equivalent to 70 kilograms of TNT went off as the [Ingush] president's motorcade passed through Nazran."
He said preliminary findings indicated the explosive was "planted in a foreign-made vehicle, where a suicide bomber might have been sitting, which was parked by the side of the road."
Yevkurov's younger brother reportedly died in the attack and two bodyguards were injured.
'Year Of Offensives'
Both the timing of the assassination attempt -- five years to the day after Ingush and Chechen militants staged multiple attacks on the republic's Interior Ministry, killing up to 80 people -- and the modus operandi suggest that it was the work of the North Caucasus resistance.
In a video address in late April, resistance commander Doku Umarov announced that the notorious Riyadus Salikhiin suicide brigade has been revived, and he warned that "this will be a year of offensives."
Federal Security Service (FSB) chief Aleksandr Bortnikov, who met with Russian President Dmitry Medvedev after the attack, appeared to lay blame for the incident on Ingushetia and Chechnya rebels.
"The police forces of Ingushetia and Chechnya, in their joint special operations, have forced the bandits out into remote areas of Ingushetia and Chechnya, so naturally the bandits have started fighting back aggresively," Bortnikov said. "Today's act was most probably an attempt to influence and destabilize the situation. The bandits have made numerous threats against Yevkurov, and I believe this is an act of retaliation by the bandits."
Over the past two weeks, militants have killed Daghestan's interior minister, Lieutenant General Adilgirey Magomedtagirov, and two senior Ingushetian officials.
The resistance website kavkazcenter.com reported the attack on Yevkurov two hours after it occurred, but neither kavkazcenter nor the Ingush resistance website has claimed responsibility for it.
Daunting Task
As head of one of the most unstable and impoverished republics in Russia, Yevkurov was faced with a string of seemingly impossible tasks: to eradicate the corruption and inefficiency that pervaded government structures under his loathed and compromised predecessor Murat Zyazikov; to secure the cooperation of a small but vocal political opposition alienated by the murder on August 31 of Magomed Yevloyev, owner of the independent website ingushetia.org; to turn around the republic's moribund economy and reduce the unemployment rate, currently one of the highest in the Russian Federation; and, above all, to reduce the incidence of resistance attacks on police, army and security personnel.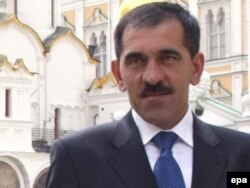 Ingushetia President Yunusbek Yevkurov in Moscow on June 12
In 2008 alone, there were at least 61 acts of terrorism in which over 70 police and military personnel were killed and 167 injured. In retaliation for those attacks, police routinely target young men known as practicing Muslims on the street, and then brand them Islamic militants.
Yevkurov succeeded in coopting to his team several young opposition activists. He launched an energetic crackdown on corruption, even making public last week the number of his mobile phone and encouraging citizens to call him directly to report instances of corruption, unfair dismissal, or failure to pay salaries on time.
In stark contrast to his predecessor, he also met regularly with members of the public to discuss their grievances, and set up an e-mail account for that purpose.
He met with Yevloyev's parents, and in February convened a meeting of some 180 families mired in blood feuds, as a result of which 47 of them abjured any further blood vengeance.
Countering Insurgency?
Medvedev signaled his confidence in and support for Yevkurov. During a brief visit to Magas in late January, Medvedev announced 29 billion rubles ($878 million) in economic aid to Ingushetia to help revive the economy.
But Yevkurov proved unable to make any headway on the primary problem: neutralizing the Ingushetian arm of the North Caucasus resistance.
During the first four months of this year, 59 people have been killed, 18 of them police or military personnel.
Five weeks ago, Yevkurov agreed to the proposal by his Chechen counterpart, Ramzan Kadyrov, that the two republics' interior ministries should coordinate their efforts to track down and destroy resistance fighters.
Medvedev announced after the Yevkurov attack that he was sending South Federal District envoy Vladimir Ustinov to Ingushetia to represent the federal authorities "in a more concentrated manner."
But the fresh attack appeared to cast doubt once again on the efficacy of Moscow's counterinsurgency strategy in the North Caucasus.
* An earlier version of this story put Yevkurov's age at 48. He is 45.