Azerbaijan's electoral authorities say that according to near complete results, the ruling Yeni Azerbaycan Party of President Ilham Aliev has won a strong majority in the November 7 parliamentary election.
The Central Election Commission said that with 90 percent of the votes counted, more than 70 of the 125 seats in parliament went to representatives of Aliyev's Yeni Azerbaycan.
Opposition forces are crying foul, saying that Yeni Azerbaycan fixed the vote to
consolidate its near-total dominance of the country's political life.
Correspondents from RFE/RL's Azerbaijani Service filmed voters being bussed from one polling station to another in the Khazar election district, where Azerbaijan's first lady, Mehriban Aliyeva, ran for a seat.
In one polling station in Sabayil Baku district, an RFE/RL correspondent said observers were placed some 50 meters away from election commission officials and polling booths.
Several observers from the opposition complained they were intimidated and expelled from polling stations by police and prevented from properly monitoring the vote.
WATCH: Election officials call police to have an opposition election observer removed from a Baku polling station. The officials claim the observer got too close to voting booths, while the observer defends his right to keep close watch on the proceedings:
RFE/RL correspondent Nushaba Fatullayeva was held for one hour and intimidated by police and election commission members in a polling station in the Yasamal election district. She had filmed a man who had voted at a polling station where he admitted he is not registered.
"They wanted me to erase all the video and they wouldn't let me go," Fatullayeva said. "Commission members searched my equipment but couldn't find any videos because I had hidden the memory card."
In another example, an opposition observer asked a voter, "Who told you to come and vote in this district?"
"My boss did," the voter replied. "We were told to come and vote in this constituency."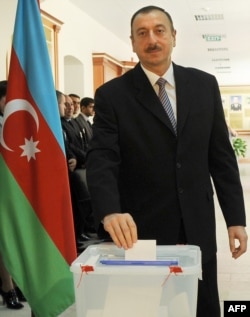 President Ilham Aliyev casts his ballot in the capital.
The election saw about 700 candidates vying for 125 seats in the country's parliament, the Milli Mejlis. Parliament is currently dominated by the Yeni Azerbaycan Party and its allies, following elections in 2005 that the opposition denounced as fraudulent.
On election day in Baku, there were few signs of fervor after a lackluster campaign.
About two-thirds of candidates from the main opposition bloc, Popular Front/Musavat, were denied places on the ballots by the Central Election Committee, seen as close to the ruling party.
The Organization for Security and Cooperation in Europe sent more than 300 observers to monitor the vote and is to release a statement on the conduct of the election on November 8.
"The conditions created for the voters to express themselves inside and outside the constituencies have yielded results," the secretary of Azerbaijan's Central Election Commission, Natiq Mammadov, told RFE/RL's Azerbaijani Service. "We have managed to hold free, fair, and democratic elections."
Election officials say 50.14 percent of eligible voters cast ballots.

written by Antoine Blua, with contributions from RFE/RL's Azerbaijani Service