BAKU -- Sahar TV, Iran's state international broadcaster, is not licensed to broadcast in Azerbaijan.
But its transmitters have nonetheless beamed uninterrupted -- and highly popular, programming in the local language to Azerbaijanis for years. As Baku has systematically banned all other foreign broadcasters -- including the BBC, Voice of America, and RFE/RL -- Sahar remains the sole alternative in an otherwise uniform media market.
Now, however, Sahar has angered Azerbaijani officials by airing harshly critical coverage of a recent visit to Baku by Israeli President Shimon Peres.
Azerbaijan had welcomed the June 28 Peres visit as an opportunity to forge closer economic and defense trade ties.
But Sahar castigated the move as offering what presenter Bahrul Ulumi, the host of the "Compass" program, called on the eve of the visit "support for a Zionist regime that has committed genocide against Muslims" (see
video here
, in Azeri).
Ulumi also criticized the Azerbaijani government for what he called its "disrespectful action," warning the move would "have its own consequences."
Nuanced Relationship
Iran, which in 1979 severed all diplomatic and commercial ties with Israel, has remained deeply hostile toward the Jewish state. But Sahar's commentary took many by surprise in Azerbaijan, which has long enjoyed a neighborly, if nuanced, relationship with Iran.
At a time when much of the world was still waiting for confirmed results from Iran's June 12 presidential poll, Azerbaijani President Ilham Aliyev was among the first state leaders to congratulate Mahmud Ahmadinejad on his highly controversial reelection win.
The Azerbaijani and Iranian governments also enjoy cooperation in what experts call the United Nations' "Islamic club," with diplomats from both countries coordinating their voting strategies.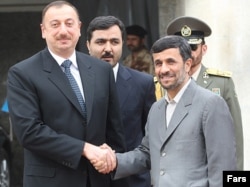 Iran's Mahmud Ahmadinejad (right) with Azerbaijan's Ilham Aliyev -- still friends?
In one such example, Azerbaijan voted in the UN against a Canadian proposal criticizing Iran for human rights abuses and violating the cultural rights of minorities -- a group that includes ethnic Azeris, the largest minority in Iran.
The Azerbaijani government was widely criticized within the country for neglecting the discrimination against Iranian Azeris in favor of maintaining good ties with Tehran.
Rasim Musabekov, an Azerbaijani political analyst, says many people in Azerbaijan resent Tehran's treatment of their ethnic kin in Iran. That, combined with Sahar TV's recent threats that Azerbaijan would face the wrath of the world's Muslims, could have a surprising backlash.
"The threats may result in a counter-reaction, with Azerbaijan becoming a platform for anti-Iranian groups. There are plenty of them," Musabekov says.
'Friend Of My Enemy'
There is also the sense that Iran is applying a double standard in its critique of the Peres visit. Tehran has pursued friendly ties with Armenia, which remains locked in a bitter dispute with Azerbaijan over Nagorno-Karabakh.
Ahmadinejad himself visited Armenia in 2007, and has pursued cross-border transportation and energy cooperation deals. Such moves, says Mubariz Gurbanli, a lawmaker from the ruling Yeni Azerbaycan Party, mean Tehran has no justification for criticizing Azerbaijan's ties with Israel.
"Why is it that the Armenian president can go to Iran, receive a warm welcome, be embraced, and receive support there? We didn't complain about that," Gurbanli says. "Israel is a legitimate state. And Azerbaijan, as an independent country, can have a relationship with whomever it wants."
Azerbaijan, which has used its energy wealth to assert itself as an independent agent on the world stage, chafes at the suggestion that it answers to any of its powerful regional neighbors, be it Russia, Turkey, or Iran.
Panah Huseyn, an opposition lawmaker, said the Sahar broadcasts may have been directed at Azerbaijan's Islamic opposition, which aims to undermine the still largely secular government of Ilham Aliyev. But, he says, the criticism may ultimately have the opposite effect.
"I think these comments are provocative and represent interference into our internal affairs," Huseyn says. "The channel frequently airs provocative programs that violate ethics, the principles of neighborliness, and Islam. Honestly, this harms Iran's influence in Azerbaijan."

'Any Alternative Is Good'
Still, experts say Sahar's influence is bound to grow in Azerbaijan's "no alternative" media environment.
Azerbaijan's Communications Ministry and its National TV-Radio Council have both warned Iran that its unauthorized Sahar broadcasts represent a violation of international telecommunications rules.
But Azerbaijani officials admit there is little it can do to stop the Sahar signals from reaching Azerbaijan. The only way to prevent negative programming from reaching the country, National TV-Radio Council member Gafar Jabiyev recently acknowledged, "is to keep relations with the neighbors good."
Others inside Azerbaijan suggest there are other ways of tempering Iran's influence.
Media lawyer Alaskar Mammadli suggests the government has brought this problem on itself by clamping down on Azerbaijan's media environment to the degree that any alternative seems like a good one.
Freeing up access to the airwaves to a broader range of voices within the country could do much to lessen the influence of a station like Sahar.
"If we distribute empty frequencies to broadcasters and potential broadcasters in an effective and pluralistic manner, there will be nothing left for foreign intervention," Mammadli says.
Sahar TV has offered a defense of its coverage. In a statement posted on its website, it criticized a piece on the controversy by RFE/RL's Azerbaijani Service, Radio Azadliq. The statement calls RFE/RL "a mouthpiece of the Zionist regime."
In a second statement, it defended its "Compass" program as "highlighting the fact that [Azerbaijan's] 8 million Muslims should not depend on foreigners."