WASHINGTON -- Civilian exchanges between the United States and Russia date back to the days of Eisenhower and Khrushchev.
That's more than five decades of swapping, and the ebb and flow of artists, scientists, and athletes between Washington and Moscow has often served as a barometer for relations.
That remains the case today. With Washington and Moscow closer than they've been in years, a significant uptick in exchanges is now under way.
This month, 22 basketball-loving 13- to 15-year-olds from Moscow and St. Petersburg are in Washington, D.C., for a glimpse into U.S. sports and life. In July, young American swimmers will be heading to Russia.
It's the first exchange under the bilateral presidential commission, a mechanism established by U.S. President Barack Obama and his Russian counterpart, Dmitry Medvedev, during their summit in Moscow in July 2009.
The commission created more than a dozen working groups on issues ranging from space exploration to drug trafficking, and includes cross-cultural initiatives like the sports exchange.
Kids playing sports sounds like fun and games, but Judith McHale, the U.S. undersecretary of state for public diplomacy, says that exchanges like the current one are a crucial part of Obama's "reset" in relations with Moscow.
Presidents Obama (left) and Medvedev set up the commission at the U.S.-Russian summit in Moscow.
"It may be the lighter side [of the 'reset'] -- but I actually think it is a critical component of what we're trying to achieve," McHale says. "And hopefully the net result will be a demonstrable improvement in the relations between our two countries."
McHale oversees educational, cultural, and sports exchanges under the bilateral commission with her Russian counterpart, Mikhail Shvydkoi.
She says the directive to increase the number of exchanges came straight from Obama and Medvedev, and took into account the success of similar exchanges in the past, including during the worst of Cold War tensions. And with the current upswing in relations, McHale says the time is ripe to promote intercultural understanding.
Not Like On TV
The young basketball players in Washington this month will not only drill with NBA and WNBA stars, but will also tour the U.S. capital, visit area schools, and have meals in American homes -- including that of Undersecretary McHale. The agenda will be similar for U.S. youths going to Russia.
"Our hope is that in coming here, they come with open minds and open eyes to see an America that they might not have known about just by watching television or, frankly, going on the Internet or going to movies," McHale says. "Each of us has perceptions, in some cases stereotypes, and so when you actually come to a country, you have a better view of what it is."
Maria Rapota, a 15-year-old from St. Petersburg, says she and her friends did have some knowledge about the United States before coming, although she struggled to think of examples. "We knew a lot -- what the capital is...[and] that they make nuclear weapons here," she laughs.
Rapota adds, however, that the governments of the two countries "want not only weapons to bind Russia and the United States together, but also sport."
Vladislav Staratelev, a 13-year-old from Moscow, says that he was most surprised by differences between the U.S. and Russian sports systems -- and what motivates American athletes.
"There are differences practically everywhere. The organization of sports training is very different in America and Russia," Staratelev says. "In Russia, they train kids from an early age in specialized sports schools, and here everyone trains themselves individually. Everyone prepares themselves on their own, and the ones who become professional basketball players are the ones who want it the most."
Rapota and Staratelev had just come from a two-hour skills clinic at Washington's Verizon Center, the home of the Mystics, a WNBA team. A former NBA player, 2.3-meter-tall Gheorghe Muresan, led the drills.
More Than Sports
McHale says that in the realm of youth sports, about three exchanges will take place annually for the next four to five years. While basketball, Obama's favorite sport, was chosen for the pilot exchange, swimming, ice hockey, and beach volleyball -- a Russian request -- will follow.
While youth exchanges have been given particular emphasis, the first batch of planned exchanges for other age groups will be announced within weeks. They include programs in the visual arts, performing arts, and humanities.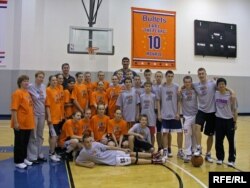 The delegation of young Russian basketball players, along with Russian and U.S. coaches, after a skills clinic at Washington's Verizon Center on May 19.
On the U.S. side, funds for the exchanges will come from both the State Department and the private sector. A similar mix will cover the costs on the Russian side.
Although the bilateral presidential commission is tied to Obama and Medvedev, McHale sees the new exchanges, and their impact, as continuing well beyond the presidents' years at the helm of their governments.
"The strengthening of the relations on the people-to-people to level transcends political terms of office," McHale says.