Do countries have the right to use water flowing through their territory as they wish? Or do they have an obligation to consider the needs of neighbors living further downstream?
That's been a constant dilemma for the Central Asian states since they became independent after the Soviet break-up.
Much of Central Asia's water flows from the mountains of Kyrgyzstan and Tajikistan, leaving downstream countries Uzbekistan, Kazakhstan, and Turkmenistan dependent and worried about the effects of planned hydropower plants upstream.
"There are lots of discussions about water and energy going on among the Central Asian states. It seems that this process is fueled by some interested powers, who follow their own aims," Tajikistan's President Emomali Rahmon said in his annual speech to the nation on April 15, referring to Uzbekistan.
"They say that implementation of water-energy projects in Tajikistan will harm neighboring countries. In this regard I want to underscore once more that such points of view are absolutely baseless."
Uzbekistan has been waging a campaign against the construction of large hydropower stations in Kyrgyzstan (Kambar-Ata) and Tajikistan (Roghun), Soviet-era projects that were left incomplete when the USSR dissolved.
Tashkent fears that those two countries' use of water from Central Asia's two great rivers -- the Syr Darya and Amu Darya -- to generate power will diminish the amount reaching Uzbekistan, whose 28 million inhabitants to make up Central Asia's largest population.
"We think that all decisions on using a watercourse of trans-border rivers, including on building hydro-technical facilities, should not, under any circumstances, damage the environment and infringe the interests of people who live in the contiguous countries," the Uzbek state-run newspaper "Narodnoye slovo" quoted Boriy Alikhonov, acting head of the State Committee for Environmental Protection, as saying in December.
Downstream Alliance
Other officials say the people of Uzbekistan are suffering because Kyrgyzstan and Tajikistan are depleting the water supply with their hydroelectric projects.
"In our republic, for those living by the Aral Sea [decreasing amounts of water in the river] has had very negative consequences that have affected the lives and health of millions of people," says Akbarkhon Magdiev, press secretary of the Liberal Democratic Party -- the largest faction in the Uzbek parliament.
"Their lives and health are endangered due to this trans-border problem, especially in Karakalpakstan, Khworezm, Navoi, and Bukhara. Every moment they are experiencing health problems because of this trans-border river problem."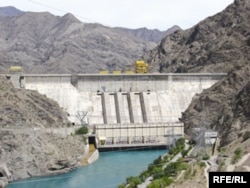 A hydroelectric power station in the Kyrgyz mountains
To address the issue, Uzbekistan has enlisted the help of its downstream neighbors.
In an rare example of regional diplomacy, Uzbek President Islam Karimov contacted his counterparts in Kazakhstan and Turkmenistan, convincing them of the threat from the Kyrgyz and Tajik hydropower projects.
Uzbekistan's Foreign Ministry released a statement on April 14 describing the Kambar-Ata and Roghun projects as reflecting "the best Soviet traditions of uncontrolled violence against nature." The Uzbek Foreign Ministry said: "Any decision that does not take into account the interests of neighbors will further aggravate the situation with water supply" and "may adversely affect the living conditions of tens of millions of people in Uzbekistan, Kazakhstan, and Turkmenistan."
The Uzbek Foreign Ministry statement stressed that "third countries' interference in Central Asia's water and energy problems is inadmissible," but then added there was a "need to carry out an international examination of all hydro-energy projects on trans-border rivers without fail, under UN aegis."
Analysts say the water issue has also become a top priority for Turkmenistan's president.
"The problem of water has become a serious issue for the [Turkmen] government. The president now has to consider this problem on the same level as other strategic state tasks," says Alexander Narodetsky, a Britain-based specialist on Turkmenistan, adding that water issues have become "a regular topic" in talks between Turkmen President Gurbanguly Berdymukhammedov and his counterparts in Uzbekistan and Kazakhstan.
"The people of Turkmenistan well understand why their president is talking about this. Since ancient times it has been considered wise and necessary to try not to lose one single drop of moisture [in Turkmenistan]," Narodetsky adds.
Sovereign Rights
Kyrgyzstan and Tajikistan say their neighbors' worries are unfounded.
Speaking to reporters in Bishkek on April 15, Bazarbai Mambetov, an expert on energy and water issues and a former deputy Kyrgyz prime minister, denied that his country is reducing the amount of water flowing downstream.
"Inasmuch as the water resources originate on the territory of Kyrgyzstan, Kyrgyzstan can also declare its sovereign rights on water resources," Mambetov said. "[But] I want to say to our Uzbek brothers, and to Kazakhstan, which has also made policy statements about this issue recently, that never in the last 30 years, never, have we reduced the amount of water flowing from the [tributary of the Syr Darya, the Naryn] river."
Tajik President Rahmon said his country would never leave neighboring countries without water. But he added that Tajik authorities "cannot be inattentive to our people who continue to suffer and face difficulties related to the shortage of electricity in winter for more than 15 years."
Likewise, Deputy Tajik Foreign Minister Abdullo Yuldoshev has said that "water should serve as a blessing to all the people of the states of Central Asia," but added that Tajikistan "will fight for our national interests, which in no way hurt of limit the interests of our neighbors whose territories are located further downstream on the Amu Darya."
Energy Issues
Cash-strapped Kyrgyzstan and Tajikistan cannot afford to pay the prices their neighbors -- all of which possess large reserves of oil or natural gas (or both) -- seek for energy supplies, so winter power rationing has become a way of life in the two countries.
Hydropower is their only hope of becoming energy independent. Both countries also argue they bear the full financial brunt of maintaining the reservoirs that control the flow of water and help prevent flooding in downstream countries.
Within last two years, Uzbekistan increased its gas price to Kyrgyzstan five times. How should Kyrgyzstan react to this? This is the geopolitics in Central Asia.
Kyrgyzstan's Mambetov saya his country has the right to sell water considering the energy export policies of one neighbor. "Uzbekistan is selling its gas to Kyrgyzstan for $240 per 1,000 cubic meters, but at the same time, Uzbeks are selling it to Kazakhstan for only $84," he says.
"Within last two years, Uzbekistan increased its gas price to Kyrgyzstan five times. How should Kyrgyzstan react to this? This is the geopolitics in Central Asia."
Previous attempts to provide Kyrgyzstan and Tajikistan with energy supplies as compensation for their maintenance of reservoirs quickly fell apart. Last year, Kyrgyzstan proposed treating water as a commodity and selling it, but that drew a strongly negative response from Uzbekistan. Tashkent maintains the position that water belongs to all and cannot be sold or traded.
Delegates at a conference on "European Union-Central Asian: Building an Energy Security Relationship" in Prague on April 16 discussed the issue and said they were anxious to help promote regional stability in Central Asia and offer solutions to problems such as the water issue.
The delegates advocated the construction of mini-hydropower plants, which would be more environmentally friendly. Tajik President Rahmon in his speech announced plans for 50 new mini-plants.
Juerg Staudenmann, a policy adviser for water governance at the UNDP regional center in Bratislava, says the organization is also trying to help the Central Asian states resolve their water problem amicably.
"We are very much involved in issues regarding water governance in Central Asia," Staudenmann says. "We are right now, for example, starting a new program together with the European Commission on integrated water resource management.... We are working in all the five countries of Central Asia through our country offices on all kinds of different aspects of water and energy issues."
The big showdown between Central Asia's upstream and downstream countries appears to be set for April 28, when an international conference on saving the Aral Sea is to be held in Almaty.
The two great rivers of Central Asia once fed the Aral Sea but now water from the Amu Darya barely reaches the desiccating sea and the Syr Darya now dies out in the steppe of Kazakhstan far from the Aral. But the Central Asian oil and gas barons may find it difficult to force Kyrgyzstan and Tajikistan to shelve their hydropower plans since Russia and Iran are the main investors in Kyrgyz and Tajik projects.
RFE/RL Kazakh Service director Edige Magauin, Kyrgyz Service director Tynchtykbek Tchoroev, Bubukan Dosalieva of the Kyrgyz Service, Iskander Aliev and Tohir Safarov of the Tajik Service, Turkmen Service director Oguljamal Yazliyeva, and Shukrat Babajanov of the Uzbek Service contributed to this report