UNITED NATIONS -- When Nick Birnback took on his assignment as a UN peacekeeper in Bosnia-Herzegovina in 1998, an elderly Serbian couple had been gruesomely murdered in the western town of Drvar.
Locals blamed ethnic Croats for the crime. As Birnback recalls, ethnic tensions boiled over quickly, with the peacekeepers caught in the middle of the riots.
"The reaction from the local population was very angry, and there was a big conflagration. A number of our [UN] buildings were burned, and our vehicles," he remembers. "And we had to evacuate our people under some duress. We took injuries. There was certainly dramatic stuff. There were riots in Brcko; there were riots in other places."
Birnback, who is now the spokesperson for the UN Department of Peacekeeping Operations, also served as a peacekeeper in East Timor, Eritrea, and Liberia.
The Drvar incident, he says, was hardly an isolated occurrence. UN peacekeepers -- or "blue helmets" as they are known because of their distinctive headgear -- frequently find themselves exposed to dangerous situations. Some 700 peacekeepers have been killed on duty in the past five years alone.
Single Largest Budget Item
With 124,000 civilian and military personnel deployed in all corners of the world, the UN's peacekeeping forces are the largest and most visible segment of the world's body global presence. Their significance has dramatically increased in the last decade and they're expected to take on even larger role in the next.
Since the first UN peacekeeping mission was established in 1948 in the Middle East, 63 peacekeeping operations have been implemented. Sixteen of those continue to be actively pursued today, doing everything from patrolling areas of recent violence, clearing land mines, and delivering aid to helping refugees and supporting free and fair elections.
With thousands of blue helmets deployed in the world's hot spots at any given time, peacekeeping operations represent the single largest item in the UN's budget, with almost $8 billion set aside just for 2010.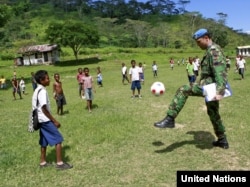 An officer from the UN Integrated Mission in Timor-Leste (UNMIT) kicks around a football with children in Bazertete after a meeting with the village chief on security and economic issues.
In recent years, the UN's peacekeeping operations have been dogged by allegations of corruption, abuse, and failure to act in situations of extreme violence.
The Srebrenica massacre, in which more than 8,000 Bosnian Muslim men and boys were killed by ethnic Serb forces in July 1995, took place despite being inside a UN-declared "safe area" and in the presence of 400 Dutch UN peacekeepers, who failed to prevent the slaughter.
A UN peacekeeping operation in Rwanda also failed to prevent the 1994 genocide there, in which an estimated 800,000 people died. Years later, Kofi Annan, who at the time served as head of the UN peacekeeping forces before going on to become secretary-general, expressed "bitter regret" over the experience.
But Birnback defends the UN's peacekeeping operations, saying the blue helmets are often put in the unenviable position of being deployed only when all other options have been exhausted.
"We are not the first response of the international community. We're usually the last," he says. "We tend to be what gets sent when nothing else seems to be working. So we're deployed into a situation when things are already really bad. It's not that we start from zero, if you like. In some ways, we start from below zero."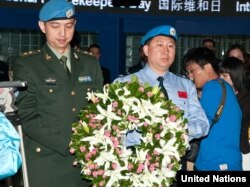 A UN soldier and police officer lay a wreath to commemorate International Day of UN Peacekeepers at the Shanghai World Expo's UN Pavilion on May 29.
Risks vary depending on the mission. Currently, the UN's peacekeeping operation in the Darfur region of Sudan is viewed as both the riskiest and the largest, with more than 10,000 uniformed personnel, including troops, police, and military observers. In late June, three peacekeepers were killed there in an ambush; a fourth was seriously wounded.
Most In Africa
There are currently
16 active peacekeeping missions
, in places like Haiti, Kosovo, the Golan Heights, and the cease-fire line between India and Pakistan in the state of Jammu and Kashmir. The majority of the missions are in Africa, in places ranging from the Democratic Republic of the Congo to Ivory Coast and Liberia.
Human rights groups called for UN peacekeepers to be deployed to Kyrgyzstan during the recent outbreak of violence between ethnic Kyrgyz and Uzbeks in Osh and Jalal-Abad. But while the UN's refugee agency set up tent camps in Uzbekistan for people fleeing the fighting, no peacekeepers were sent. (The Collective Security Treaty Organization, the region's local security body, also declined to send peacekeepers.)
UN peacekeepers work only with the consent of the host country. They are, by principle, impartial and are able to use force only by mandate or in instances of self-defense. UN officials are quick to note that the peacekeepers are there not to establish peace but to support an existing peace process.
The UN peacekeepers are, in a sense, the world's largest volunteer army. Some 115 countries currently provide soldiers and police personnel for peacekeeping operations, with Bangladesh, Pakistan, and India making up the top three contributors.
Staffing does not seem to be a problem. Alain Le Roy, the current head of the UN's peacekeeping operations, says military personnel from developing countries are eager to participate in UN peacekeeping missions, which are seen as top-rate training experiences.
"We have more offers than demand, so we can be a bit more [selective]," Le Roy says. "There will be some competition between the countries to participate in peacekeeping. I've visited many countries, and they're still very eager to participate because every soldier or policeman is always very proud to participate in peacekeeping."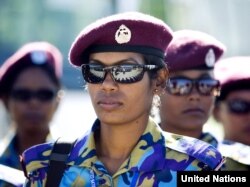 An all-female police unit from Bangladesh, serving with the UN Stabilization Mission in Haiti (MINUSTAH), arrives in Port-au-Prince in early June to assist with earthquake reconstruction.
'Rising Tide Lifts All Boats'
If it is developing countries that provide the majority of the personnel, developed countries cover much of the funding. The United States, which provides 27 percent of the UN's peacekeeping budget, is the single-largest contributor, followed by Japan, Britain, Germany, and France.
Countries that provide personnel are compensated by the UN at an average of $1,000 per month per peacekeeper. (The local governments themselves determine peacekeepers' salaries.) Birnback says many national military units return from peacekeeping missions experienced and better prepared.
"Their militaries are brought up to higher standards because we train under international standards, and we hold our forces accountable to these international norms and standards," Birnback says. "So they tend to get battalions back who are more capable. It's sort of the 'rising tide lifts all boats,' so they come back sometimes as better forces than when they left."
At present, only a handful of UN peacekeepers are women. Last year the UN, under Secretary-General Ban Ki-moon, launched a global effort to increase the proportion of women in peacekeeping operations to 20 percent by 2014.
Clare Hutchinson, the gender affairs officer at the department of peacekeeping operations, says the presence of women peacekeepers can, in certain countries, help the UN be more effective in its work with the local population.
"In some cultures -- look at Afghanistan or some other cultures -- where men can't connect with women or are not allowed to talk to women, it's important to have women as peacekeepers, because they can engage the society [in ways] that men can't," she says.
The first all-women contingent to serve in a UN peacekeeping mission -- a police unit from India -- was deployed in 2007 in Liberia. The idea appeared to take root. Since then, the number of female applicants to the Liberian police force has risen sevenfold.