BRUSSELS -- The continued Belarusian crackdown against activists from its Polish minority is now likely to be discussed by EU foreign ministers meeting in Brussels next week, officials in Brussels say.
The current standoff between the authoritarian regime in Belarus and the independent leaders of its Polish minority has angered EU member state Poland and is threatening to develop into a serious test of the EU's belief in the redemptive powers of dialogue.
Should it continue, the crackdown could also reverse the rapprochement the EU has carefully nursed with President Alyaksandr Lukashenka, dubbed "Europe's last dictator," over the past two years.
The latest controversy began with Minsk sanctioning the arrest of ethnic Polish activists and evicting prominent Polish groups from their headquarters. The incidents prompted Warsaw to intervene last week, provoking a cascade of further protests and the arrests of more than 30 activists from the Union of Poles in Belarus (ZPB), including its chairwoman, Andzelika Borys. Warsaw has threatened to close its borders to some as-yet-unspecified Belarusian leaders.
The EU finally weighed in on February 16, with Catherine Ashton, the new EU high representative for foreign policy, saying she was "deeply concerned." In a statement, Ashton warned Minsk that the EU's future assistance to Belarus is "conditional on steps towards democratization and upholding human rights, including minority rights, taken by the government of Belarus."
Ashton's spokesman, Lutz Guellner, told reporters in Brussels today that Ashton is now seeking direct contact with Belarusian leaders. Phone conversations could take place as early as "today or over the next couple of days," Guellner said.
Alienation In Hrodna
Well-meaning as it may be, the EU remains literally a thousand miles from the western Belarusian city of Hrodna, which is at the epicenter of the current controversy. There, Belarusian and ethnic Polish residents indicated in interviews with RFE/RL they were concerned by the prospect of new EU sanctions and what many saw as an artificial dispute stirred for purely political reasons.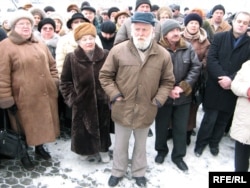 A demonstration of solidarity in Hrodna with the Polish activist arrested this week.
One man said Poland's threat to impose travel sanctions was the "correct response." "Our officials' main problem is their lack of responsibility and accountability. If they're stripped of [their travel rights], maybe they'll think twice about what they're doing," he said.
One woman dismissed the depiction popular in Minsk of a country unsettled by an upstart Polish minority, saying relations between Belarusians and ethnic Poles are fine: "I work with many Poles and their attitude toward us, as Belarusians, is very good," she said. "I think the conflict is artificial and specially created by bad people."
Many residents expressed the fear that the controversy would ultimately hurt long-awaited openings to Europe, and by extension, ordinary citizens of Belarus. "It's not beneficial for anyone -- not Poland, not the EU, and mostly not for Belarus," another Hrodna resident said. "But decisions in this republic, in Belarus, are made by one person. Whatever he decides, that's how it'll be."
Alienation runs deep in Belarus, one of Europe's poorest countries, which borders three of the EU's member states -- Poland, Lithuania, and Latvia

Efforts In Warsaw, Brussels
Top EU diplomat Ashton is understood to support Poland's drive to raise the issue at the next EU foreign ministers meeting, which will take place in Brussels on February 22. Speaking on February 16, Ashton likewise tacitly endorsed the credentials of ZPB leader Borys as "democratically elected." In her statement Ashton condemned what she said "appear to be attempts by the authorities to impose a new leadership on the Polish community."
Official Minsk's relations with its 400,000-strong Polish minority have always been tense. In 2005, President Lukashenka accused the Poles of being a "fifth column" bent on destabilizing his regime. Belarus does not officially recognize Borys's ZPB, which promotes the Polish language and cultural traditions, and which Warsaw sees as the sole legal representative of the Polish minority in Belarus. Instead, Minsk has promoted a rival, pro-government Polish body.
Poland has long spearheaded the EU's tentative embrace of Belarus, which saw the country join the bloc's Eastern Partnership last May. An EU travel ban on key government figures had been lifted earlier, in October 2008, and the suspension extended by a year last November despite misgivings in a number of EU countries.
The current crackdown seems to have taken Warsaw by surprise. After inconclusive crisis talks between Polish Foreign Minister Radoslaw Sikorski and his Belarusian opposite number Syarhey Martynau in Warsaw on February 12, Poland threatened to impose its own visa ban on officials held responsible for the anti-Polish measures. A definitive blacklist is yet to emerge, with Warsaw possibly keen to await the results of the EU foreign ministers meeting.
Pyotr Kaczynski, an analyst with the Center for European Policy Studies in Brussels, says that Warsaw is continuing to work behind the scenes in a bid to get Belarus to reverse its policy of persecution of independent Polish activists. "What I'm seeing in the news is a clear two-way street -- not a one-way street, a two-way street," he says. "[On the one hand], they [Warsaw] are saying what will happen should this process continue, but they are keeping the back door open, calling on President Lukashenka to change this policy, to undo the mistakes and, [thereby], to return to the course of action which was pretty positive in bringing the EU and Belarus closer together."
Minsk's Motives
Minsk's motives, meanwhile, remain inscrutable. Matzej Plazynski, a Polish senator and the director of Wspolnoty Polskiej, an organization that works with Polish minorities throughout the world, says that "Belarus has tricked Polish diplomacy."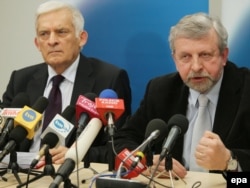 EU Parliament President Jerzy Buzek (left) warned that without democracy, Belarus will not be able to make use of the EU's support.
Analyst Kaczynski says Lukashenka's calculations may conceivably have something to do with the recent electoral victory of the pro-Russian President-elect Viktor Yanukovych in Ukraine, or possibly with direct meddling from Moscow. But "it's impossible to see into Lukashenka's head," Kaczynski concludes.
Belarusian political analyst Uladzimir Matskevich says the sudden shift for the worse in Polish-Belarusian relations -- which he describes as "completely not in the interests of the regime" -- may be a reflection of factional infighting within the Belarusian regime. "If one views the regime as some united, monolithic entity that should behave rationally, then no explanation for this conflict with Poland can be found," he says. "However, if one is to postulate that there is some conflict, some competition between forces within the regime, then an explanation does emerge."
Matskevich believes countervailing pro-Polish and pro-Russian interests are vying for dominance in Minsk. If the current escalation of tensions with the EU is followed by personnel changes in the top flights of the Belarusian government, the pro-Polish faction is likely to have gained the upper hand; if not, Matskevich says, it may be that "Lukashenka thinks he's already done enough to normalize relations with Europe."
EU diplomats say the bloc's representatives in Minsk believe Lukashenka personally has authorized the crackdown against the Polish minority.
No Wish To Rock The Boat
Warsaw this week wheeled out its biggest guns in Europe to impress on Minsk the seriousness of the choice it is facing. The president of the European Parliament, Poland's Jerzy Buzek, was in Warsaw on February 16 for a meeting with Belarusian opposition leader Alyaksandr Milinkevich. After the meeting, Buzek warned that without democracy, Belarus will not be able to make use of the supporting instruments offered to it in the framework of the EU's Neighborhood Policy.
Owing to its democratic deficit, Belarus is currently not eligible for EU neighborhood funds, although the bloc indicated last autumn it may be amenable to allowing Minsk access to some funding on a tentative and conditional basis.
More relevantly, the EU could make it very difficult for the crisis-stricken country to secure further loans from the International Monetary Fund (IMF). Last year, the IMF gave Belarus $2.2 billion in bridging loans.
While it is assured of general EU backing in the standoff with Lukashenka, Poland itself faces a delicate balancing act. Having expended significant political capital to breathe life into the Eastern Partnership as a counterweight to Russian influence in the region -- and coaxed Belarus into it, as an integral part of the edifice -- Warsaw cannot afford to rock the boat too much.
The credibility of the EU's new member states is also at stake, given their attempts over the past few years to direct EU policy in their neighborhood.
The EU as a whole remains crucially interested in stability on its borders. Denying Belarus emergency financial aid -- or taking other measures that could push Minsk into the arms of Moscow -- would be counterproductive for the entire bloc.
Given all this, as well as the EU's well-established preference for dialogue over conflict, Belarus is unlikely to risk more than a token suspension of its participation in the Eastern Partnership. With the next Eastern Partnership summit scheduled to take place some time in 2011, there is ample time for Lukashenka to undo the damage -- should he feel so inclined.

RFE/RL's Belarus Service contributed to this report