Belarusian Oppositionist Banned From Holding Meeting In Vitebsk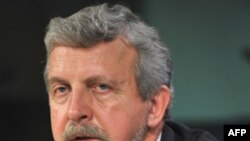 VITEBSK, Belarus -- Authorities in Vitebsk are not allowing Belarusian opposition leader Alyaksandr Milinkevich to meet with locals.

Milinkevich, the head of the Za Svabodu (For Liberty) opposition movement, was planning to hold an open meeting with citizens in Vitebsk's Brigantina Cinema on December 10. But the Mayor's Office refused to grant permission for the meeting to take place.

The Za Svabodu movement's coordinator in Vitebsk, Khtystafor Zhaliyapav, told RFE/RL's Belarusian Service that Milinkevich will hold the meeting in a different manner.

Milinkevich ran against incumbent Alyaksandr Lukashenka in the presidential election in March 2006.
About This Blog
"Watchdog" is a blog with a singular mission -- to monitor the latest developments concerning human rights, civil society, and press freedom. We'll pay particular attention to reports concerning countries in RFE/RL's broadcast region.
Journalists In Trouble
RFE/RL journalists take risks, face threats, and make sacrifices every day in an effort to gather the news. Our "Journalists In Trouble" page recognizes their courage and conviction, and documents the high price that many have paid simply for doing their jobs. More